Architect Ms Ponni M. Concessao's relentless passion for the finer aesthetics of life and work makes her a role model for the budding talent in our country. Read on to know more…
Oscar & Ponni + Rahul Architects is an esteemed architectural and interior design firm based in Chennai. The firm was founded by husband and wife duo, Architect Oscar G. Concessao and Architect Ms Ponni M. Concessao. Both architects graduated with B.Arch degrees from the prestigious National Institute of Technology, Tiruchirapalli, in 1986 and 1987, respectively. Following their graduation, they pursued higher education in the United States. Oscar received a scholarship to the University of Oklahoma, Norman, where he completed his Master's degree in Architecture with a specialisation in Urban Design in 1987. Ponni also obtained a scholarship, and she pursued her Master's degree in Architecture at Cornell University, which she completed in 1989. Additionally, both Oscar and Ponni pursued advanced professional studies at Harvard University, further enhancing their architectural expertise.
Their dedication and contribution to the field of architecture has earned them recognition from prestigious universities. They were both honored with Honorary Doctorates from the University of Malaysia and Universita of Milano for their significant contributions to Modern Architecture and Architectural Science.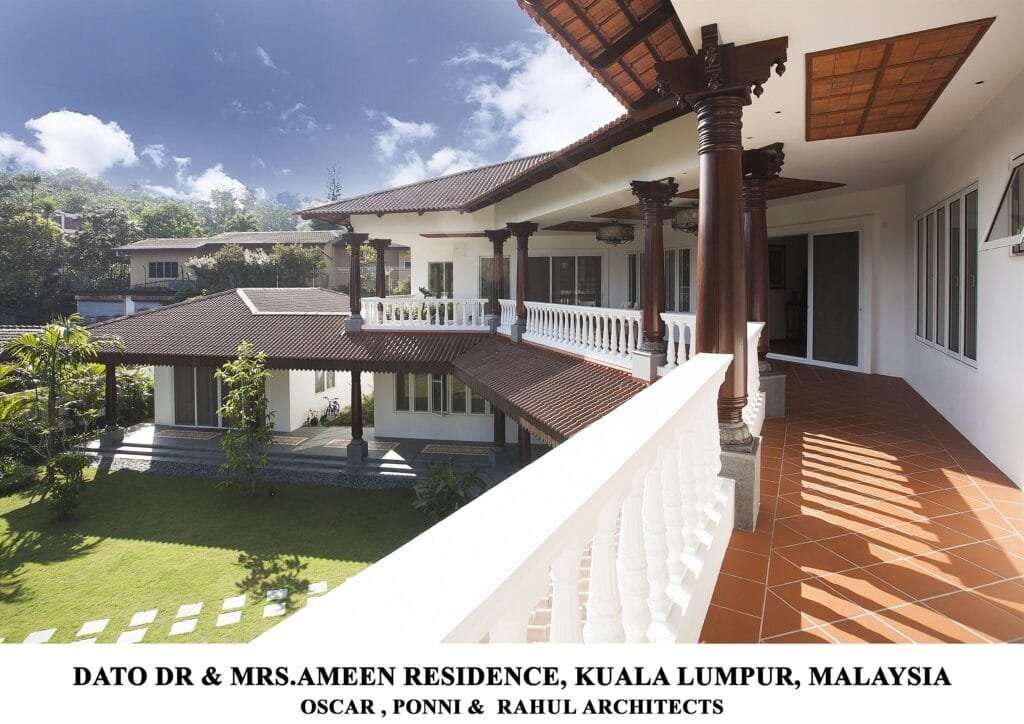 Before returning to India, Oscar and Ponni gained valuable experience working in New York City alongside renowned architects, focusing on designing skyscrapers, institutional buildings, hotels, hospitals and stadiums.
In 1996, they decided to settle in Chennai, Ponni's hometown and established their architectural and interior design practice. The firm has flourished over the years and has earned a stellar reputation for its innovative designs and high-quality work.
Adding to the family's legacy in architecture, their son Rahul has also joined the practice. He earned his B.Arch degree from Measi Academy of Architecture and participated in the Design Studio Program at Sci-Arch in Los Angeles.
Oscar & Ponni + Rahul Architects has achieved remarkable success, being honored with more than 165 awards at the International, National, and State levels for their outstanding work in the field of architecture and interior design. Their portfolio includes completed projects not only in India but also in the Middle East and Malaysia, with a significant presence in over 108 cities and towns. Their extensive experience and global exposure have undoubtedly contributed to their success as leading architects in the region.
In a tete-a-tete with Society Interiors and Design Ponni M. Concessao takes us through her design journey.
What are the thoughts that cross your mind when you take on new projects?
As an architect, my design process is a fascinating blend of intuition, creative ideation, and technical considerations. The core of my final idea emerges from connecting my intuitive vision with the client's brief, ensuring that the design aligns with the site conditions and cultural context. My training in the USA has equipped me with a 360-degree solution mapping approach, allowing me to explore various possibilities to address design challenges.
Uniqueness and speed drive my design process while taking into account multiple parameters such as site conditions, architectural design vocabulary, end-user comfort, and cultural factors. I firmly believe that the human brain's creative capacity cannot be surpassed by AI, as it remains the ultimate intelligence and supercomputer. My passion for architecture and ability to combine creativity with technical expertise are essential factors that make my design process unique and appealing to clients and has resulted in a well-crafted and thoughtful architectural solution that addresses both the client's needs and the site's specific conditions.
Do you find it difficult to consistently develop innovative designs for such diverse needs?
I love embracing the challenge of consistently developing innovative designs for diverse needs and requirements. My training in the USA has instilled in me the confidence on exploring innumerable possibilities and constantly pushing the boundaries of innovation from different angles. As evidenced in our diverse portfolio, I take pride in creating unique and distinct designs for each project, rather than relying on a cookie-cutter approach.
Switching gears and developing different design vocabularies comes naturally to me. Embracing the client's vision and translating their dreams into reality is another aspect of my work that excites me, especially when intelligent clients provide valuable input that contributes to the optimal design outcome.
I study and analyse the impact of climate change on architectural design and understand the importance of not taking anything for granted in my approach. Clients today are more knowledgeable and informed, thanks to globalisation, access to information, and exposure to different cultures through travel and technology.
Engaging with clients from various backgrounds, age groups, trades, and industries has become a learning experience for me, allowing me to constantly expand my understanding of different thought processes and cultures. I believe that my ability to embrace these challenges and continuously evolve my design solutions has set our firm apart in the field of architecture.
What are your best personal experiences while working with a diverse national and international clientele?
Working with diverse national and international clientele has provided me with valuable experiences and insights. I have found that clients, regardless of their backgrounds, share similar expectations for design excellence and a compelling design brief. However, I have noticed some notable differences in the professionalism demonstrated by international clients.
International clients tend to exhibit a higher level of professionalism, particularly in areas such as commercial dealings, gender equity, social equity, and respecting legal aspects of contracts and intellectual property rights. This professionalism can make the collaboration process smoother and more efficient.
In contrast, gender equity is a challenge when working with national clients in India. Addressing these issues requires endurance, intellect, and patience to create a more balanced and inclusive design environment.
What defines your work?
My work is defined by clarity of design purpose and sustainability. Architecture and design mean the world to me and my projects ne my contribution to society. My work is a commitment to sustainability, respecting the environment and site conditions, strict adherence to a design philosophy that matches the design concept in my mind and above all understanding the design brief and delivering the best to the client. I perceive architecture literally as a nation-building exercise and my work is a dedication to our great country.
What type of projects challenges you the most?
I think every project comes with its own set of challenges. My philosophy in life is to turn a disadvantage into an advantage. Challenges are a learning tool for me and an opportunity to think out-of-the-box. Decision-making from the client's side is indeed the engine that dictates the success of the project and this is best in private project sans committees and layered hierarchies such as in government. I have found every project is an opportunity to learn and improve my own design process.
Having won so many national and international awards is there something more coveted that you aspire for?
Winning awards is a great feeling of being recognised and acknowledged and is indeed a source of positive energy. As the scale of projects has indeed become larger with time one does covet different typologies of awards. However for me personally any award is a sign of encouragement and I would treasure any type of award. I ascribe all of my achievements to the Grace of God and the blessings of my well-wishers. Awards are a sign of the Grace that governs our lives and also are an inspiration to aspire and inspire future generations to achieve.
Do you think we're at par with the West regarding architecture and design?
I firmly believe that India is on par with, if not better than, the West regarding architecture and design. My education and working in the West has reinforced this belief. As a developing country, India has a unique opportunity to showcase native skills and talent in the field of architecture.
I take pride in the phenomenal opportunities my clients have given me to design award-winning projects, including government departments, private industrialists, and individuals. Projects like the Dr. B.R. Ambedkar State Secretariat in Hyderabad, Telangana, completed in a remarkably short timeframe with Indian architects, contractors, and labours, exemplifies India's capabilities and determination in achieving great architectural feats.
I appreciate the strides made by Indian schools of architecture in improving architectural education. However, I also feel that there is room for improvement in the area of systems design in architectural education. I advocate for a stronger focus on studying and drawing inspiration from the architectural and engineering marvels of India's ancient temples and palaces. By integrating the ideas from antiquity into the modern context, Indian architects can create buildings that are rooted in tradition yet relevant and innovative.
Lastly, our projects stand as a testament to the talent, creativity, and potential of the Indian architectural community.
What is your take on sustainable architecture?
Most of our buildings are green-rated Silver, Gold, or Platinum by national and global agencies. Sustainability plays an important role as it is a tangible effort for reducing the carbon footprint thereby combating climate change.
In my experience, sustainable architecture has been practiced in India for several millennia. The West has scientifically packaged it and given a system to it. As a client for very large projects such as the Telangana State Secretariat an official agency is required for documentation and certification. However, where much smaller projects are concerned the architect can use her or his knowledge to create sustainable buildings.
We select a few projects from their vast portfolio that gives us an insight into their unique design language.
TELANGANA STATE SECRETARIAT-HYDERABAD
The Telangana State Secretariat in Hyderabad is a grand and iconic architectural project spanning 12 Lakhs sq ft with dimensions of 600' x 300'. The building's total height is an impressive 265 feet. The planning concept for this state secretariat is based on Vastu, incorporating traditional Hindu architectural principles. The predominant architectural style is Classical Deccan Kakatiya, which symbolises the region's secular and heritage continuity.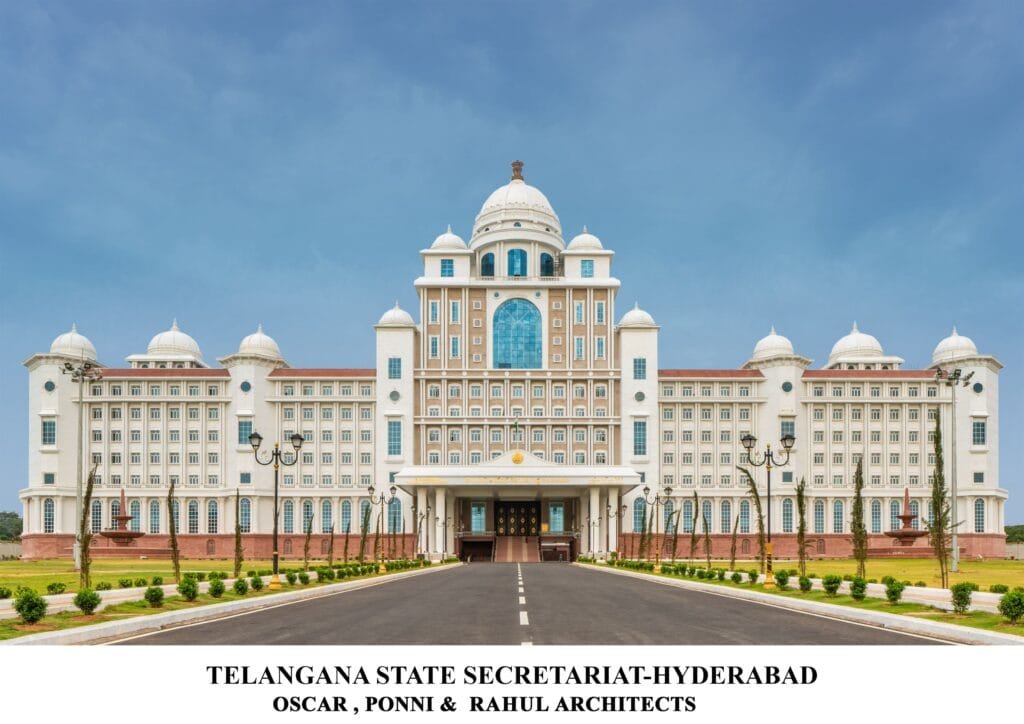 Explaining the design concept Ponni adds, "The design inspiration is derived from two sources: the cultural and harmonious blend of heritage architectural styles of Telangana, particularly from temples and palaces, and the influence of Lord Shiva, with reference to the Neelakanteshwara temple near Hyderabad and Wanaparthy Palace. The dome and other architectural features draw inspiration from Hindu Deccan Kakatiya architecture and also from the domes of the Hanuman Temple at Salangpur. The overall design philosophy reflects the fusion of diverse cultures and heritage from Telangana's dynamic history."
The building exterior is adorned with red sandstone cladding for the podium and beige Dholpur sandstone for the central tower. Beige represents reliability, flexibility, modernity, calmness and relaxation. The scale and proportion of the building create a sense of monumentality and classical symmetry, while the distribution of entrances, cores, service cores and toilets adheres to Vastu Shastra.
The interior features a grand entrance atrium with Telangana Mural Art and an LED wall showcasing Telangana's developments. The building overlooks a large landscaped central courtyard, contributing to environmental control and reducing carbon emissions. The interior courtyard, called "Brahmasthanam," is adorned with a red sandstone podium wall.
Despite the building's heritage architectural planning principles, the electrical, mechanical, and plumbing systems are futuristic, integrating the latest cutting-edge technology. Sustainability and COVID-proofing the building using green architectural norms are essential aspects of the design. Additionally, provisions have been made for interfaith worship, with the construction of a Temple, Mosque, and Church within the secretariat campus, showcasing India's religious diversity.
The Telangana State Secretariat in Hyderabad is an architectural masterpiece that skillfully combines traditional heritage architecture with modern technology, reflecting the state's rich cultural heritage and commitment to sustainable and futuristic design principles.
ACCORD HOTEL, PUDUCHERRY
The Accord Puducherry is a hotel that offers a luxurious and unforgettable experience. The architectural style of the hotel is neo-classical, which reflects the colonial influence prevalent in the city. The exterior elevation combines elements such as Indian Dholpur stone, toughened glass, textured paint, and wood, creating an elegant and harmonious design. The horizontal and vertical lines of the building contribute to its simplicity and balanced proportions.
As you enter the hotel through the sweeping Indian-dressed granite driveway porte-cochere, reminiscent of French colonial architecture, you are greeted by a breathtaking double-height lobby. The lobby is entirely marble-clad, with a magnificent golden oval ceiling adorned with three cut glass chandeliers, emphasizing the grandeur of the space. The Italian marble flooring, with its geometric motifs and varying shades, showcases a fine display of Florentine marble design.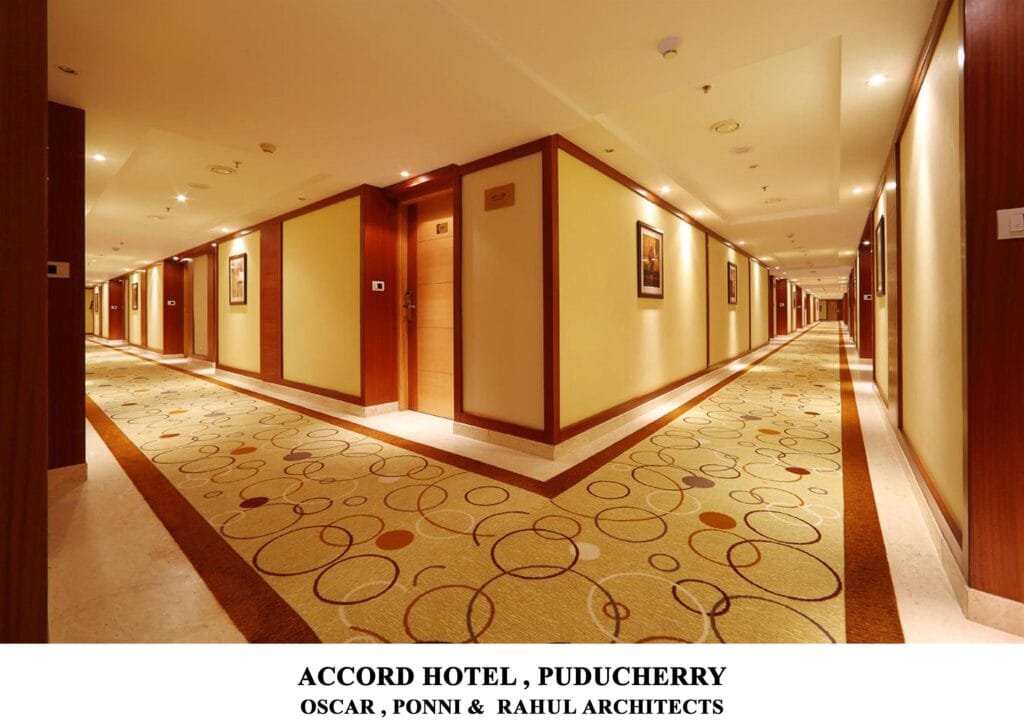 Behind the desk, there are three marble alcoves framed by massive marble columns. Each alcove features delicate lace-like marble latticework made of the purest white Indian Macrana marble, adding an artistic touch to the design.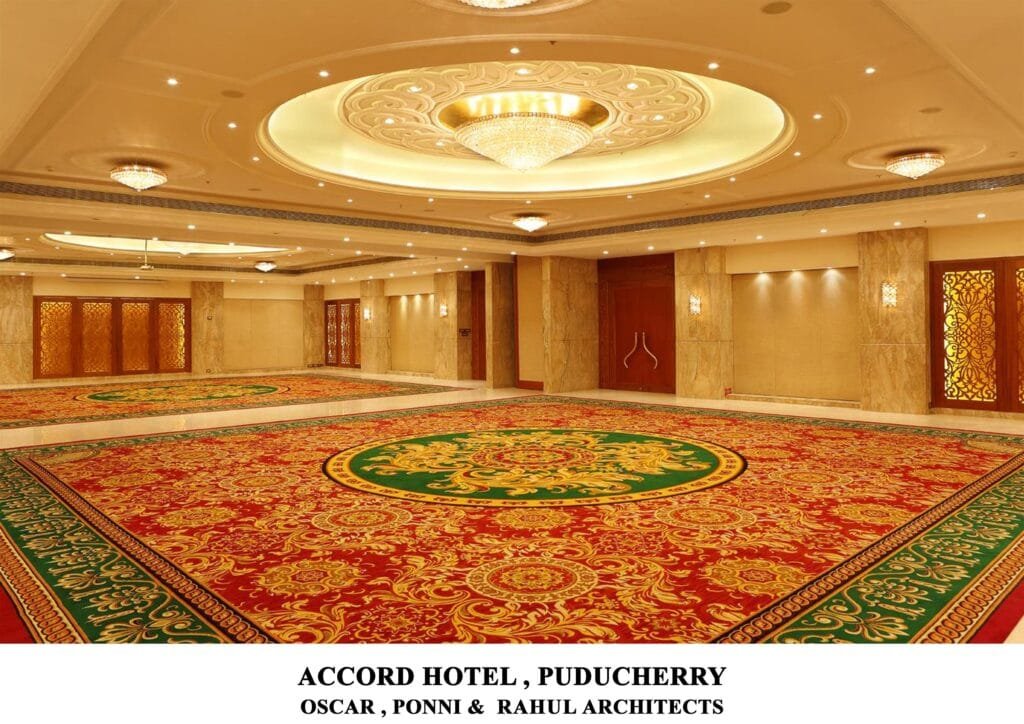 The eastern wall of the lobby is adorned with large mirrors featuring specially commissioned artwork as the centerpiece. The prefunction area is defined by a row of magnificent tall marble columns, reminiscent of Renaissance palaces, with modular marble motifs creating a pleasing sequence of spaces.
CHENNAI ONE MAGNUM OPUS IT BUILDING
Chennai One is a cutting-edge IT park located in Chennai that stands out with its unique features and world-class infrastructure. Situated on a sprawling, green campus the building offers breathtaking views of the blue waters of the Bay of Bengal.
Architecturally stunning, the two towers and open spaces within the buildings and on the campus promote interactions and foster strong team relationships. The property is equipped with advanced and energy-efficient technologies, prioritizing the quality of services offered. It features a 110 KV gas-insulated substation, a model for other SEZs (Special Economic Zones) and IT parks, ensuring reliable power supply. In case of power shutdowns, the campus operates with HT (High Tension) DG sets for better power quality. Superior air handling units with MERV 13 filters, UV lamps and DC motors contribute to energy savings.
Chennai One is committed to green energy, with a goal of becoming 100 percent reliant on green power through the grid by 2025. The IT park also places emphasis on maintaining a healthy work-life balance for its associates. With facilities like a gym, yoga room, outdoor gardens, and walking paths, employees have opportunities to focus on their well-being. This project is not just the pride of Chennai but offers the best-in-class services to the diverse workforce and companies that call this IT park their home.Overall, the Accord Puducherry embodies elegance and luxury while paying homage to Pondicherry's nostalgic past. It offers a serene and sophisticated atmosphere, making it an ideal choice for travellers seeking a memorable stay in the city.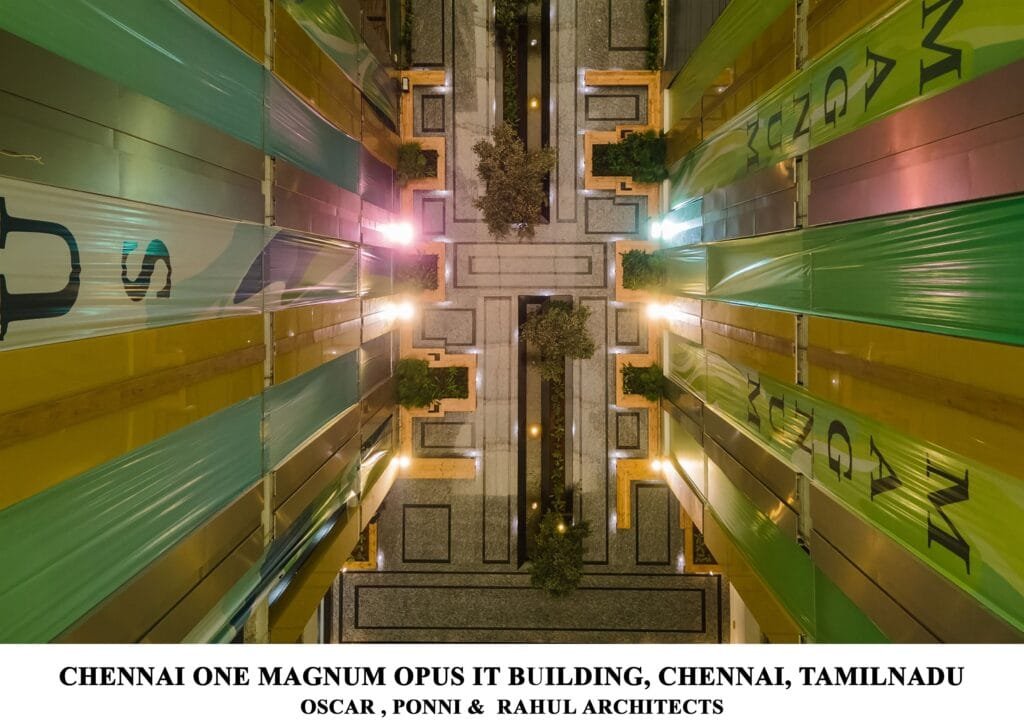 SANDYY WAVESS, RCS BEACH RESORT, HAVELOCK ISLANDS
Havelock Island, now known as SwarajDweep, is a captivating destination in the Andaman Islands, characterized by its golden beaches, sparkling blue waters, lush forests, and stunning coral reefs.
Innovation is at the core of the SandyyWavess Resort's design, which incorporates elements of local Andaman architecture. The wood-framed roofs, covered with metal sheets typical of the region, are accentuated with Dormer windows, and wooden eaves enhance the slopes. The resort utilizes a soft colour palette of white, brown, and beige, representing tropical architecture while incorporating modern touches, such as the glass-fronted restaurant. The focus on eco-friendliness is evident through the use of natural and local materials, like wood and granite.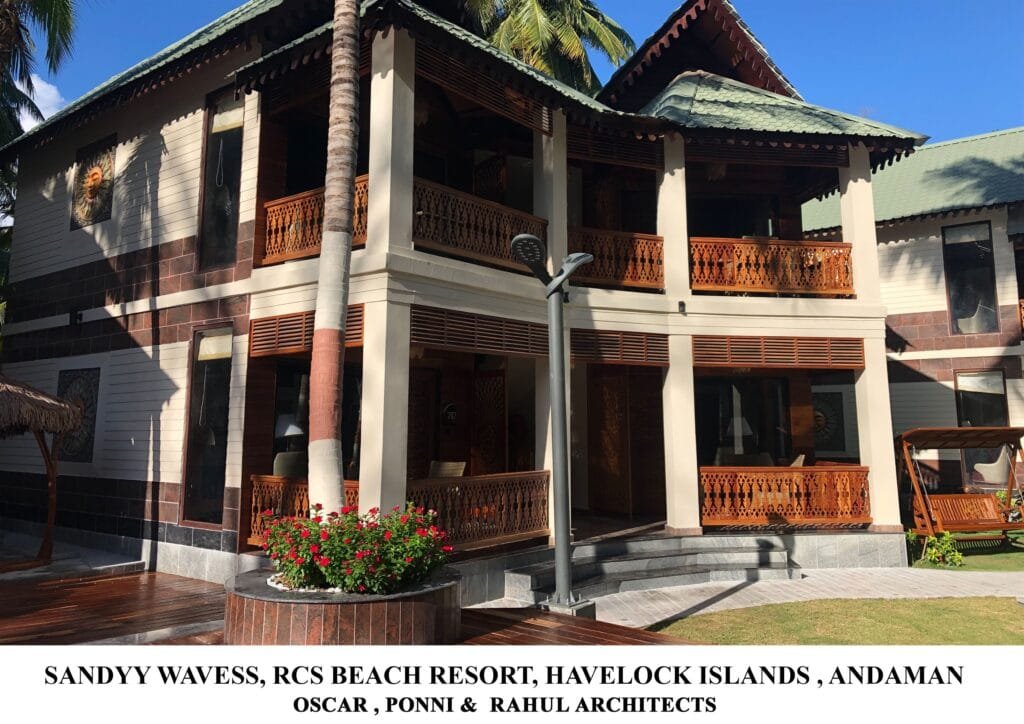 The appeal of SandyyWavess Resort lies in its combination of tropical modernism and ethnic island architecture. The resort features expansive open spaces, local materials, and a strong focus on ventilation and cooling. Positioned along a private beachfront, the resort offers mesmerizing views from various perspectives. The buildings are designed in an angular formation, considering the island's weather conditions, with splayed shapes to improve air circulation and protect against cyclone damage.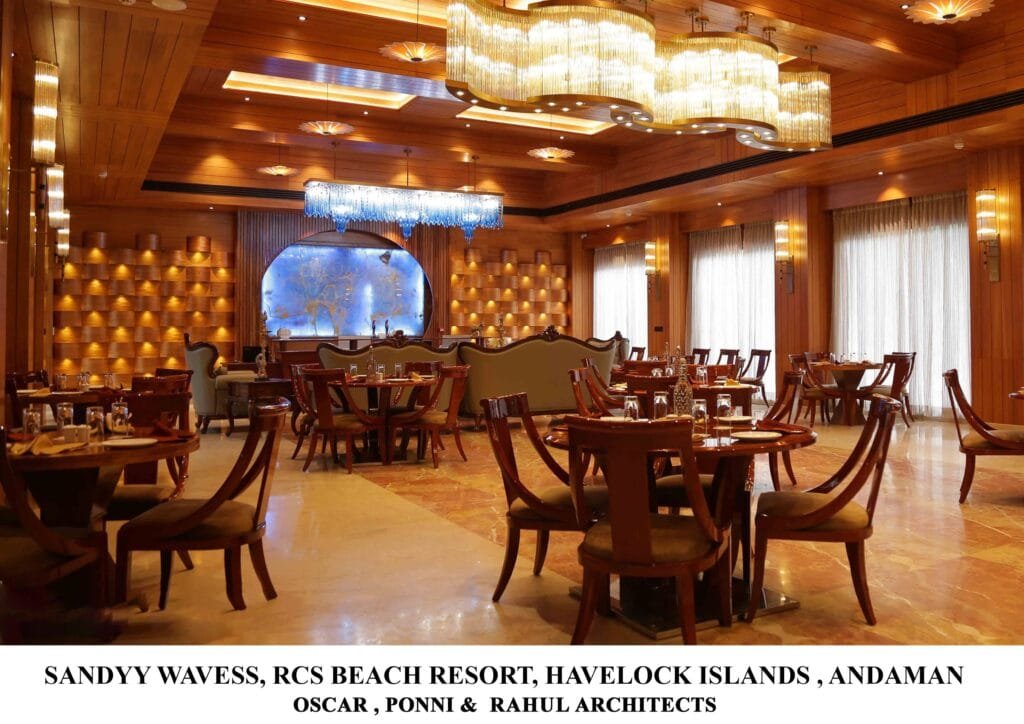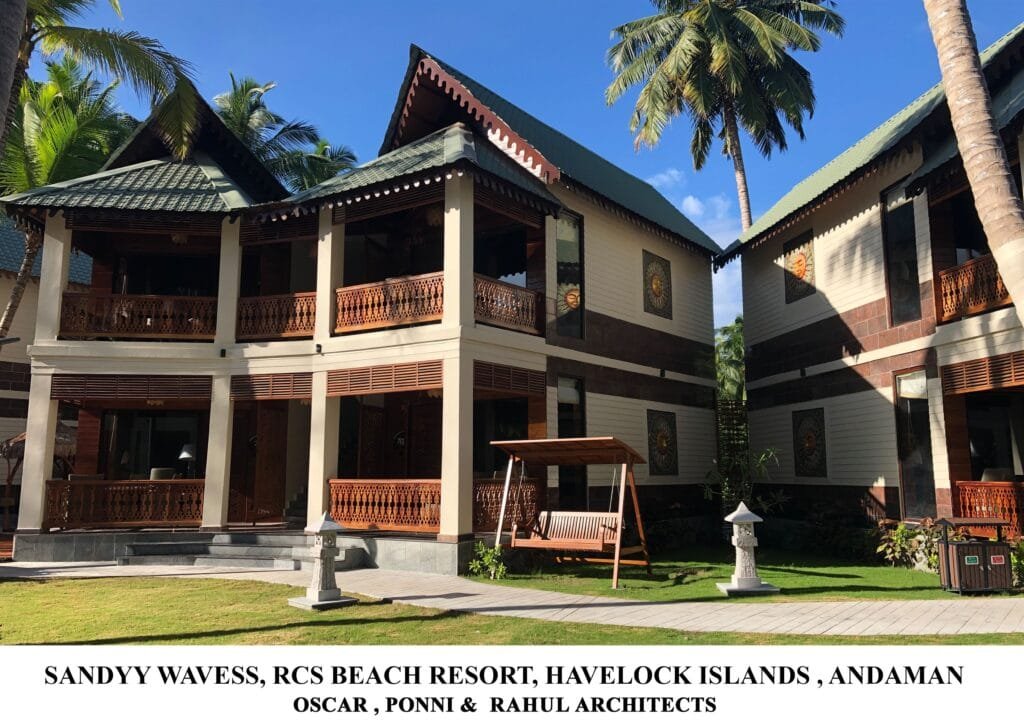 The landscape areas and pathways within the resort showcase diverse indigenous flora, creating a pleasant interaction between guests and the environment. The swimming pool with a sunken bar adds to the unique experience, while outdoor seating spaces and pavilions allow guests to enjoy the beautiful weather. The architecture seamlessly blends built and unbuilt spaces, providing visitors with an unforgettable experience in this exotic island locale.
THE SASTRA UNIVERSITY BIOTECH PARK IN TANJORE
The Sastra University Biotech Park in Tanjore, Tamilnadu, is an extraordinary architectural marvel that fuses technology, innovation, and environmental responsiveness. Spanning 200,000 sq ft, this state-of-the-art research building houses laboratories, gallery-type classrooms, a 500-seated auditorium, and an animal house, all designed with special foundations and mechanical systems tailored for sensitive laboratory experiments.
The building's concept revolves around creating an interactive environment for both research lab design and integrated classrooms, making it a unique Bio-Tech Park within the tranquil Sastra University Campus. Its modular design provides maximum flexibility, allowing for a wide range of mechanical and electrical environmental systems. The laboratories have been thoughtfully designed through service shafts to accommodate various utilities such as water, compressed air, gases, and drains. HVAC systems have been meticulously incorporated to maintain sterile environments with class 100 and class 1000 clean rooms. To ensure safety, the labs are equipped with Class II-B chemical fume hoods that exhaust a significant portion of the air stream. Adequate DG backup for electrical systems ensures uninterrupted power supply for long-term experiments. The animal room has been specially designed with hygiene in mind, with clean and dirty corridors to separate the labs and specific considerations for temperature, humidity, and sound insulation.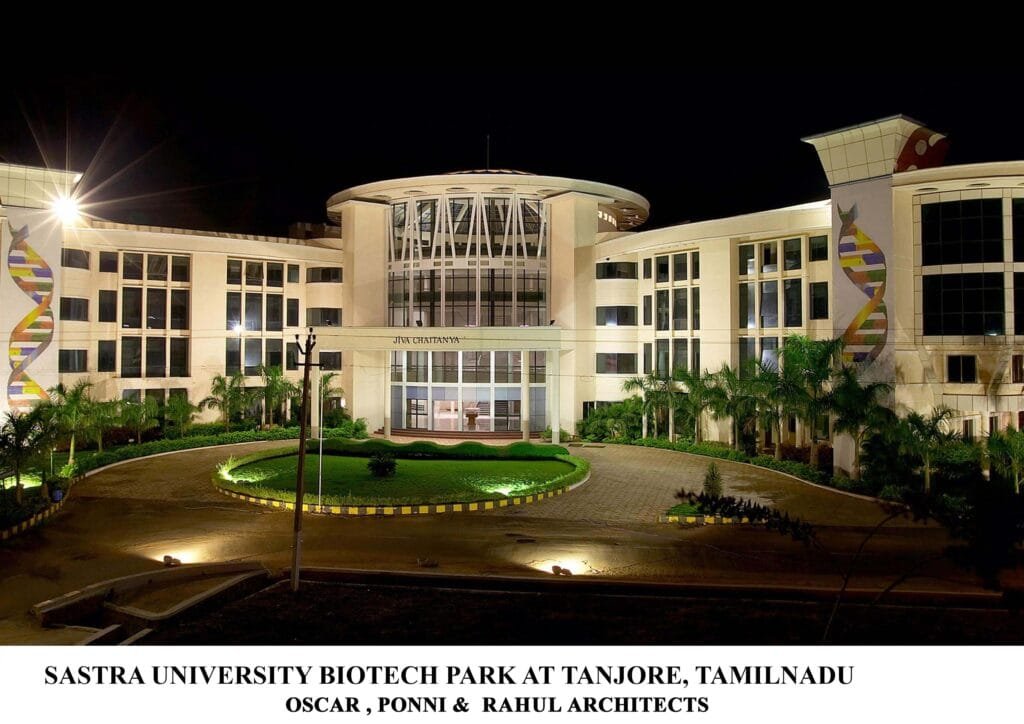 A standout feature of the Biotech building is the striking mosaic mural of a DNA module. This artwork showcases the perfect blend of traditional craftsmanship and computer technology, using imported glass mosaic tiles. The 50 feet tall and 8 feet wide mural represents the double helix structure of DNA in a visually captivating and sophisticated manner. Mapped using computer technology, the mural is adorned with shimmering colors imported from Dubai to create a credible replica. The glass mosaic tiles used in the mural transform the space into an architectural statement, providing visual excitement and a stunning visual experience.
Overall, Oscar & Ponni + Rahul Architects' projects are a testament to architectural excellence, blending cutting-edge technology with environmental sensitivity to create remarkable and Awe-inspiring landmarks across the world