Shyam Motwani, Business Head, Godrej Locks & Architectural Fittings and Systems speaks on the latest products launched and the advantages they offer to the users with Society Interiors and Design.
Godrej Locks & Architectural Fittings and Systems is a 125-year-old leading manufacturer of innovative locking devices. From the first Anchor branded lock in 1897 to the first ever springless lock in 1907, to the iconic 'Nav-Tal' in 1954, and to the postmodern biometric locks, Godrej has set every benchmark in the locks industry. Beyond Locking Solutions, the brand also caters to Architectural Fittings and Systems, creating innovative, premium, comprehensive hardware solutions. The range which consists of doors, furniture and glass fittings has been designed to fit perfectly into today's hi-tech residential and commercial establishments. These devices meet international quality standards like UL Rating, EN Rating, CE Certification and fire-rated. The Kitchen Fittings by Godrej Locks &Architectural Fittings and Systems includes SKIDO, i.e. Smart Kitchen Drawers & Organisers – an innovative range of smart kitchen storage solutions, designed in India to meet the unique requirements of the Indian kitchen.
GLAFS recently launched a new range of Home Decor Handles. Can you share more details on the same for our readers?
Godrej Locks & Architectural Fittings and Systems has introduced a wide variety of home decor handles to meet the changing needs of customers. These handles come in unique styles and designs, including Neo-luxury that reflects Bold Opulence, Euro-Modern representing subtle elegance, Urban Chic for a vibrant expression, and Smart Ethnic symbolising a reimagined tradition. Additionally, sophisticated finishes like Rose Gold and Black have been introduced to add an extra touch of elegance. To cater to the evolving demands of customers, a diverse range of Home Decor Handles has been introduced by Godrej Locks & Architectural Fittings and Systems. A premium collection of mortise handles featuring exquisite finishes, i.e. Incrust range. With a steadfast commitment to quality, innovation, and safety, we are a trusted provider of architectural fittings solutions, reinforcing our position in the industry.
Tell us about the Neu-Lift Bed fittings and HIKIDO wardrobe fittings range.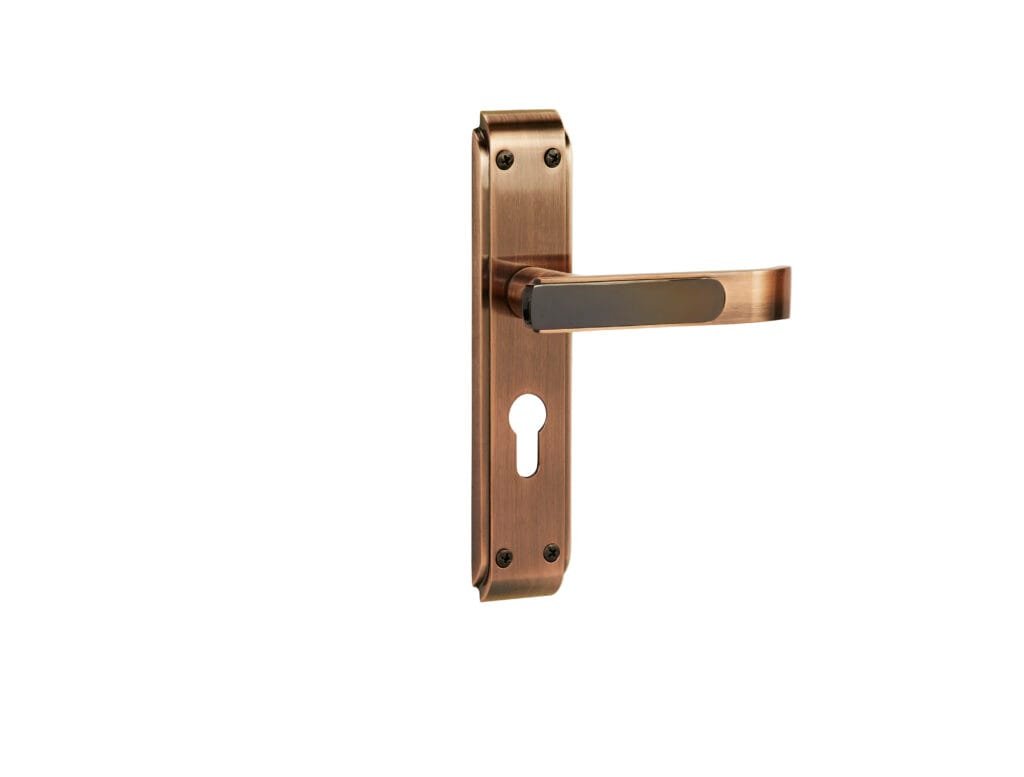 HIKIDO presents a remarkable range of sliding door wardrobe systems and fittings that excel in maximizing space utilization and enhancing the user experience. The Inline Fitting allows doors to effortlessly slide in front of each other, offering seamless access and minimizing any wasted space. The Topper fitting further elevates convenience with its overlapping sliding doors and adjustable height options. Additionally, HIKIDO provides Cabinet fittings for kitchen and furniture cabinets, effectively optimizing operating space. With a hassle-free installation process and top-notch components, HIKIDO delivers both functional and elegant wardrobes that significantly improve storage efficiency and elevate the overall aesthetics of living spaces. It stands as the ultimate solution, catering to the diverse needs of end users looking for efficient and stylish storage solutions.
Another standout product in our range is Neulift, an innovative bed fittings system that provides easy and safe access to bed storage. It offers optimal storage capacity and effortless operation, even with frequent use. Even with a gentle pull-up, and the smooth-action pneumatic spring lifts the bed top effortlessly. Neulift is easy to install and ensures a comfortable sleeping experience with its ergonomic and flexible wooden slats design.
You are also providing a kitchen Solution. Can you add more insight on the same?
Godrej pioneers advanced design solutions that enhance beauty and functionality in Indian kitchens. Our products are carefully crafted to meet the unique requirements of Indian homes. Introducing SKIDO, a revolutionary range of drawers, organizers, corner solutions, under-sink solutions, and grain storage, which create space, increase productivity and save time and energy. Now, Indian kitchens have an elegant and efficient storage solution.
Godrej Kitchen Systems has been a pioneer in developing advanced design solutions that seamlessly blend aesthetics with functionality, catering to the unique requirements of the Indian kitchen and homemakers. Keeping up with its tradition of intuitive design, Godrej now presents the revolutionary Super SKIDO range comprising Super Corner Solution. This latest offering enables users to optimize space, enhance productivity, and conserve time and energy, providing an elegant and efficient solution for storage needs in Indian kitchens.
To ensure that the Super Skido range is tailored to Indian kitchen habits, Godrej conducted extensive research to gain insights into the customers' needs. It ensures maximizing the corner space with modular storage units! The solution comes in three modular units – the Middle, LHS, and RHS – that are specifically designed to fit seamlessly into any corner and provide you with extra storage space. The SS wire drawers slide out smoothly, and high-grade plastic trays, which are mounted on the door, offer additional storage. Customise a setup by adding either an LHS or RHS unit for extra space. The units feature a sturdy powder-coated frame, high-grade injection-moulded plastic and special stainless steel that ensures lasting appeal and durability.
What types of hardware and architectural fittings does Godrej offer?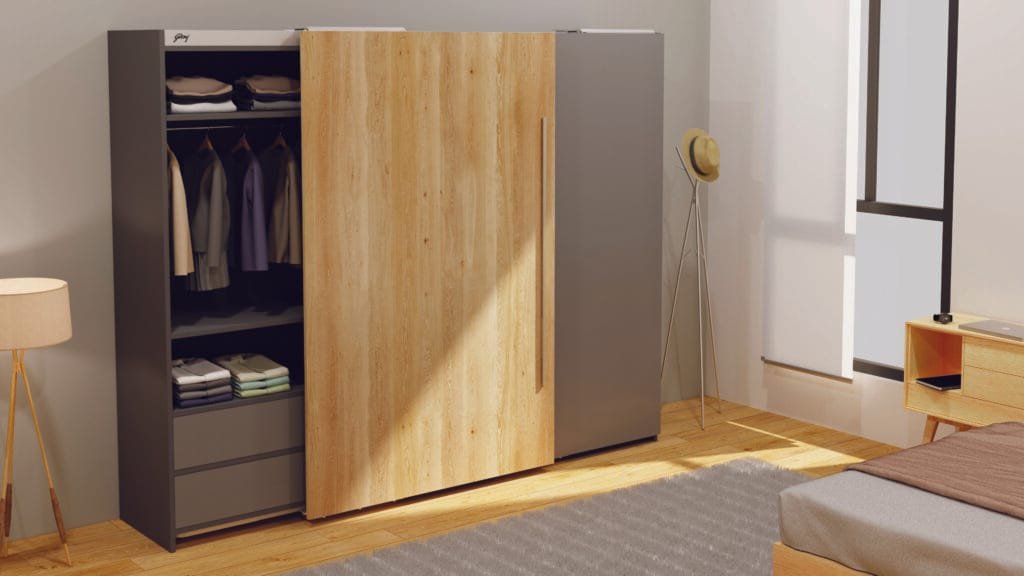 GLAFS offers a wide range of architectural fittings such as glass fittings, bed and wardrobe fittings in addition to home decor handles. We understand the pivotal role these elements play in enhancing both aesthetics and functionality in living spaces. Our fittings and handles are crafted to deliver durability, reliability, and a touch of style. Our architectural fittings range includes SKIDO, Home Decor Handles, Neu-Lift Bed Fittings and HIKIDO wardrobe fittings, known for their futuristic designs and customisable solutions.
Are the hardware and architectural fittings from Godrej available in a variety of designs and finishes?
At Godrej Locks & Architectural Fittings and Systems (GLAFS), our focus is on keeping up with consumer's evolving needs. Our consumer-centric approach drives us to understand the ever-changing preferences and pain points of our customers. Through extensive research and valuable customer feedback, we gain deep insights that guide our product development process. We introduce new features, incorporate cutting-edge technology, and explore innovative materials and designs. Quality and safety remain at the forefront of our offerings, ensuring that our products not only meet but surpass consumer needs.
What types of locks does Godrej offer?
Godrej's comprehensive range of safety solutions encompasses the very best in-home security, from the iconic Nav-Tal lock to cutting-edge digital and biometric locking solutions. The locks business comprises traditional locks for main doors, internal door, offices, residential, etc. Godrej has been eponymous with pioneering cutting-edge products and integrated security solutions. From the timeless Navtal lock, our offerings have evolved to high-end holistic security solutions that today safeguard millions of homes and offices as well as the premises of prestigious institutions like the Reserve Bank of India, the Taj Mahal and other national organizations of importance. From pioneering the technology of a springless lock that ensures that every key is unique to new digital-driven integrated solutions that incorporate biometric technology, we provide security that safeguards the nation and its most valuable assets.