We're all for a bit of finger-food on our plates but as times changed and culinary skill progressed, the need for a more convenient and hygienic method was in demand and to fulfil this, our everyday cutlery was invented. Throughout history, its functionality, design and aesthetics have changed to suit the interests of customers and Victorinox has created an awe-strikingly beautiful version of this innovation. Earlier Victorinox launched five exclusive Swiss Modern Collection kitchen knives and a carving fork in fresh and classy Scandinavian colors and now is the time to bring the Scandinavian rainbow to everyday tables. If you buy/have already bought their exquisite Swiss Modern knives collection, it is impossible to be not drawn towards this twin cutlery collection that matches its aesthetic. Regardless of whether you own the knives collection or not, the fresh and colourful set in classy black, mint green and cornflower blue has an irresistible charm that will make your guests stare at the shelves. The modern, synthetic handles of this new colorful cutlery are made of practical materials which are dishwasher safe and are made of wear-resistant and stainless steel, fulfilling Victorinox's very high quality standards.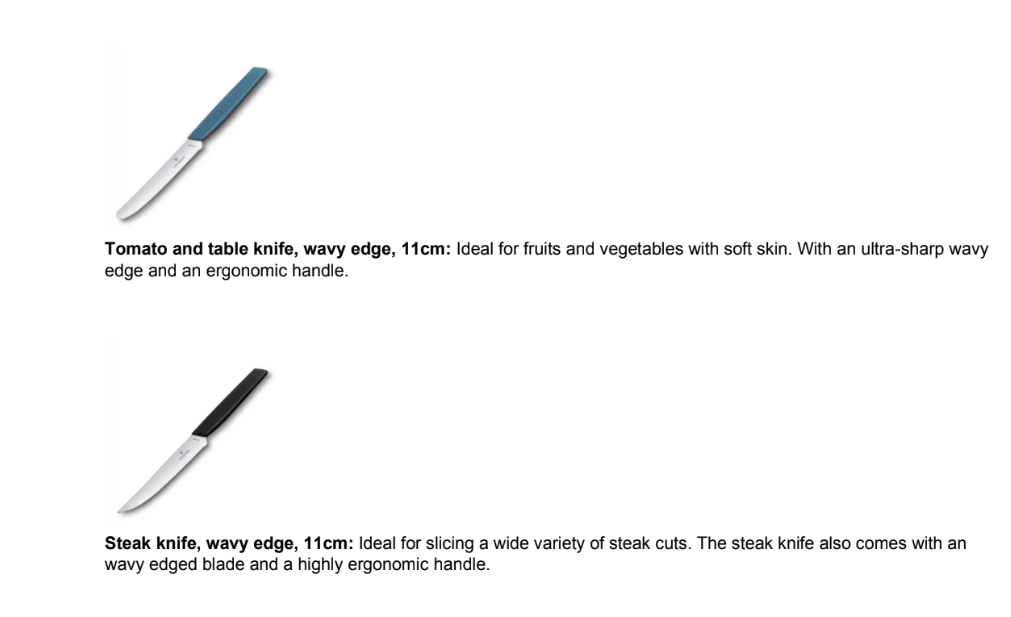 To start off the discrete collection, Victorinox launches in each of the three colours a steak knife, a tomato and table knife, a table fork, a tablespoon, a teaspoon, and a cake fork. All of these can be purchased separately or also as convenient 12 or 24-piece sets. As the name suggests, all Swiss Modern products are ergonomically manufactured in Switzerland.
Here is a walkthrough of this enchanting collection: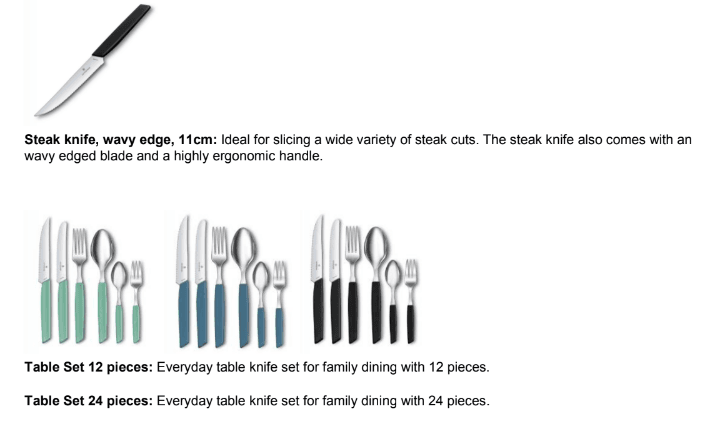 Beautiful cutlery, wasn't it? In case you want to know about the creators of this revolutionary cutlery, here is it:
Victorinox AG is a worldwide operating family business, which today is run in the fourth generation. The headquarter of the company is located in Ibach, canton Schwyz, in the heart of Switzerland. This is where the founder of the company Karl Elsener I set up his cutlery business back in 1884 and, a few years later, designed the legendary «Original Swiss Army Knife». Meanwhile, the company produces not only the world-famous pocket knives, but also high-quality household and professional knives, watches, travel gear and fragrances. In 2005, the company took over Wenger SA in Delémont. The Wenger pocket knives were integrated into the Victorinox range in 2013, so that the Wenger product portfolio today consists of watches and travel gear. Products are available online, in own stores as well as via a widespread network of subsidiaries and distributors in more than 120 countries. In 2019, the company with its more than 2100 employees generated sales of CHF 480 million.
Website: www.victorinox.com