Spectacular Collection
Sources Unlimited has recently introduced an exquisite collection of products from the esteemed American designer, Jonathan Adler, recognized worldwide for his captivating and vibrant designs. The collection includes, Dora Maar Large Vase: A Striking and EyeCatching Statement Piece that draws Inspiration from Dora Maar, the Renowned French Photographer, Poet, and Painter. Crafted from high-fired matte porcelain, Marcel Vase is a manicured fistbump. Experience the reimagined Gilded Salvador vase a striking departure from the ordinary, while the Orbit vase is an enchanting fusion of elemental porcelain vessels with radiant gold accents.
Email: info@sourcesunlimited.co.in
Silver Beauties
Frazer and Haws launches a range of silver ceramic platters, a perfect collection of unique platters for your home. Animal and abstract silver carvings on ceramic platters will make lovely additions to your home decor. Update your home decor with an assortment of platters in ceramic and silver that are elegant and timeless. So time to pick these high quality platters from Frazer and Haws and make your tables shine. Website: frazerandhaws.com
Outstanding Functionality
Requirements regarding kitchens have changed enormously in recent years. It is precisely due to these customer requirements that Häfele's plug-and-play corner solution – Qanto hits the mark. This new preassembled corner solution comes with two versatile trays that can be extracted and retracted vertically by a linear drive, at the press of a button. Just one press on the integrated switch is all it takes for the Qanto trays to rise up. The top tray that seals the gap when fully retracted can be fitted with a wooden board or can accommodate a "little urban garden" for fresh herbs. The tray below it offers further organizational space and storage. The trays are crafted from high-quality, easy to clean ABS with a polished crystal glass finish and are completely illuminated by LED light fixtures integrated beneath the top tray. Utilising unreachable space in the corner to its optimum effect, Qanto proves to be an intelligent corner solution which combines maximum operating comfort, generous work surfaces, well organised storage space, ergonomic qualities and the highest technical and design standards into a perfect symbiosis.
Website: hafeleindia.com/en
Customer Care Toll Free: 1800 266 6667
Customer Care WhatsApp: +91 97691 11122
Customer Care Email: customercare@hafeleindia.com
Tantalizing Tiles
Antica Ceramica, has unveiled the Exterra Tiles Collection, a premier product with matt rustic finish and metallic carving decor. The range comes in three different sizes 60×60 cms, 30×60 cms, and 30×30 cms, and a thickness of 12mm, making it versatile for use on both walls and floors. The new range has been exclusively designed to be UV and slip-resistant, making it durable for high-traffic areas. With 45 different shades to choose from, including Castle, Uscany, Volterra, Bruges, Sahara, Canyon, Flint, Pacifico, Siena, Rock, Roslyn, Rebecco, and Evoque, the collection offers an extensive range of colours and textures for interior design projects.
Website: anticaceramica.in
Beautiful Bathrooms
GRAFF, introduces its latest opulent offerings: The Luna and Dressage collections. These exceptional bathroom collections embody elegance, innovation, and unparalleled craftsmanship, solidifying GRAFF's position as a leading brand in the luxury faucet industry. Incorporating the finest elements of design, the collection offers a diverse array of styles to suit every discerning taste. From sleek and contemporary to timeless and traditional, GRAFF ensures that homeowners can find the perfect faucet to complement their individual aesthetic. With an extensive range of finishes, including polished chrome, brushed nickel, and matte black, GRAFF empowers homeowners to curate their dream bathroom, infused with a touch of luxury.
Website: www.graff-designs.com
Timeless Range
GROHE unveils the Grandera Collection. Classic, extravagant, and yet contemporary, the iconic and timeless Eiffel Tower serves as the inspiration for the GROHE Grandera range. This collection, which draws inspiration from the geometric "squircle," also features understated nods to the timeless game of chess, bringing disparate traditions together in a single harmonious design. The Grandera Accessories offers a variety of distinctive products for creating your own personal refuge, letting you design each element of your bathroom to your tastes and needs. An abundance of white porcelain accessories, each ideally matched to the design, completes the amazingly wide selection. The Grandera Free-Standing Bath/ Shower Mixer provides you with a great deal of choice when designing your bathroom because you can place your bath tub and bath inlet precisely where you want them. GROHE SilkMove technology, which ensures mobility for many years, matches this convenience. The Grandera Thermostats & Showers epitomises perfection. The GROHE Grandera offers endless creative versatility and is available in two colours: cool chrome and warmer, romantic chrome-gold. The collection's delicately moulded ceramic soap dispensers, bowls, and holders are just a few examples of accessories that showcase attention to detail.
Website: www.grohe.co.in/en_in
Miscellaneous
Modern Doors
Mikasa Doors and Frames launched by Greenlam Industries come as a single, factory -finished unit. The complete Doorset is a natural progression over the outdated carpentry methods. The final product is ready -to-install unlike the current method in which the door is installed early and suffers damage during the later stages of the construction. With Mikasa Doors, customers also get the choice of surfacing material ranging across veneers, laminates or paint. Mikasa Doors and Frames are available with a wide range of accessories & door frame types designed to complement your doors and also give them strength and durability. Take your pick from various types of wooden doors. All types of wooden doors on offer come with accessories, such as Doors handles, latches, flush bolts, and door stopper
Website: mikasadoors.com/products
Outstanding Washbasins
VitrA Outline washbasins is distinguished by its distinctive designs which gives your bathrooms a new look. The series of ongoing trends showcase a modern and contemporary aesthetic, making it suited for all preferences. Washbasins in the new Outline series are available in a variety of shapes including Tv, oval, square, and pebble, and are available in white, matt white, matt taupe, matt clay beige, matt moss green, matt stone grey, matt terra rosa and matt black. The VitrA Outline series caters to the evolving demands of modern homeowners who seek both functionality and aesthetics in their bathrooms. By offering a captivating selection of washbasins in various styles and colours, VitrA Outline allows individuals to create a truly remarkable and on-trend bathroom space.
Website: vitra-india.com
Eco-friendly Offerings
House of Badnore, presents its Eco-Happy Collection, a range of ecologically aware accessories produced from carefully selected materials that do the least amount of harm to the planet and environment. On offer are Aravalli Rugs, a variety of handwoven, luxurious, eco-friendly & weather resistant rugs featuring designs influenced by the past yet with a modern twist to match the modern times. Intricately designed & printed with vintage inspired patterns, these rugs are woven with jute and recycled PET bottles. In addition to the Aravalli rugs, the EcoHappy Collection also comprises of Vegan leather table mats, coasters and photo frames (adorned with metal) and pure silver straws to minimize waste while flaunting a sophisticated personal style statement.
Website: houseofbadnore.com
Contemporary Carpets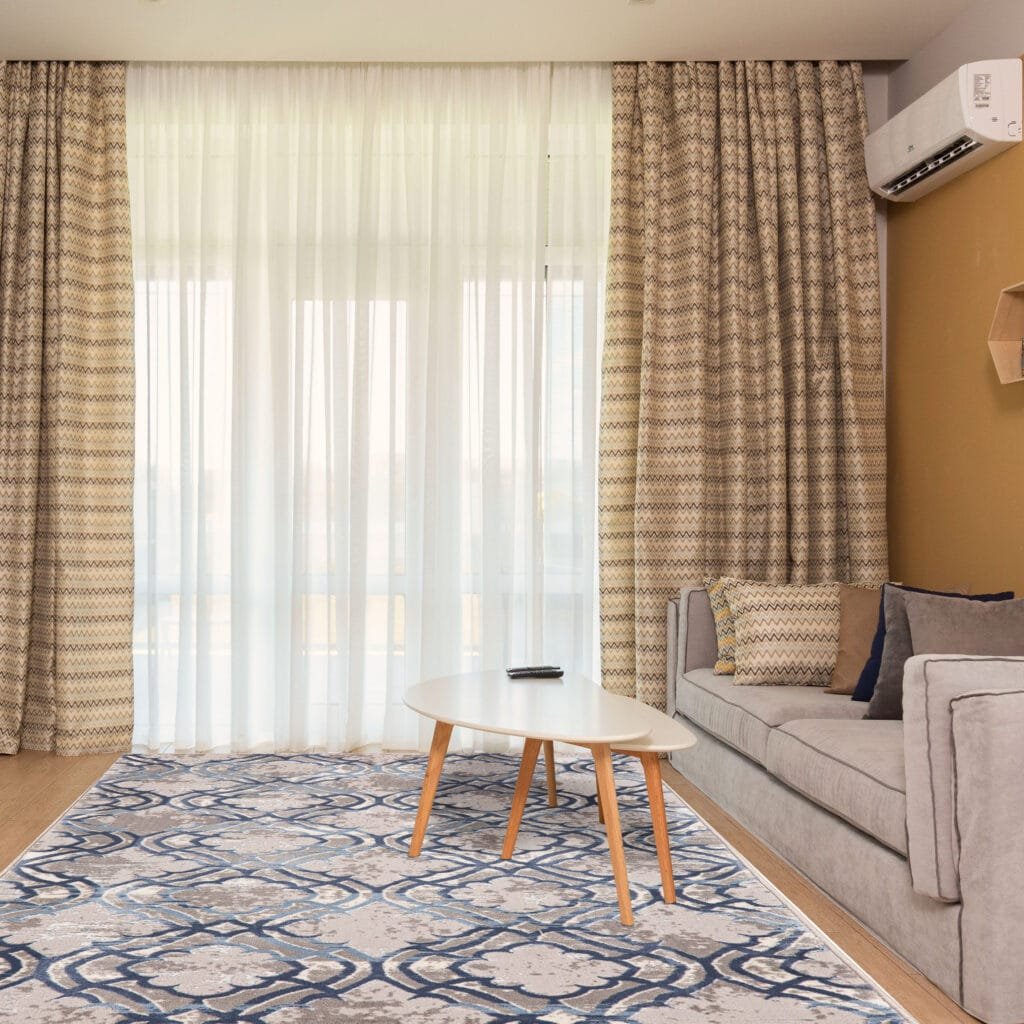 Sapana Carpet-Mats introduces two new additions to its product lineup: the Venice Area Rug and the Modena Area Rug. Venice Area Rug is a modern rug collection that features hand-carved irregular patterns replicating the patterns of the canals of Venice. This new contemporary design area rug has a soft and smooth texture made of highquality polyester material. The Modena Area Rug is an urban, chic, modern, and contemporary design collection. With abstract designs and neutral hues, these rugs will add a touch of sophistication and style to your favorite space.
Website: sapanacarpetmats.com
Artistic Range
Chumbak, launches its latest collection inspired by the captivating Madhubani art. The new collection draws inspiration from this unique art form, infusing it with the brand's signature style. The illustration style is influenced by the intricate patterns and vibrant colours of Madhubani art, blended with cultural Indian cues. The collection features an array of folksy motifs inspired by the everyday rituals of Indian life, reflecting the essence of temple décor with the sun and ornate nandi motif, flower lady vendors adorning the streets, and the daily scene of grocery runs in lungis. The thoughtfully designed assortment includes cushions, steelware, trays, and a wall plate, each beautifully adorned with intricate Madhubani-inspired illustrations. Each product is meticulously handcrafted, embracing traditional techniques and adorned with embellishments such as mirrors, pom poms, tassels, and beads to add a festive touch.
Website: chumbak.com
Fashion-forward range
CenturyLaminates, has tied up with globally renowned fashion designer, Mr Manish Malhotra, and launched a stunning range of laminates. CenturyLaminates is widely known for quality, range, innovation, and customer focus. With the introduction of a game changer in the form of Manish Malhotra, Century Laminates redefines design with its industryfirst range of designer laminates for discerning customers. CenturyLaminates by Manish Malhotra brings an element of exclusivity, which is coveted by high end consumers, capturing the essence of Manish Malhotra's designs in three exquisite ranges. His penchant for designs rooted in Indian culture & tradition finds expression in the contemporary, world-class look of the elegant range. He incorporates the double M monogram into the very modern Insignia range, stamping it with his unmistakeable style. These breathtakingly beautiful ranges of laminates will blow the minds of customers and enable their homes to make a statement about themselves.
Website: centuryply.com/centurylaminates