Shruti Biyani & Ashish Biyani of Livinstyl INC have created a distinctive home that is a fine synchronization of functionality with latest design trends.
Very few designers get the opportunity to have clients who place the project entirely in their care, giving them a free hand with the design aspect. Principal designer's Shruti Biyani & Ashish Biyani of Livinstyl INC are one of those. 
Located in Kishangarh, Ajmer, for client, Pradeep Bansal, the designers have created a truly distinctive interior that captures the attention of viewers with its bespoke furniture and subtly created moods through textures and lights. The brief given by the client was to design a personal space that effortlessly harmonizes functionality with up-to-date design trends. Sharing more insights on the client's brief, Shruti says, "The design is a stunning combination of subtle colours and textures that create an atmosphere of luxury and comfort, with every detail being carefully thought out and executed to perfection." Ashish adds, "The moment you enter, the home represents a pure form of opulence. A nuanced creation of elements all works together with seamless cohesion. There is an air of subdued elegance in the house. It celebrates a relationship between subtle shades, keeping the material palette neutral and minimal."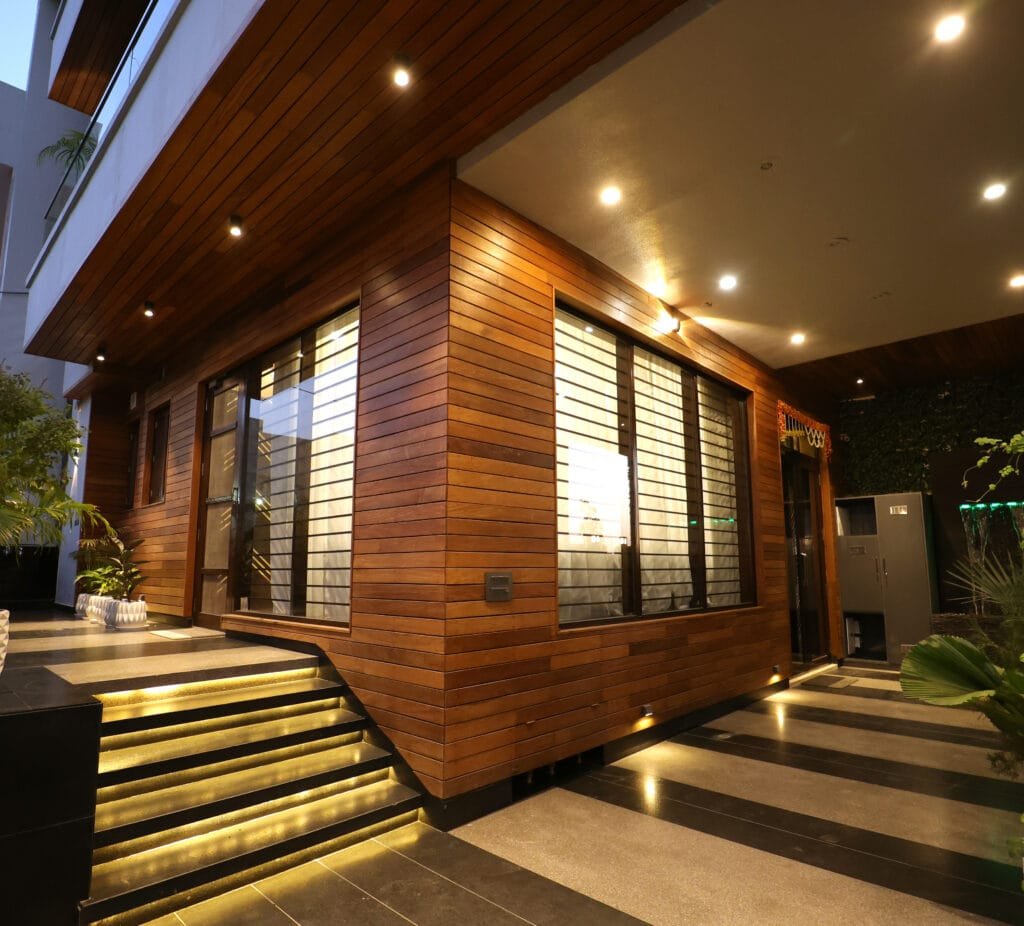 As you enter the house a water body welcomes you with serene sound and a grand entrance door. As you move in, the first landing is used as lift foyer that makes the 1st floor accessible without disturbing ground floor occupants. The first floor also accommodates the rooms for younger generations in the family. As you step up, on the left side is the formal drawing room that has a separate entry also from front side of the bungalow. "This helps keep privacy of the home intact from formal guests who can be entertained without disturbing the main living area.", adds Shruti. The drawing room is designed to accommodate about 10 people. Articulately designed sofa and the convertible centre table which is accessible from all seats, lends this space an eloquent look. The Pooja room has been, elegantly designed, with marble/metal inlay art work on the mandir back and wooden cum Glass door that lends a clear glimpse of the temple whenever one passes through. Ashish informs, "The mandir's positioning has been designed keeping in mind the clients need to have visibility if they want to gather for a large kirtan in the living hall." Attached to it is the U shaped fully modular kitchen which has ample full-functional space-saving storage with imported granite top. Being Marwari family, the kitchen is also attached with a separate store room for extra storage and utensil wash area and traditional Matki Place called 'PARINDA' which is not directly visible in main kitchen. All these spaces are connected to the living area.
The living area is seamlessly connected by folding style staircase to first floor with elegant golden / glass handrail with louvered wall on the back. Under staircase area is decorated with planters and pebbles, while the living hall sofa acts as a perfect spot to lay down and relax. Dining table is placed in a way, that it does not disturb the overall moving space and is equipped with revolving seats for effortless usage. The dining area also features a framed and designed picture of Lord Shrinath Ji. "Imported Marble used for flooring throughout lends the bungalow a seamless look. The Luxury Living area connects to one master bed room and another parents room.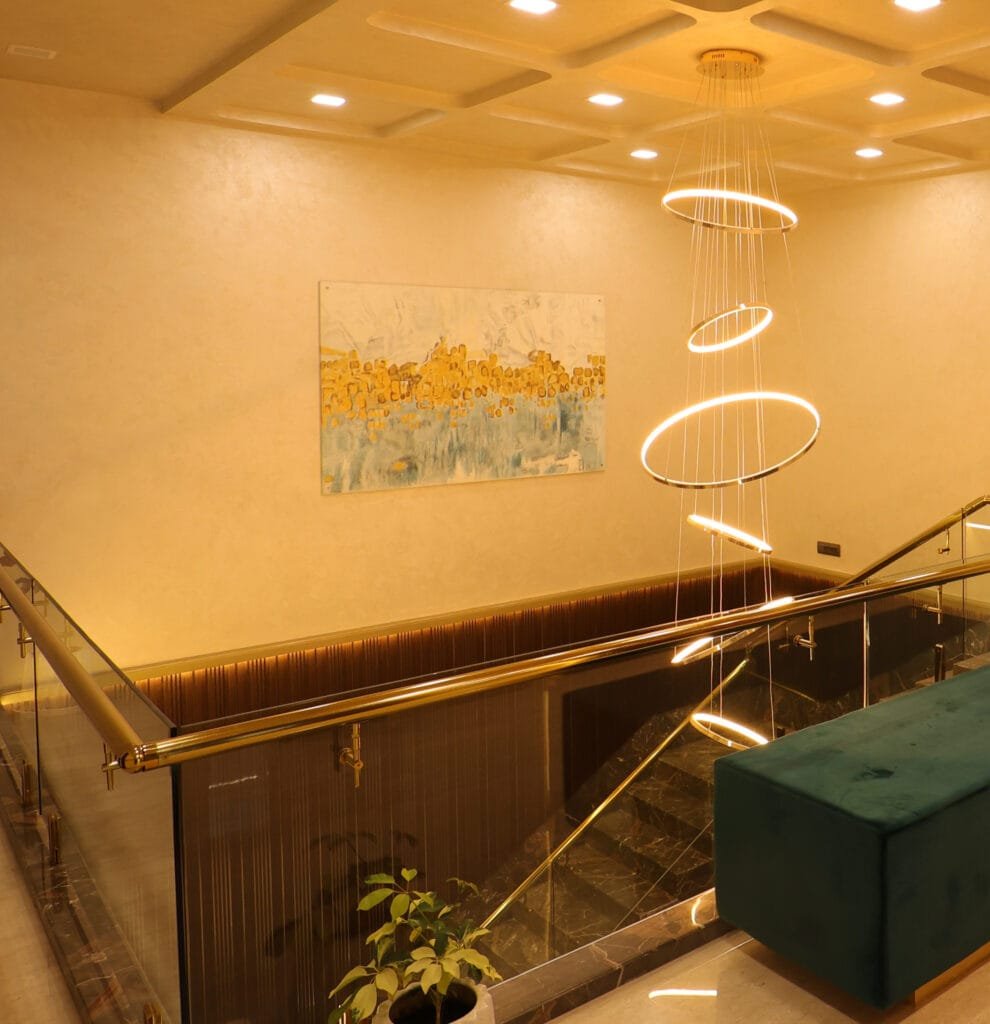 The ground floor master room with enough open floor space, attached dress room and toilet with rich bed back, artefact placement niches and two person relaxing chairs completes the requirement. Ground Floor Parents room has been kept simple as per the choice of the occupants, and has visitor seating options to chat with elders even when they are in the room. A beautiful Staircase and Lift takes us to First floor that features a Duplex Cutout ceiling decorated with stylish 10' long ring profile chandelier. The Mid lounge area adds to the spacious feel of the bungalow and on one side it connects to another staircase to terrace and Home Theatre.
Home theatre is designed in dark green theme and is a combination of entertainment and theatre room. The Large size bedding that can accommodate 15 people together has an interesting MS Modern Jaali work in elevation which is visible from study area cum library. "We have lent the space an ample library space connecting to steam cubicle area and empty space kept has been reserved for Gym equipment's for future usage.", says Ashish. Another side of the hall connects to two son's bedrooms. Ashish further adds, "One bedroom is designed to have functionality as a couple room, which will be used by elder son who will get married soon. Glass Wardrobes in this room give it a design edge, while grey themed floor dress and toilet further support the theme." The younger son's bedroom has the glimpse of his age with a huge blind with his picture as well as his nick name stylishly placed on a blank wall. Again the space is connected to a dress and washroom with extra storage and utility.
A sky roof seating with a stone fire place is given to the terrace area to enjoy the winters and monsoon. An open to sky seating is given by the side of a water body on a raised platform which covered by wooden planks on two sides. Ample plants lend the terrace an unmatched green feel. A separate room has been dedicated to be used as servant cum store room to complete the utility. The bungalow elevation is played with decorative MS work, Imported Marble and original wood claddings and designer name plate. As owner loves plantation, ample of it has been used in the bungalow's exteriors, on terrace & drawing room porch.
Overall the home is a cocoon of beauty and luxury with diverse elements lending it a stylish, rich and modern feel and a highly functional usage.