With a goal of commitment, innovation and excellence, ANA Designs pledge to be different.
When you combine originality with a sense of personal satisfaction, the success achieved is something to yearn for. With this mantra in their hearts, Mumbai-based ANA Designs have come a long way. This team of enthusiastic architects and interior designers are constantly on a drive to achieve the unattainable. Headed by the dynamic and talented Duo Ankura and Ankit Patel ANA Designs has a robust team committed to delivering magnum opus projects and creating spaces with passion, finesse and proficiency. Prominently positioned in the corporate interiors realm, ANA Designs thrives to create design landscapes that foster creativity and innovation. The team's focus lies in curating a holistic approach towards a project, as Design and Build formulates the bedrock at ANA Designs.
Creativity and Innovation form the foundation of the design journey at ANA. A path breaking design outlook while being conscious of the environment is an essential part of our DNA.
"We co-create spaces in collaboration with our clients. This exemplifies their organizational goals and empowers them to re-invent and evolve .We are driven by a human centric design thought process and are ever evolving as a team." Says Ankit.
Further sharing her view Ankura says, "Our unique design thinking skills & in-depth experience support a seamless journey from Concept to Reality. We stand committed towards providing exceptional and cost-effective solutions to our clients across diverse sectors such as Financial & Banking, Engineering & Manufacturing, E commerce, Retail, Pharmaceutical, Research labs etc."
ANA is known for its creativity, culture, team and professional ethics, catering to private, public and Fortune 500 firms, panIndia. ANA has also won many awards such as the 50 best Interior designers of India, The CNBC Awaaz CRISIL Real Estate Award and Society Interiors Award to name a few. The firm is also on CRISIL Ratings as a leading company for financial strength.
We speak to the talented Duo on their design journey and their future vision.
How would you describe your design journey?
Our incredible journey began post my graduation from CEPT University and Ankit's MBA from the United States of America. We were in Ahmedabad for two years before moving to Mumbai in the year 2000. Our passion from 'Day One' was to drive our own business with a cultivated thought process and unique ideologies in the interior design domain.
Our unified goal is to consistently deliver resilient and innovative designs by providing end to end solutions through a Design and Build business model instead of a one directional Design Consultancy. "The more involved we found ourselves in understanding the pulse of the business; the more we began to realise that alongside design, services are equally crucial for the success of a project. " says Ankit. They are more receptive towards new age design solutions to transcribe their organization's visionand mission into their spaces. Hybrid ways of working technologically sound eco system, robust services systems. A hybrid fusion of a userfriendly yet unique design interface with cost rationale fit outs gained momentum and importance across all looking towards building new office landscapes.
Design and Quality goes hand in hand and that is the prime reason ANA is sustaining in the competitive world with a distinct identity and an esteemed compendium of repeat clientele. Their diverse portfolio is a testament that our designs bear that creative edge, are sustainable, client centric and inclusive for creating a holistic and elevated environment for all our clients alike.
Which specific project was the turning point in your career?
Reflecting on the past, there have been many projects that enabled us to transcend onto the next level of prowess. Our learning curve and the growth curve have been consistent and have worked well for us as a team and as an organization. We have now entered an era which is witnessing a constant shift in our everyday lives, the outlook of offices, work force and the management. Our progress led to a well populated bank of clients with diverse business expertise; in turn educating us through detailed interactions with industry leaders in multiple verticals simultaneously. The knowledge that we assimilated towards implementing new designs for prospective and existing clients brought tremendous value to the table. Creative learning methods involving cross applications across varied industries were an enriching experience. We effectively applied solutions of one industry to another to derive out-of-the-box-solutions for our clients that worked well in terms of design effectiveness, alignment, and functionality. Furthermore, empowering them as a team and as an organisation. The ICICI Securities project in Kolkata and Centurion Bank in Mumbai between 2005-2006 both posed as game changers for us as well as steeping stones to move onward and upward with multiple corporate office projects that followed thereafter.
Over a decade ago we pushed our boundaries with holistic design solutions for bank branches moving from retail outlets to radio studios and Airlines to Cosmetic Laboratories. We gradually moved onto large corporate offices, headquarters and complex technical laboratories for both national and International organizations. Each industry has taught us different facets of their business and that in turn adds immense value and understanding to the forefront. Tremendous value addition to our clients or our design overall.
What keeps you motivated?
We thrive on constantly reinventing ourselves and persevere for supremacy with each passing day. Ankura and I are always on the lookout for new designs, new creatives, unique materiality and yearn for perfection every step of the way. We are mindful and relative to our clients by providing trustworthy bedrock of a well- rounded perspective. Our conviction and vigour remain unchanged for all clients and we build spaces that are creative, functional and sustainable. India is on cusp of a revolutionary change and there is a vast potential. The market is substantial and everyone has a vital role to play. We appreciate the competitive market and our motivation is always on the upswing as we are determined to carve a creative niche with every assignment that we align to create.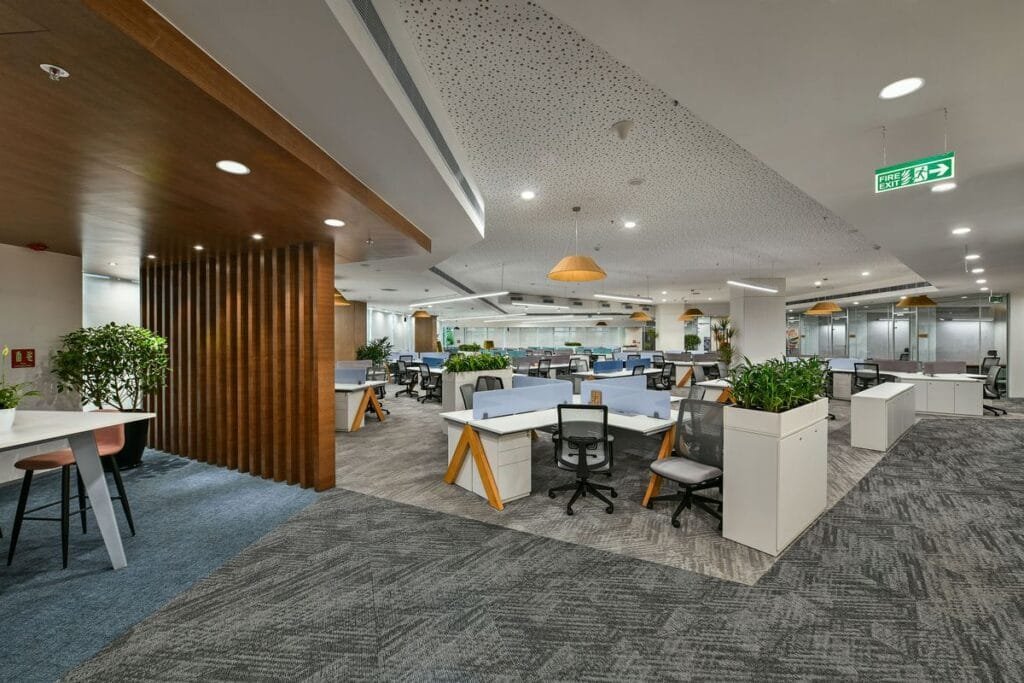 Entrepreneurship is more prominent than ever across every age demographic in India. This provides us with the motivation to have our game on point and work tirelessly towards churning out bold and prominent impressions in the world of Interior Design & Architecture.
It's a Great Era for India and great times ahead for us!
Here's a close look at some of the prestigious works from the firm's diverse portfolio.
ICICI Lombard Head Office, Mumbai
ICICI Lombard General Insurance Company Limited is one of India's leading private sector general insurance companies with a clear vision towards achieving overall excellence.
The building was a multi levelled spectacle ( G+3 structure ,1 lac+ sq.ft area) encompassing varied ideologies under one roof. Besides the interior design scope; we also actively worked on the structural and landscaping aspects of the project. It eventually turned out to be an architecturally inclined challenge as well carrying a unified concept binding the exterior to the interiors in an optimum manner. The ground floor represented a Biophilic connect with ample natural light and infusion of green elements into all the open spaces representing magnificent flora.
Enclosed spaces were infused with design elements celebrating the vast textile prints of India named Ikat, Shibori & Dhuri. The entire concept on the lower floors revolved around Outdoor Sports such as Cricket, Football, Swimming etc with a central vault that was identified as the meeting hub surrounded by the work floor around it. Detailed and innovative murals, artwork and installations were orchestrated onto each floor that spelt out a particular sport. Multiple break out spaces in varied modules added the necessary get aways for the workforce for quick meaningful collaborations. The cafeteria was a recreation of the Mumbai Street that is synonymous with the sights and sounds of the key elements such as with stamped concrete floors, lamp posts, a cross section of a bus as a bain-marie, the local train and a sizeable cloth bound tree representing our culture, our essence and vibe.
The corporate floor was a representation of indoor games as well as posed as a business floor with all the larger meeting rooms, management cabins and board room located at this level for conducting meetings and connecting seamlessly. A sophisticated undertone linked all areas of this space exuberating a sense of focus, drive for the goal driven leadership team to work within.
EVEREST INDUSTRIES LTD, Mumbai
Everest Industries has transcended into a household name in the New Age Building materials sector. The outlook was to create a space that represented their values and vision; in turn showcasing their product range and expertise. Weaving a design story including these elements was a unique approach. This vision inspired us to create a work space driven by subtlety, customization and geometry. A Scandinavian palette took centre stage and elevated the design thinking to the next level. An uninterrupted connect of this 24,000 sq.ft office from one end to the other and break out zones for quick collaboration provided the right channel to communicate the culture to the teams across all functions. The periphery was planned with all focus zones to avoid any visual obstacles on the floor plate and worked well for the floor plate.
A subtle yet impactful design and colour features helped in highlighting their product applications. Jointless look acoustical gypsum ceiling, a dedicated experience area for client visits, sessions or town halls , unique design elements and customized artwork graphics created a homogeneous ecosystem.
BITSoM (BITS School of Management), Mumbai
Innovation, business excellence and relentless imagination are the threads woven into the fabric of the culture at BitSOM. The management school is connected to BITS Pilani, who are pioneers in the education sector for over five decades now.
A unique blend of the Aditya Birla Group legacy teamed with the future ready vision was translated into the design language, spread across this spacious 50,000 sq.ft facility.
The BITSoM logo indicates the majestic Tiger and the splendid rising sun. This was facilitated via a free flowing design, interesting interplay of materials that created visual zoning sans the enclosures . The inter connectivity of the learning spaces with collaborative areas, active learning spaces promoting collaboration and acoustically sound future ready classrooms are equipped with hybrid learning options. Every space was also mindfully curated with artwork and murals that represented the key drivers depicting focus, freedom and growth. An immersive spatial experience for the students via the medium of Design Meets Function created the ideal eco system to thrive , boost their creativity, infuse a unique cultural connect and provide a firm sense of belonging to the institution. Inspiration, Innovation , adaptability and flexibility worked in tandem, taking this project to the next level of prowess.
TRUE NORTH, Mumbai
True North has transfigured into a trusted brand bearing a robust portfolio of growth equity investments among other verticals. Exclusivity and agility were mindfully infused into the space through a unique design language with a client centric approach. This 8,000 sq.ft office space was well equipped with the latest technology, height adjustable desks to support wellbeing, smart app-based scheduling systems for hot desking and well-planned acoustics for all meeting room enclosures. The café area posed as a town hall space as well as this work café concept would enable people to connect over a meal or a coffee throughout the day converting the entire office into a productive environment.
A great ceiling height worked well with boosting the design understanding to the next level. An interactive lounge cum library setting created a micro environment for clients and internal teams to connect effectively. An elevated materiality and colour palette set an ideal backdrop for creating multiple work settings within the inventive framework. Biophilia, Wellbeing and functionality formed the riveted foundation; enabling a well-balanced and interconnected environment.
TATA Consultancy Services office, Bengaluru
Tata Consultancy Services being a technologically driven, mega global business called for a space that set the bar to enable connectivity, creativity, agility and harmony to co- exist.
The vision was to create an agile and aspirational landscape that commanded a seamless flow of business functions, collaboration, client interactions and team building activities. ANA Designs created a space that empowered 3,500 + employees to enhance their engagement levels via mindful design influences through this Green build platinum certified 12 storey marvel spreading across 5 lakh+ sq.ft . Transparency at all work levels was achieved through our detailed approach in all aspects of design and services. Biophilic elements introduced a softer and delightful touch to the office and helped bind the space together. Methodical yet creative zoning helped break the monotony of linear/ traditional working styles and elevated each floor plate with introducing a creative edge in all aspects. Innovation labs and multi faceted spaces provided a platform for multiple teams to collaborate and connect productively.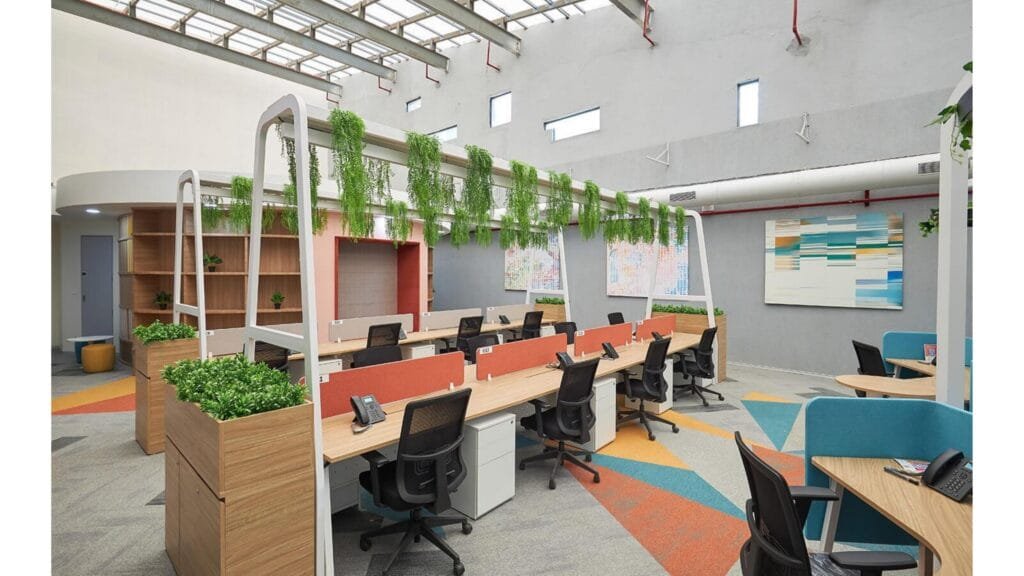 KPMG Global Services Pvt. Ltd , Pune
KPMG Global Services (KGS) is a strategic global organisation that engages with KPMG member firms to provide preeminent, innovative, and curated business services. This office with a robust floor plate of 55,000 sq. ft demanded a challenging design dynamic that translated into an inclined layout. This unique disruption created interesting negative spaces leading to creative pockets to drive informal collaborative sessions. This concept radically radiated from the core of the work space. These clearly demarcated yet free flowing zones; allowed teams to connect effectively in varied locations. All the meeting enclosures and cabins were brought in towards the central area to allow maximum natural light to reach all workstations across the office. A stark open plan concept characterized their focus, a reformed culture, employee connectivity and wellbeing. Alternative break out zones, phone booths and interactive meeting enclaves were sprinkled across the office to allow easy access for all teams alike.
The work floor was predominantly planned on a false floor to enable an agile environment wherein required teams could productively undertake varied projects and execute seamlessly due to the hyper connectivity. Sizeable work cafes were planted in strategic areas to provide an alternative work platform during the work day. Technology was deeply embedded into the design understanding to empower teams to work in an uninterrupted manner. The cafeteria too played a dual role of providing a dining area for the teams as well as a space for conducting town hall meetings and briefing by management.
A high spirited environment was created by infusing a refreshing and vibrant colour spectrum that connected well with the design ideology for this mega organization. It was a truly resilient space representing the inclusive and determined mind-set of the organization to achieve business supremacy.
Aditya Birla Science Center (Grasim Paints R&D Center), Navi Mumbai
The Aditya Birla Group, a leading global conglomerate introduced a new entrant into the paints business through their Grasim Paint business vertical. The 41,500 sq.ft Experience Center and research laboratory was envisioned to set a benchmark towards their official entry into the dynamic decorative paint & coating industry. This design brief was crisp and vision was clear. "We envisaged this journey through a burst of colours ,shapes and forms to be the best representation of our Design Thought process. We realised that a it was imperative to create a walk through experience in their space and capture the varied processes, products and approach of the core teams to celebrate their work and research in an ideal format." A dash of vibrance on the carpets, ceilings and varied elements in the interior spaces reinforced the purpose led interiors created by our team. The meticulous laboratory planning was a result of intense study , research and brain storming sessions with the core research & management team. It is truly a rewarding outcome wherein a true confluence came forth with aesthetics of an office and technical research laboratory design took centre stage.