My favourite structure (designed by someone else):
Charles Correa designed Bhopal's landmark Bharat Bhavan. This "non-building" structure, follows the natural gradient and blends into a hillside landform. It is a remarkable example of contemporary architecture that successfully combines Indian traditions, climate, and sensibility with modernism.
I am inspired by:
I get inspiration from a variety of places, including the outdoors, nature, travel, historic structures, and cultural sites.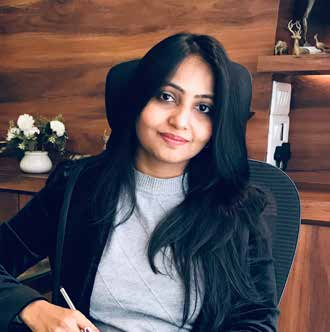 Case studies of groundbreaking projects created by illustrious architects might occasionally serve as a gold mine for identifying brilliant concepts.
Design to me is:
Design is the way something works. It works well when the purpose is solved and it works best when a style or aesthetics is added to the functionality.
I wish I had designed (and how would that have been different from now):
I've always been fascinated with the modesty of vernacular architecture, pioneered in India by Laurie Baker. This is my big-time ambition to explore the field and implement this holistic architectural practice/tradition that is sustainable and climatically as well as culturally relevant.
My worst design:
The word "passion" is synonymous with architecture. As a result, every previous work I've done has a special place in my heart. Sometimes it becomes disheartening when clients can't keep up the patience until the finishing stage, and in a hurry to shift, they compromise on design or execution, causing manifold damage to the project
My best design:
It is yet to come.
My signature design element (one element without which no design of yours seems complete):
My designs have an artistic inclination. Every project I work on has my distinctive signature, whether it be a wall mural, a quick sketch in a frame, an inlaid design on a floor, or just a panel of zardozi handiwork created by regional artisans. The component that makes my design complete is "ethnicity."
To unwind I (hobbies other than architecture):
I am fond of traveling, especially to monumental or heritage sites, and also enjoy sketching/painting the same.
If I was not an architect:
If not an architect, then I visualize myself either as a full-time fine art enthusiast a ceramic artist, or a travel blogger.