Leading design house Rosabagh reinterprets the classical and the modern styles in this home in Surajkund.
In Surajkund's Ibiza Town lies leading design house Rosabagh helmed by Mr. Abhishek Kathuria. His latest design marvel – a sprawling four-bedroom home spread over an area of 4,000-sq ft caters to a family of four. Surrounded by verdant vistas, the home plays host to a perfect symphony of whites, beiges, pastels and jewel tones; its warmth is difficult to escape right from the time you step across the threshold.
Encapsulating its owners' worldwide outlook, the house exhibits strong influences of both the modern and the classical, and nowhere is it more evident than in the living room. The first thing you notice here is the state-of-the-art fireplace, the perfect touch to a room already redolent with an effortless charm. Another pièce de resistance is the centre table: this ornate beauty with its gold-rimmed edges and bird motifs is a nod to emboldened luxury in the otherwise minimalist medley of greys, whites and browns. Brimming with natural light, the dining area's six-seater table serves a glossy spin on the home's understated aesthetic, as do its six vivid blue chairs carved out of fine teak wood. The resulting grandeur makes it a perfect hosting space, one that is designed to stimulate conversation.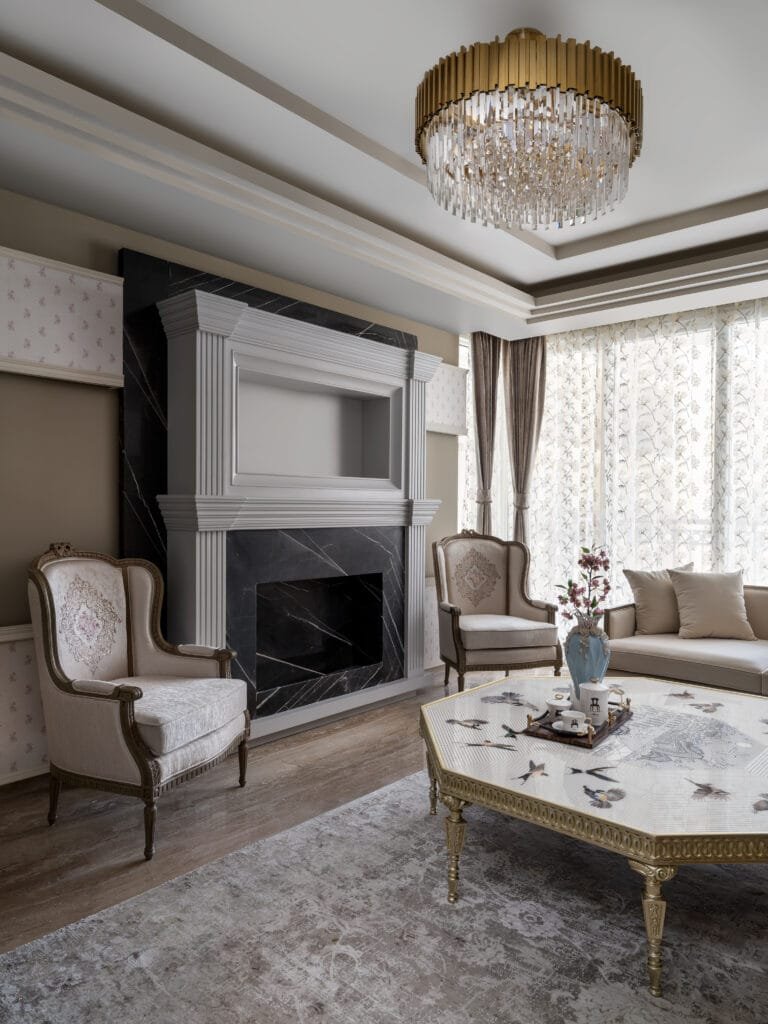 "For us, the biggest challenge lay in accommodating the voices of different family members with varied tastes and at the same time, staying true to our design sensibilities. We also ensured that we didn't compromise on making optimal use of space even as we strove to build a home that is timeless and exudes luxury," says Abhishek Kathuria, Founder and Creative Director of Rosabagh.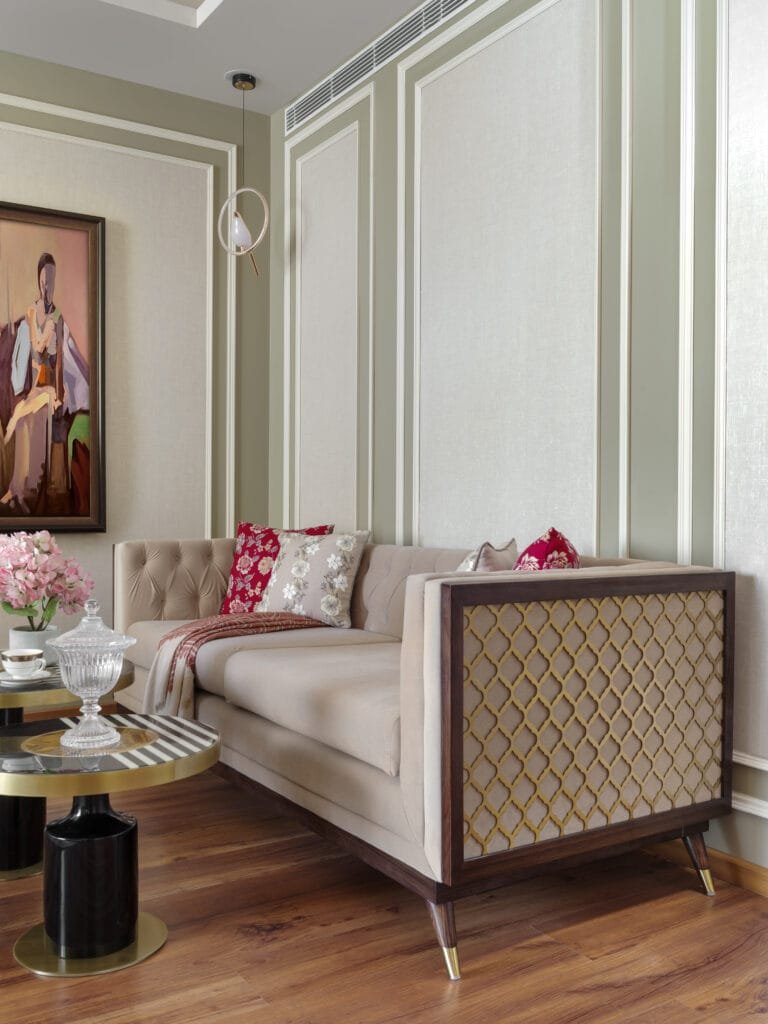 Right across from the dining area is the guest room with an ensuite bathroom. Bathed in beige, grey and white, Rosabagh's love for subtle geometry is well captured in the room's fixtures. As you explore the home, you realise that each of the four bedrooms embodies a soft, luxurious embrace in its own distinct fashion. Adjacent to the dining room is the parents' bedroom that boasts brilliant florals and invigorating pinks; the tea table and chairs at the foot of the bed make it a cosier nook in a sprawling room.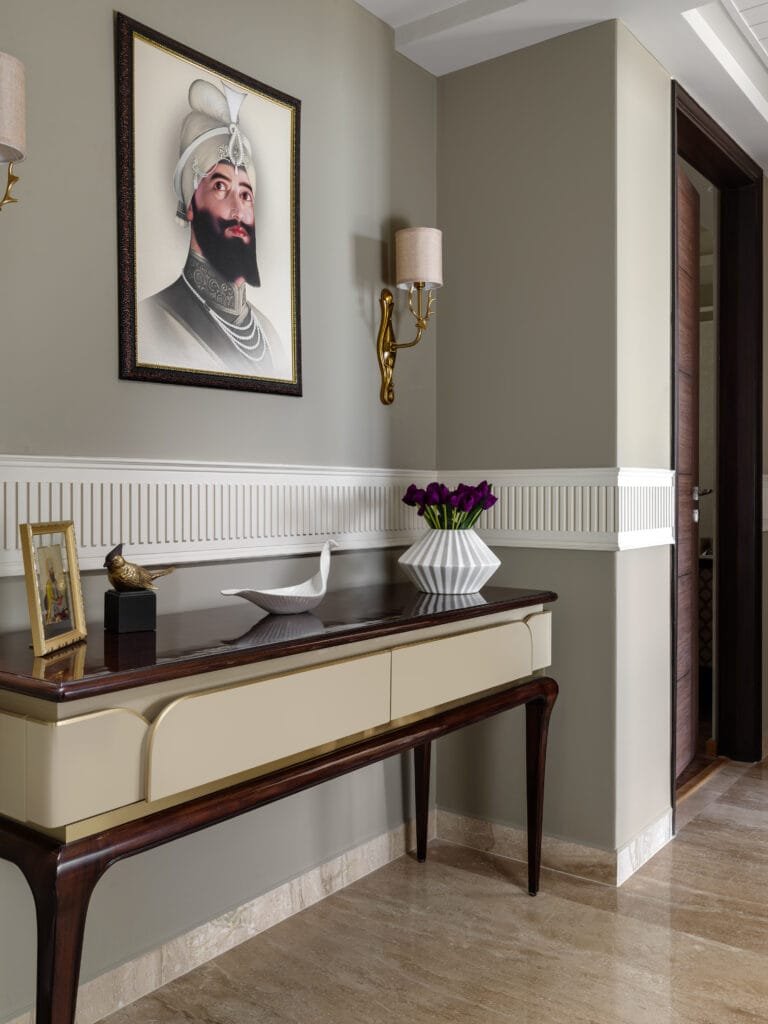 Facing it is the master bedroom which tells a story of understated opulence with its cane bed and rectangular panels adorning the walls. Blues and greys lend it an intimate calmness while the jharoka-like metal detailing on the sides of the bed and the couch notch up its glamorous appeal.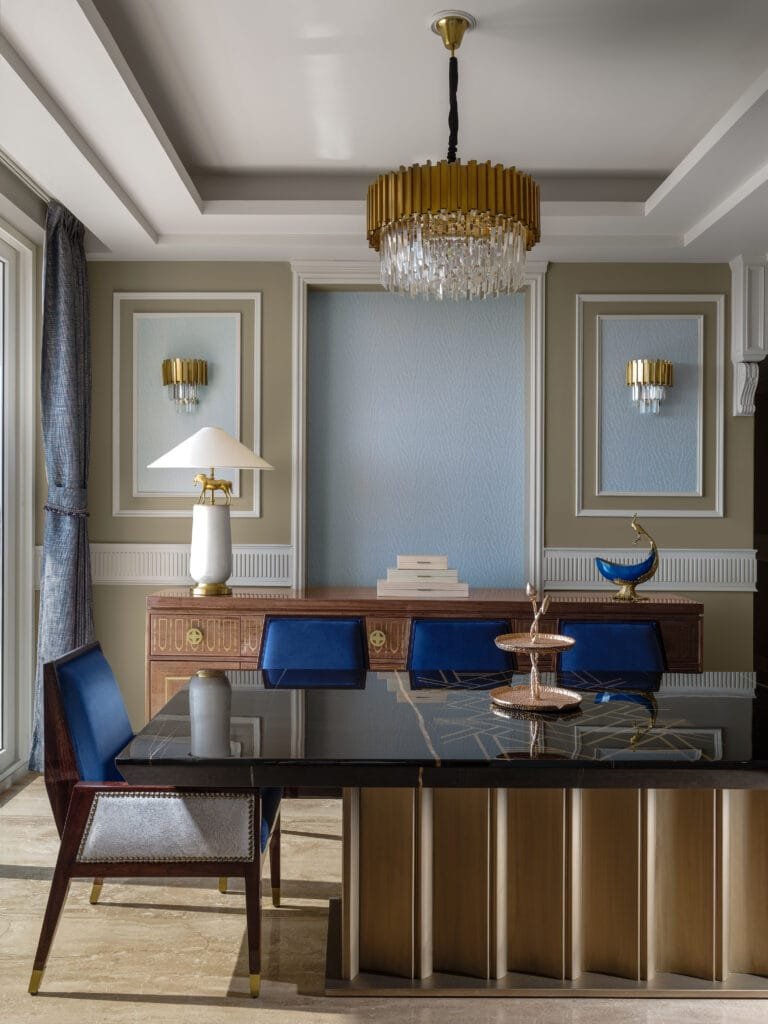 In the kids' room, situated at the other end of the home, beiges and greys are pitted against pastels that pop, imbuing the room with minty freshness and a resolutely idyllic feel. Also bearing testimony to Rosabagh's enduring brand of exquisite craftsmanship are the brilliantly crafted wooden consoles, located at the entrance and at the worship place.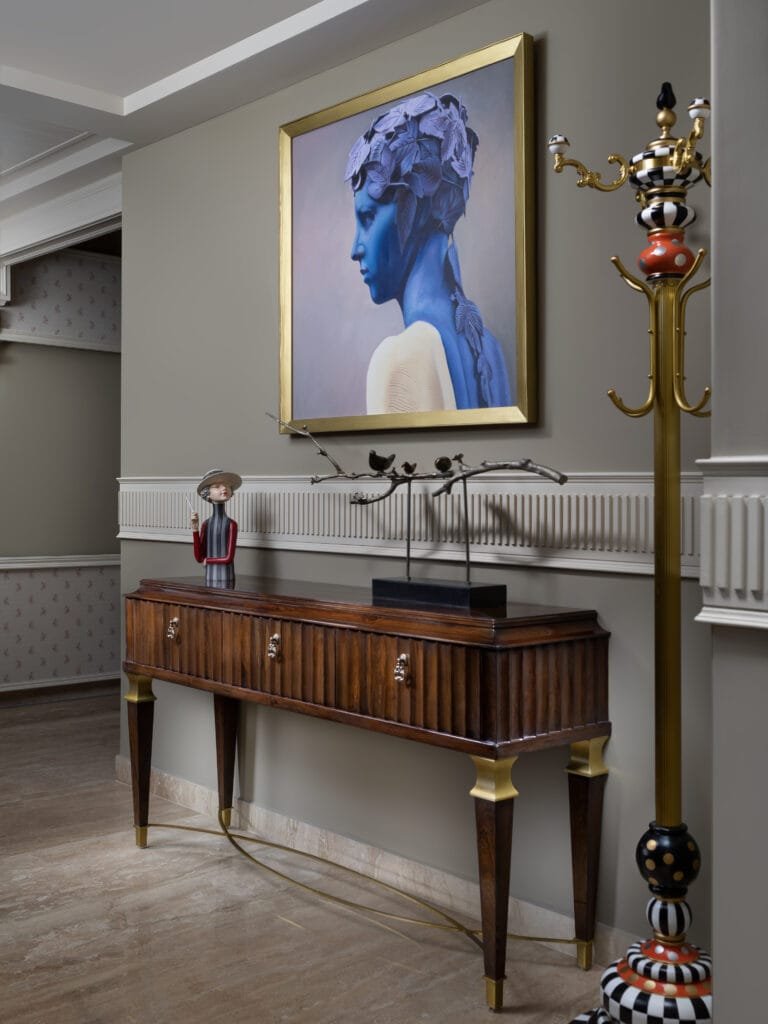 Product Details:
Flooring: Italian Marble
Furnishing: Dreams Furnishings
Furniture: Rosabagh
Lighting: Rosabagh
Paint: Asian Paints
Art/Artifacts: Rosabagh