BASICS Architects, designs a cuttingedge office for Pernod Ricard Gulf, a prominent French beverage company, in Dubai.
BASICS Architects, a renowned architectural firm, was entrusted with the task of designing an innovative workspace for Pernod Ricard Gulf, a leading French beverage company, in Dubai, UAE. The project located on the 14th floor and spread over an area of 7,500 sq. ft of Jafza One Convention Centre, offers breathtaking views of bustling JAFZA port, the largest commercial harbor in Dubai. The irregularly shaped site with arc-shaped facades made of curtain wall glass posed initial challenges in space planning. However, the design team skillfully utilized the two glass facades to maximize natural light, while the opaque sides were cleverly used as a backdrop for the open work area.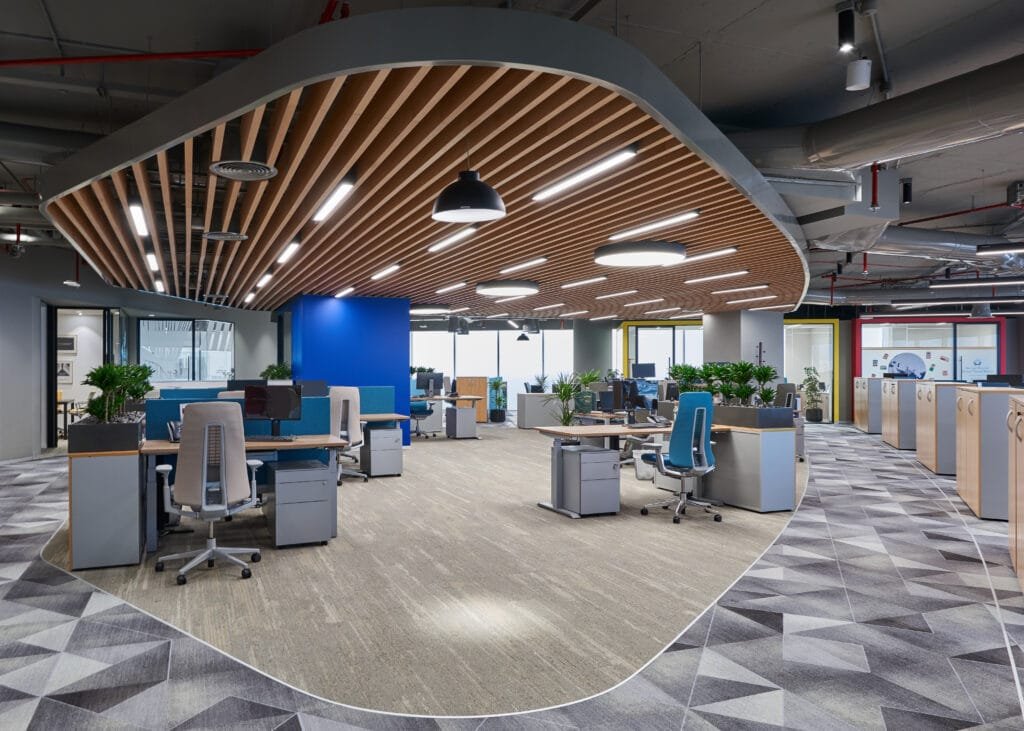 The primary goal of the office design was to reflect Pernod Ricard's global working culture, transparent work ethics, and impressive beverage brand portfolio. To achieve this, an open office concept with exposed RCC ceilings and services was employed, creating an industrial look and emphasizing transparency. A central island with a wooden baffle ceiling served as an acoustic barrier and a striking focal point in the space. The office's general carpet featured a multidirectional geometrical pattern that blended harmoniously with the organic shape of the site.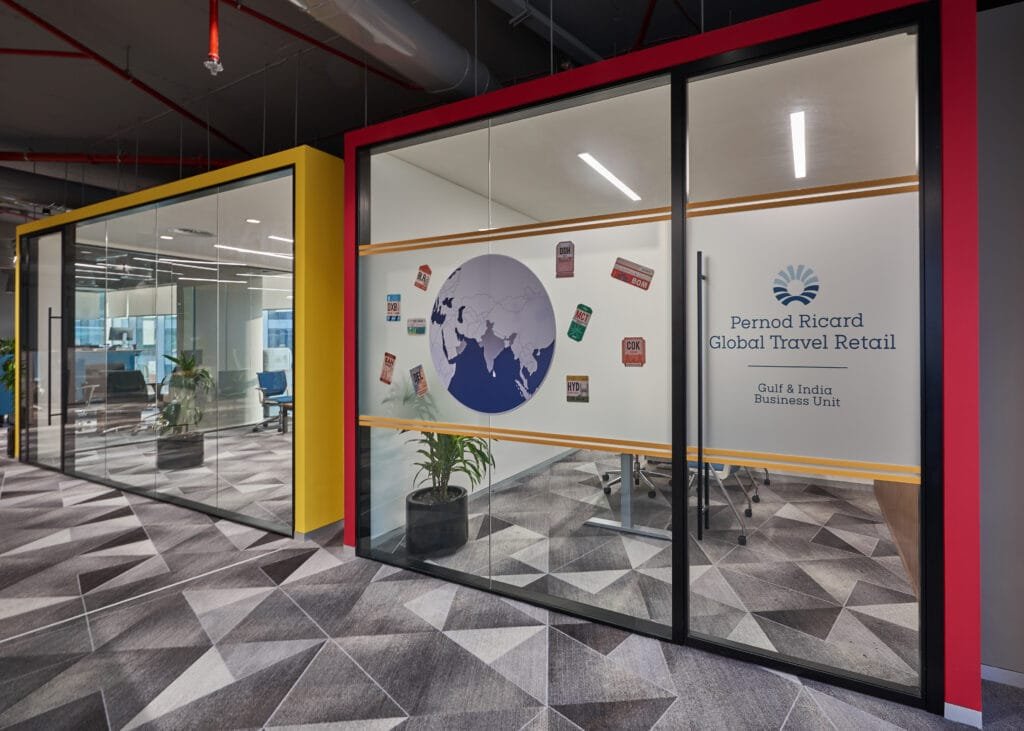 Explaining the design process in detail, "The hall's carpet features a strong multi-directional geometrical pattern, seamlessly blending with the organic shape of the site. The enclosed offices within the open hall were treated as separate entities, featuring suspended ceilings to create distinct spaces disconnected from the main exposed roof." Vinod Singhi, Principal Architect, BASICS Architects.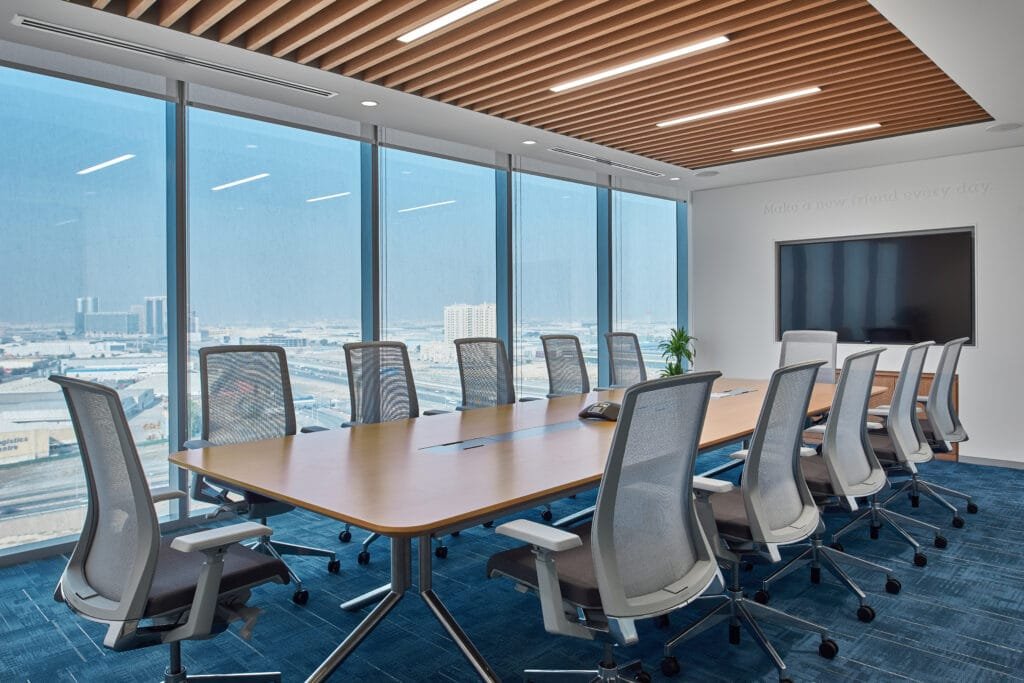 He further adds, "To unify the various Pernod brands, a largely monotone colour palette was employed as a blank canvas, which was then accentuated with brand themes through soft furnishings, accent colour pops, and graphics. Each enclosed room was thoughtfully designed around a specific brand, creating a cohesive and unique atmosphere."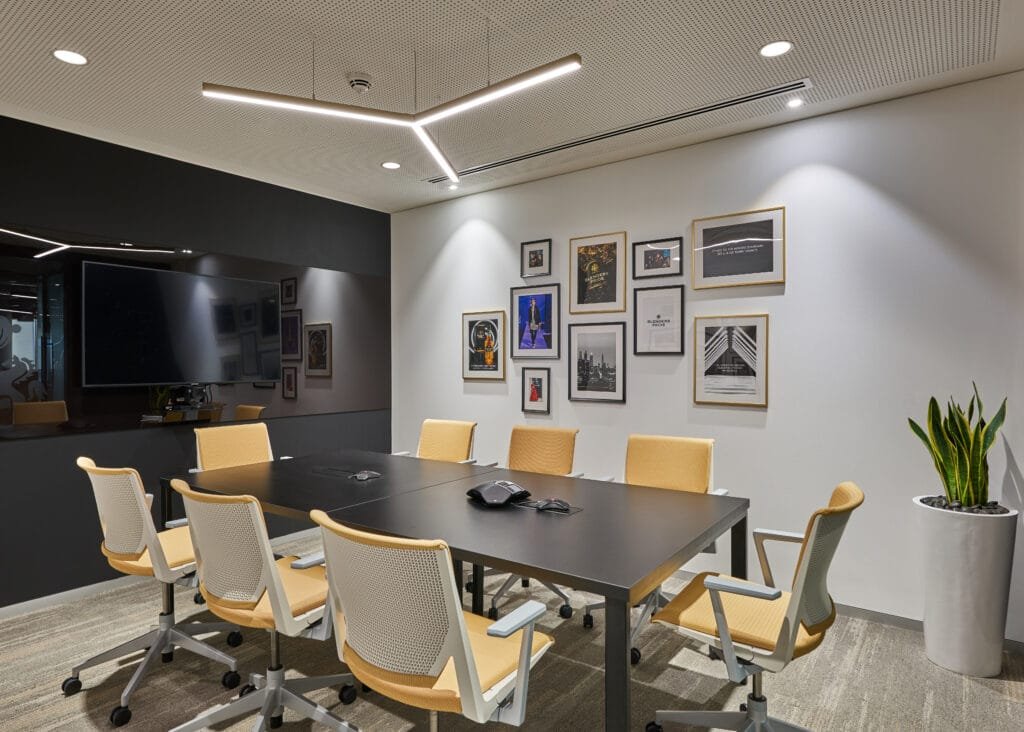 As explained by Vinod the colour palette of the office predominantly remained monotone, serving as a blank canvas for incorporating brand themes and accents. Each enclosed office space was dedicated to a specific brand, and the aesthetics were tailored accordingly. The reception area featured a copper planter screen frame and wood-paneled walls, complemented by natural plants, creating an inviting and refreshing ambiance. Accent colors from various brands were thoughtfully integrated throughout the office, infusing a dynamic and vibrant environment.
Functional efficiency and employee comfort were given paramount importance in selecting office furniture. The design team opted for ergonomic Haworth desking systems and Fern chairs known for their versatility and ergonomic benefits.
A key aspect of the office's design was to embrace Biophilic principles, fostering a connection with nature. Natural materials such as wood, copper, and rustic elements were extensively incorporated. The use of natural light and vegetation, along with the integration of organic shapes, further enhanced the Biophilic nature of the interiors. This not only promoted employee health and well-being but also boosted overall workplace productivity.
The office design was meticulously tailored to meet the needs and psychological demands of the employees, reflecting transparency, usability, and creativity. The fusion of colors, materials, and patterns resulted in a bright, collaborative, and dynamic workspace that aligned perfectly with Pernod Ricard's work culture.
BASICS Architects successfully brought to life a captivating office space for Pernod Ricard Gulf in Dubai. Through thoughtful planning and design choices, the office not only reflected the company's ethos and brand identity but also provided a nurturing environment that enhanced employee well-being and productivity. The Biophilic elements infused a sense of harmony and connection with nature, making it a standout example of an innovative and functional workspace.