Ar. Abhigyan Neogi has fused modern and traditional design elements for Dr Suraj and Ashita Munjal Penthouse in Gurugram.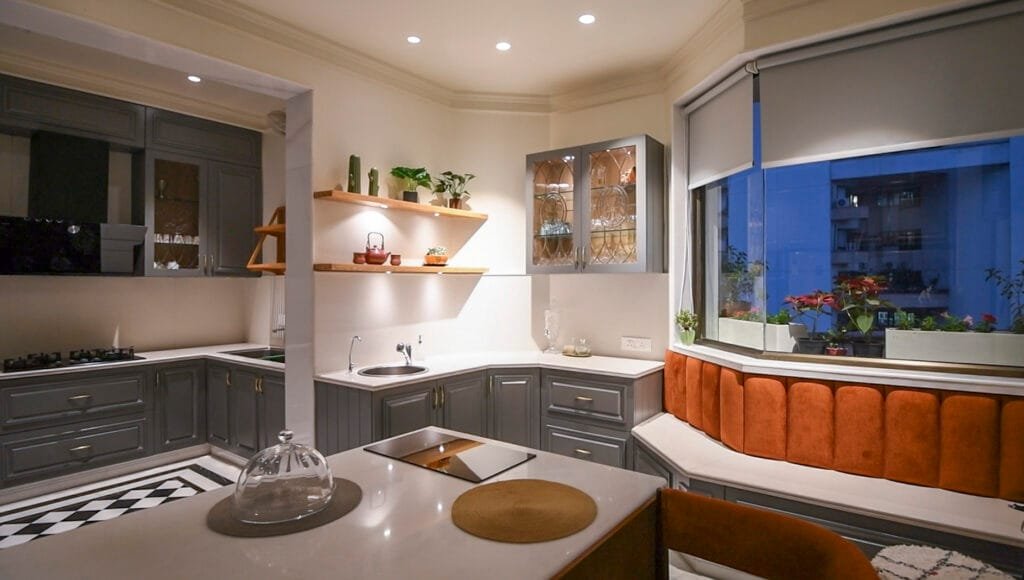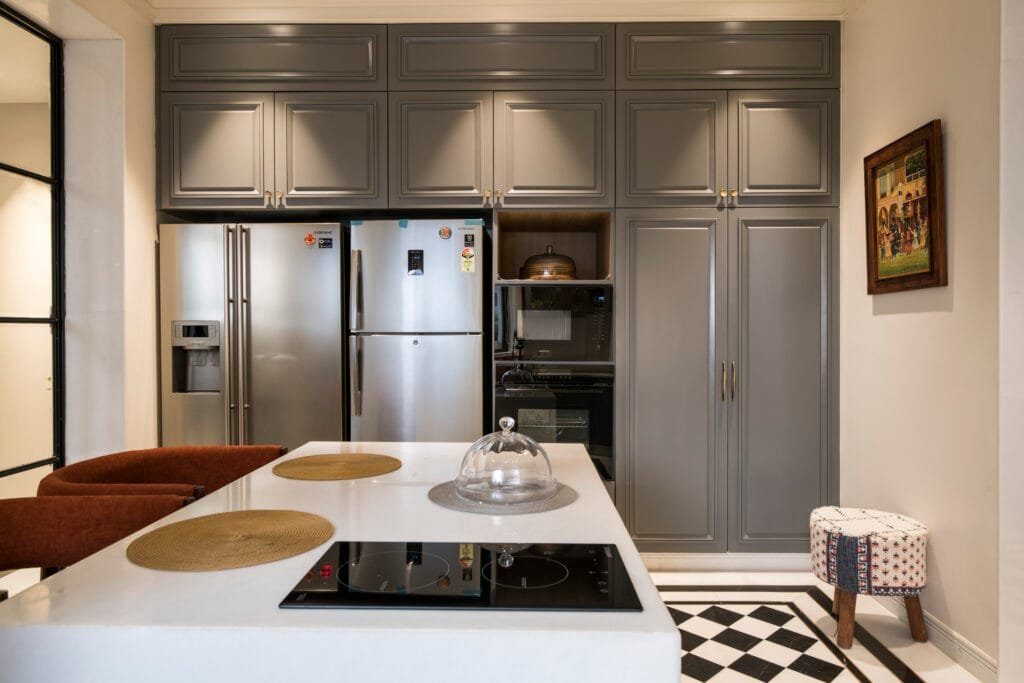 A congruence of neo-classical and traditional elements drapes this sumptuous penthouse residence in Gurugram for Dr Suraj and Ashita Munjal. Designed by Chromed Design Studio, headed by Ar. Abhigyan Neogi this 6,500 sq ft penthouse residence aims to offer an evocative appeal layered in contemporary flair with subtle opulence. Superheaded by Ar. Abhigyan Neogi, Founder, Chromed Design Studio, this residence comprises of a living room, bar area, study and open terrace in addition to bedrooms, all of which are spatially arranged across two levels of this residence. The brief was crisp `a modern dwelling with hints of traditional elements that aligns with the design sensibilities of the homeowners.'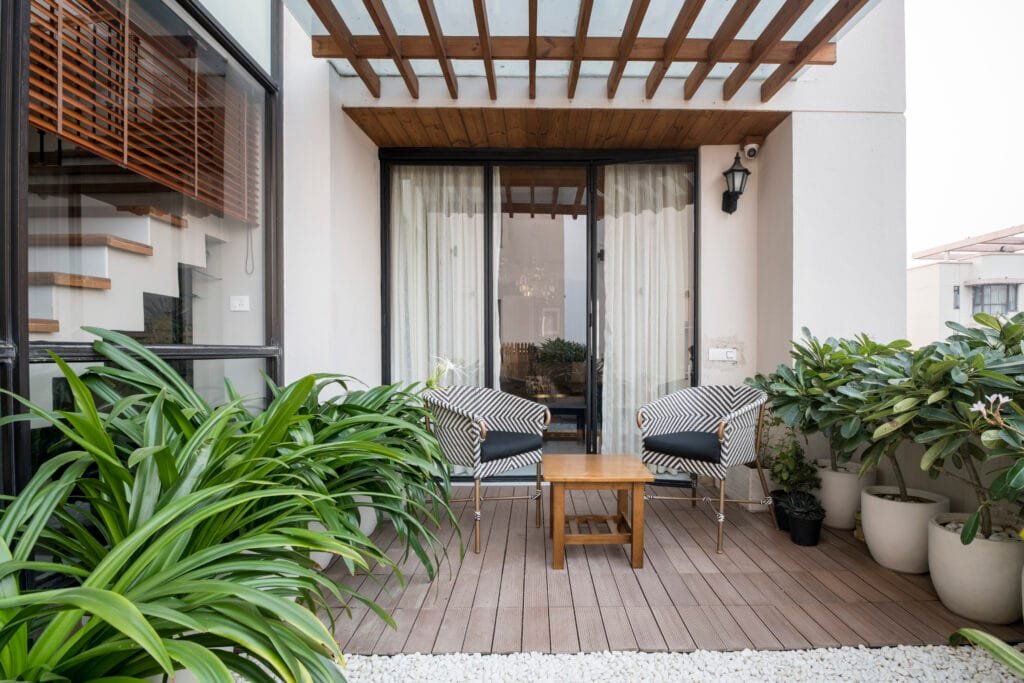 A combination of green, white and grey Bulgari stone with black Marquina marble fits the flooring of the foyer in a circular pattern. The double-height of the foyer accentuates the dramatic effect upon entry which is further glistened by a bespoke chandelier. Entering the lobby, the house divides into distinct nodes leading to separate spaces such as the living room, dining space and bar area with a guest bedroom on the side. The walls of the living area are coated in nudes with sleek mouldings — a modern interpretation of classical design.
The most prominent classical elements have been fused in the form of arches that seamlessly divide the spaces into separate zones of function. Subdued hues of beige and white are incorporated throughout the design aesthetic, giving the home a distinct architectural expression. The furnishings feature vibrant floral prints that provide a chic touch to the otherwise neutral backdrops, creating a refined ambience. The design layout is an expression of the inhabitants' personality that is reflected in the quality of living and user experience. A myriad of materials and finishes have been used to create diverse accents and statement pieces that embellish the home. Various elements and materials used in this project include mouldings, cornices, Duco coated wainscoting and metal (aluminium, stainless steel), bevelled glass glazing, sliding folding doors, and Duco coated wooden panelled door, fabrics, wood wall panelling, wallpapers, texture paints, and stone flooring.
The design narrative builds upon an experience that is regal, and opulent, yet optimises in strategic spatial planning that makes this abode completely utilitarian, providing seamless circulation throughout the space. Explaining the design concept Ar. Abhigyan Neogi adds, "The residence's design intent has been enhanced by bespoke decorative lighting which caters to the dynamics of the space, lending it an aura of warmth. Downlights were incorporated to generate ambient lighting, whereas statement pieces like crystal chandeliers were installed in formal places to create a rich atmosphere, accentuating the height of the space. It is critical to have a space that evenly diffuses and distributes light while also instilling a touch of elegance, in tune with the synergy of the space."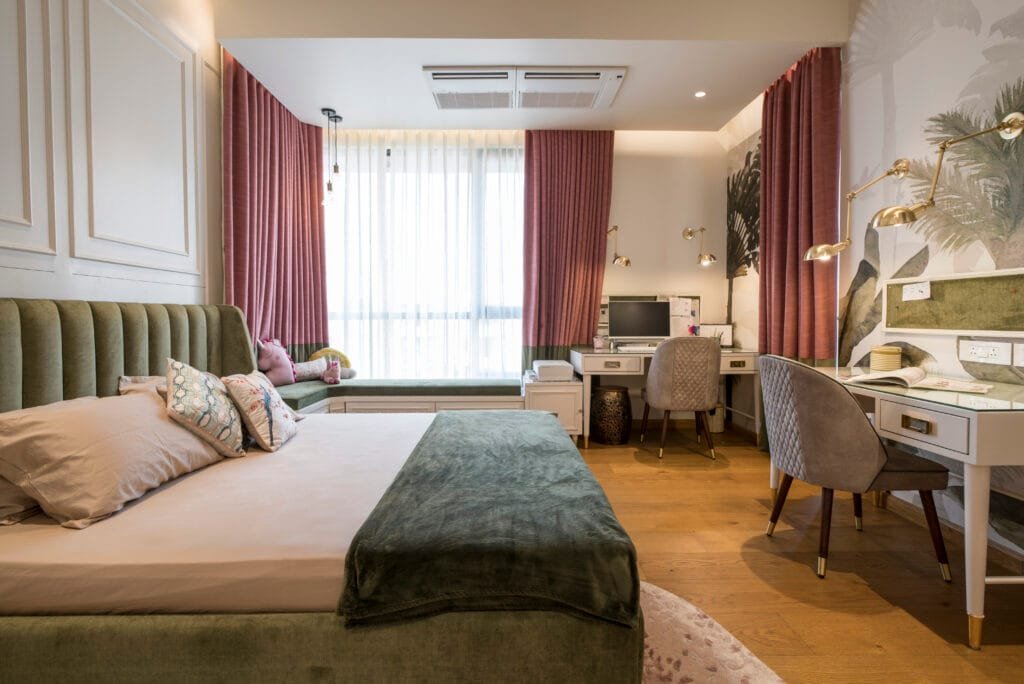 The bedroom on the lower floor was designed with the intent of day-to-day use and guests'. Designed with lighter elements like wicker and wood for wardrobe shutters and headboards, the design of this space honours the age-old craftsmanship of cane, lending the room an earthy tone.
Bestowed with a scale of expressions, the bar back consists of a distressed mirror giving it a sense of understated vintage luxury. Similarly, the bar front holds a mirror embedded in a zig-zag fashion with the bar top handcrafted in stone inlay work. Art-meets-design is showcased when the bar counter is paired with leather armchairs, standing in perfect harmony. The attractive bar ceiling is energised by patterned wallpaper which then continues to be a wooden coffered ceiling that flows into the seating space, creating a unique modern design language that's rooted in traditional elements. Chesterfield sofa sits below the wooden ceiling surrounding a stone top metallic coffee table. This bar is a contemporary, elegant take on the Neoclassical era, with dramatic artwork, mirror crafts, and gilded touches.
The outdoor spaces on the seventh-floor feature Jaisalmer stone flooring throughout with planters occupying the space and indigenous seating with a toughened glass pergola to withstand all weather conditions, creating a perfect open space ambience for the family to enjoy and unwind. Whereas the indoors have hard wooden planks flooring throughout lending a warm and earthy ambience. The master bedroom is crafted as a distinctive signature featuring an expansive layout of private seating, leather-finished wardrobes, a luxurious washroom with inlay flooring and a steam room. The study is in grey Duco paint with polished American oak for the wall inset bookshelf. A concealed murphy bed is installed in the bookshelf shutter so it can transform into a makeshift bedroom when required. The kids' room is spruced up in all white with flamingo and foliage printed wallpaper with hints of green to establish an inherent connection with nature.
Furthermore, the artwork displayed throughout the house lends dramatic touch to the space, effectively enhancing its character. Floor to ceiling curtains were installed on the windows to offer warmth amongst a multitude of textures while emphasising the scale of architectural proportions.
Summing up his experience on designing this beautiful project, Abhigyan says, "Combining light hues and traditional elements in decor, this penthouse residence is a holistic vision of a design language that is seamless, acute and traditionally modern. A captivating design with a splash of colour to keep the home lively and fascinating, with an eye for detail; we at Chromed Design Studio are dedicated to developing designs that are practically functional and visually pleasing."
Photographs courtesy: Vaibhav Bhatia