Conceptualized by Prasuk Jain, Amazonia, BKC's all-new restaurant will leave you charmed with its Tropical rainforestinspired interiors
Have you ever envisaged of having a meal in a rainforest surrounded by lush green tropical trees around, and wild life to give you company? Sounds pretty much adventurous. That's exactly what awaits diners at Amazonia, BKC's all-new tropical themed restobar.
When selecting a fine dining restaurant, alongside the menu, diners also choose spaces that offer a fine blend of awesome service, and above all an aesthetically pleasing ambiance. Amazonia, ticks all the boxes for its dramatic and tropical rainforest inspired immersive design aesthetics. Exotic with a contemporary twist, the wild side of life comes alive at Amazonia with luxurious experiential dining.
Carnival spirit like the wilds of Amazon, sublime gastronomic paradise, and tropical slick entertainment – the restaurant will colour you charmed. Conceptualized by Prasuk Jain, Owner, Amazonia, with the help of Abhigyan Neogi of Chromed Design Studio, the space has been cleverly designed to evoke the forest vibe of South America. Prasuk found inspiration for the restaurant after a visit to the beautiful Amazonian rainforest in Brazil, the largest tropical rainforest in the world. Adding more insights on what inspired him to conceptualize the space, Prasuk says, "My visit to the Amazonian rainforest in Brazil formed the prime influence for this theme. Having seen that it is home to the largest and most varied amounts of exotic plant and animal species, I had a very clear vision of the aesthetic I wanted for the restaurant. With the help of Abhigyan Neogi, we were able to bring this design to life and create a slice of the Amazon, right here in Mumbai."
The focus was on recreating the Amazon expanse in design by contrasting it with surprising little exotic elements, open to be found by anyone actually looking for them. "A welcome addition to the ever-growing BKC restaurant design scene, serving up modern interpretations of the vast beauty and cultural diversity of the Amazon region, Amazonia lets you channel your inner explorer to be curious, wild and secretive, all at the same time. A spectacle for the eyes and a pleasure for the senses, diners are surprised with hidden mysteries waiting to be discovered", adds, Prasuk.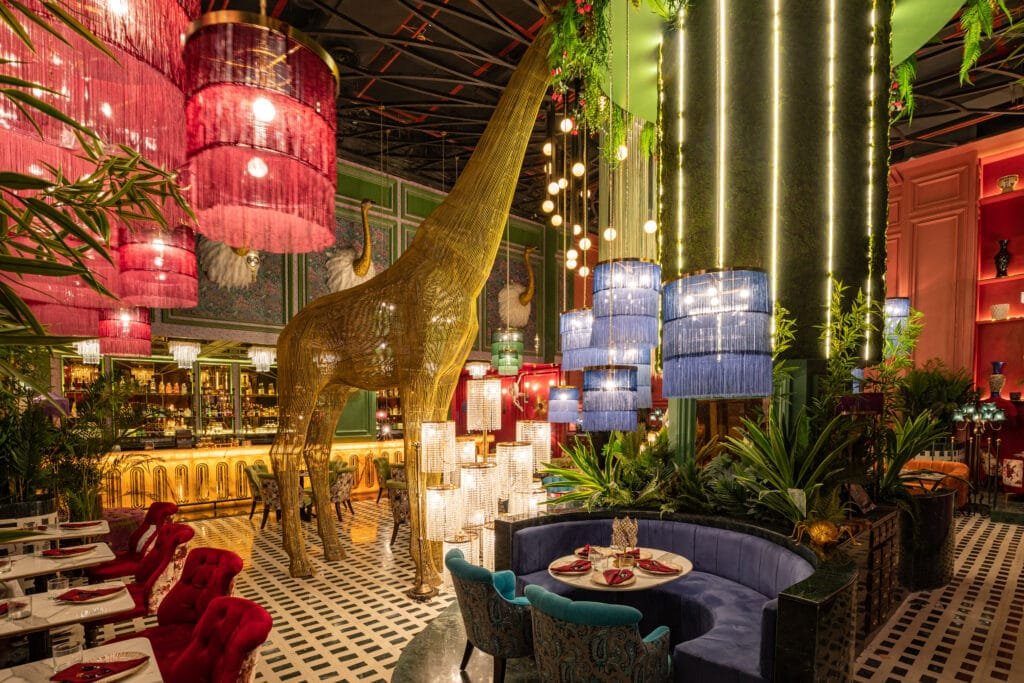 A velveteen maximalist hush takes over as you walk in. The space has been divided into three main areas: the central zone, the branding wall with the dining space, and the illuminated bar. An extremely glamorous tropical vibe, Amazonia is all very 'shrubbery chic', with exotic flora and gargantuan animals in abundance, as centre pieces and section dividers. Every inch of the restaurant, from its textured ceiling and glass façade that steams different shades of sunlight, to the velvetycolourful fringed lampshades hanging above low-lit booths to the mezzanine dining space, packs all the right vibes.
C-shaped sofas surround a tree-shaped central column, flush with cascading planters. It takes advantage of the Z-axis for an imminently rainforestlike feel, bringing a sense of freshness with this biophilic infusion in design. At the center there's a towering and linear giraffe sculpture surrounded by soft fabric chandeliers in various sizes, designed with intricate lacework, while the bar table is backlit and illuminated with crystal chandeliers and aplenty of green features. The walls showcase bright jewel tones of purple that intersect with the green and form a striking contrast. Vibrant hades like magenta pink, take pride of place, aided by a corner wrapped in green with a cocoon bamboo swing and a back-drop of flamingos as well as sculptural jaguars, cheetahs, ostriches, monkeys and ants on the walls. "Attention to detail is at the core of Amazonia. From service and setting, the menu and the décor of the space, all help create a truly luxuriously exotic, yet contemporary elevated experience", says Prasuk.
An all-day dining place, Amazonia takes the concept of food as art very seriously, offering a variety of highly delectable global cuisines with a refined sensibility. The menu is divided into Japanese, Korean, Thai and Italian including salads, grills, sushi, bites, fish and meat, and encourages experimentation and sharing – satiating the pickiest of appetites. The culinary highlights include Grilled Polenta & Cottage Cheese, Amazonia Chicken Chili Oil Dumplings, Kimchi Yakisoba, Kyui Wakame No Amazu-Ae, Amazonia Matcha Crème Brulee. The drinks menu brings unique flavour combinations with focus on cocktails and mocktails with fun fusions like Mexican Little Pamlo, Brazilian Samba, Cuban Pain Curer, Amazonia Siesta, Namakemono, Jhon Rose About Girl, Ovant Ticklet and rotating classics like Manhattan, Margarita and more.
Overall, the lively interiors and immersive environment at Amazonia are sure to catch your attention. The entire space is an explosion of creativity and colours and surely has the potential to become your next favourite go to place.