Ar. Suhanilal Sanghra of Sparcdesign has designed an innovative office named The Earth and Metal in Pune.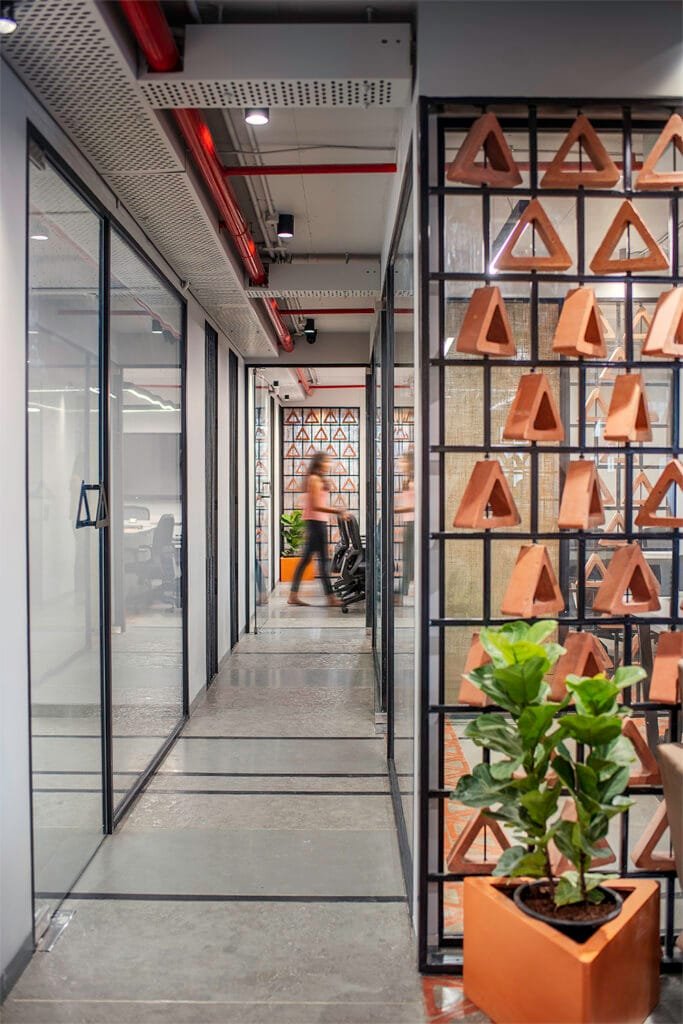 Ar. Suhanilal Sanghra of Sparcdesign has designed an office named The Earth and Metal for a company who is into the business of steel and construction. With a brief from the client to use elements with a rustic appeal and an in depth research of the business, the team began by putting together a sustainable and earthy palette going back to the basics of construction in order to create a unified look. Opting for a selective material of local Tandoor stone in various finishes, interlaced with strips of polished basalt stone has been used in the flooring. Triangular shaped brick blocks laid into the flooring -act like guides enabling the vision to travel from one end to another. The play of textured flooring is a delight to explore barefoot.
As one enters the office reception area – the public and meeting areas are on one side and the employee seating area to the other along with the Director and Manager cabins. Glass partitions establish a visual connect from the reception of the office to another to the extreme end and the large conference area. The common seating area is flanked by the managers and director's cabins on the other side.
The layout allows for maximum sunlight to enter the space. Artificial lighting is required only in the last hours of the day thereby reducing the overall energy load. The natural stones and earthy materials help regulate the temperature and reduce the overall air conditioning load as well. Walls have been finished in lime based paint which is ecological and nontoxic.
Divisions for spaces assume a dynamic appeal as partitions created in M S steel rods hold terracotta blocks which rotate and move. The moving partitions lend an interactive and ever changing character to the space. Jute sandwiched inside glass panels has been used to create translucency. The artwork on the walls is in Devnagri/ Hindi lettering – words such as Naksha (Map); Aakriti (Form) etc. have been hand painted by local artists.
To achieve the concrete finish on the tables, micro topping has been used on all the meeting and conference furniture, instead of casting concrete slabs. Steel-the main selling product of the company is used in partitions as well as a typical column reinforcement detail to break the monolith concrete finished reception table. Plants in customised fibre panels add colour and freshness to the decor.
"The Earth and Metal office is an honest attempt to use sustainable and natural material resources infused with all the modern day requirements to create a space which gives the client a connected cohesive space which speaks about their product and their belief systems." explains Suhani.
Project Details:

Glass: Saint Gobain
Concrete: Micro topping from concrete works India
Sanitary ware/Fittings: Kohler
Flooring: Tandoor in polished and river washed finishes along with strips of basalt ; terracotta blocks for inlay
Furnishing: Sudarshan Fabrics
Laminate/Veneers: Bliss Décor
Lighting: Hybec Pro
Paint: Asians Paints
Art/Artifacts: Ityadi Décor Teracotta blocks, MS and steel rods for partitions and furniture details, Jute sandwiched Glass, micro topping ,Teracotta customised planters , Innovative wall art