Venkataramanan Associates' (VA) contributions to architecture and the constructed world continue to mould how we engage with and navigate the world around us. Read on to know more…
In the dynamic realm of architecture, few names shine with the radiance of unparalleled prestige and innovation, and Venkataramanan Associates (VA) stands prominently among them. Since its inception in 1969, VA has sculpted a distinct niche for itself, ascending to unprecedented heights in design and redefining the very boundaries of architectural excellence.
At the core of VA's enduring legacy lies a myriad of pioneering projects that traverse diverse industries and typologies. From awe-inspiring commercial complexes to transformative residential marvels, VA's portfolio stands as a testament to their unwavering commitment to crafting spaces that seamlessly intertwine functionality, aesthetics, and purpose.
For VA, design transcends the superficial; it embodies a philosophy deeply steeped in innovation. Centered around user-centric experiences, VA's designs metamorphose into more than mere structures – they become living environments that elevate the quality of life for their inhabitants. This innovative approach ensures that each VA creation evolves into a distinctive and harmonious fusion of form and function.
VA's impact on the architectural landscape transcends the conceptual. Their projects surpass conventional definitions, evolving into integrated ecosystems that cultivate community engagement, sustainability, and wellbeing. From the seamless infusion of verdant spaces to the integration of historical elements, VA's designs narrate stories that resonate with both people and spaces.
In an era characterized by heightened environmental consciousness, VA emerges as a paragon of sustainability. Their dedication to crafting eco-conscious spaces permeates every facet of their designs. By harnessing eco-friendly materials, implementing energy-efficient systems, and introducing innovative water management solutions, VA leads the charge in forging a greener, more sustainable future.
In this exclusive interview, we have the privilege of delving into the world of creative projects, design philosophy, and future endeavors with Naresh V Narasimhan, the esteemed Managing Partner of Venkataramanan Associates. As a visionary leader in the field of architecture, Narasimhan provides insights into the firm's innovative projects, their distinctive design approach, and a glimpse into their exciting upcoming ventures.
What are the thoughts that cross your mind when you take on new projects?
The core of Venkataramanan Associates' (VA) work lies in a profound comprehension of the transformative influence of architecture. Our capacity to create exceptional buildings is fuelled by a genuine appreciation for visionary concepts. Innovation has always been at the heart of our practice, as we continuously explore superior methods of spatial design and employ cutting-edge materials and technologies. The architects conduct extensive site analyses, feasibility, and sustainability studies, and employ state-of-the-art technologies like augmented and virtual reality to craft immersive spatial experiences. This distinctive approach sets VA apart in the field of design. Architects hold an even greater responsibility today to design buildings that address the pressing global concerns regarding energy and resource usage.
Do you find it difficult to consistently develop innovative designs for such diverse needs?
As individuals, we must consistently adapt to various circumstances. Each set of design specifications presents a distinct challenge, leading to innovation through necessity. With every instance, the approach to designing undergoes continual refinement in response to the specific requirements and environmental factors. This ongoing educational journey involves collaborating with numerous designers in the workspace to fulfill the varied project needs and achieve the desired project outcomes.
What are your best personal experiences while working with a diverse national and international clientele?
National clients bring their own complex problems, with economics of the project being a major concern. However, by setting clear expectations from the start, the process has been mostly smooth. Collaborating with both national and international clients leads to different experiences and allows us to blend diverse ideas and expertise, resulting in innovative solutions tailored to each client's needs. The delivered quality is equal to what they have experienced in their respective countries.
What defines your work?
Since 1969, VA has accumulated a substantial and expanding knowledge base in architecture, interior design, and urbanism with MOD Foundation as CSR arm. Over time, VA diversified into numerous sectors and extended its presence both in India and internationally. Presently, our firm handles a diverse range of projects, encompassing Research and Development facilities, specialized manufacturing, IT business parks, Public and institutional buildings, corporate offices, and Real-estate developments.
What type of projects challenge you the most?
Managing mixed-use, large-scale projects presents challenges due to their diverse requirements at different levels. The most demanding aspect is maintaining both high standards and meeting the client's specific needs, especially when some requirements are hard to accommodate within the available space.
Having won so many national and international awards is there something more coveted that you aspire for?
Every skilled architect's goal is to create projects that are aesthetically pleasing, sustainable, costeffective, and of high quality. Awards serve as motivation to continuously improve and excel. These accolades raise clients' expectations, fuelling the architect's ongoing aspiration for excellence without end.
Do you think we're at par with the West regarding architecture and design?
India's architecture and design industry has made significant progress, paralleling the West in various aspects due to its rich cultural heritage, global recognition for innovative and sustainable designs, emphasis on sustainable practices, and rapid urban development. However, it's crucial to recognize that architecture and design are subjective fields with unique regional perspectives, emphasizing creativity, innovation, and functionality over comparisons.
What are your forthcoming projects?
We are currently engaged in a diverse array of projects, each tailored to specific scales, levels of complexity, expertise, and sectors. Among the noteworthy endeavours are Boeing Campus, Philips, Siemens Healthineers, The Earth Centre by Vista Spaces, Wipro, V Guard Innovation Campus, and more.
How has technology influenced design?
Technology has significantly revolutionised the field of design in various industries. The core of this practice has always been innovation, involving better ways of spatial design leveraging the latest materials and technologies. We embrace new-age technologies such as augmented and virtual reality to craft immersive spatial experiences, setting our approach to design apart from others. Our projects like Wipro Kodathi, Lupin and BASF have been modelled using BIM. The projects display a high-level of geometric accuracy and intelligent analysis right from the start of the project conceptualisation. The quantification provided by BIM eliminates the need for assumptions. The firm also makes use of several other cutting- edge design tools including Navisworks, Autodesk Civil 3D, Revit software, BIM, Lumion, Rhino, etc. for Architecture and softwares like Dialux, HAP, PDS for MEP design, SAFE and Etabs for Structural Design, Energy simulation softwares like EnergyPlus, etc.
What is your take on sustainable architecture?
Sustainability remains a widely debated term, often misunderstood due to various interpretations. Its essence lies in meeting current infrastructure needs while ensuring future generations can do the same. Sustainability involves balancing environmental performance, social responsibility, and economic accountability. It shouldn't sacrifice a company's viability or the environment and communities for extreme achievements. Sustainable development is an ambitious goal, not an unattainable perfection.
Your message to budding and aspiring architects from India.
Architecture is a journey that combines creativity, innovation, and the power to shape the world around us. The field of architecture is a challenging yet rewarding profession, passion and dedication can lead to great success. Sharing some valuable insight, fostering your creativity, developing strong technical skills, seek mentorship and guidance, gaining practical experience, embracing sustainability and never stop learning. The journey to becoming an architect may have its ups and downs, but perseverance and determination will be your greatest allies.
We select a few projects from the vast portfolio of VA that mirror their mastery in conjuring spaces that ignite inspiration, foster connections, and stand the test of time.
HPCL Green R&D Centre
The HPCL Green R&D Centre project showcases a masterful blend of sustainability and innovation, aiming to create an advanced research facility that not only embodies eco-conscious principles but also nurtures a collaborative atmosphere for creative thinking. An inviting entrance avenue, enveloped by vibrant green landscapes, guides visitors to the administration building, setting the tone for a harmonious and forward-thinking environment. The radial arrangement of laboratories, converging towards a central park featuring an amphitheater and food court, underscores the project's emphasis on connectivity and interaction.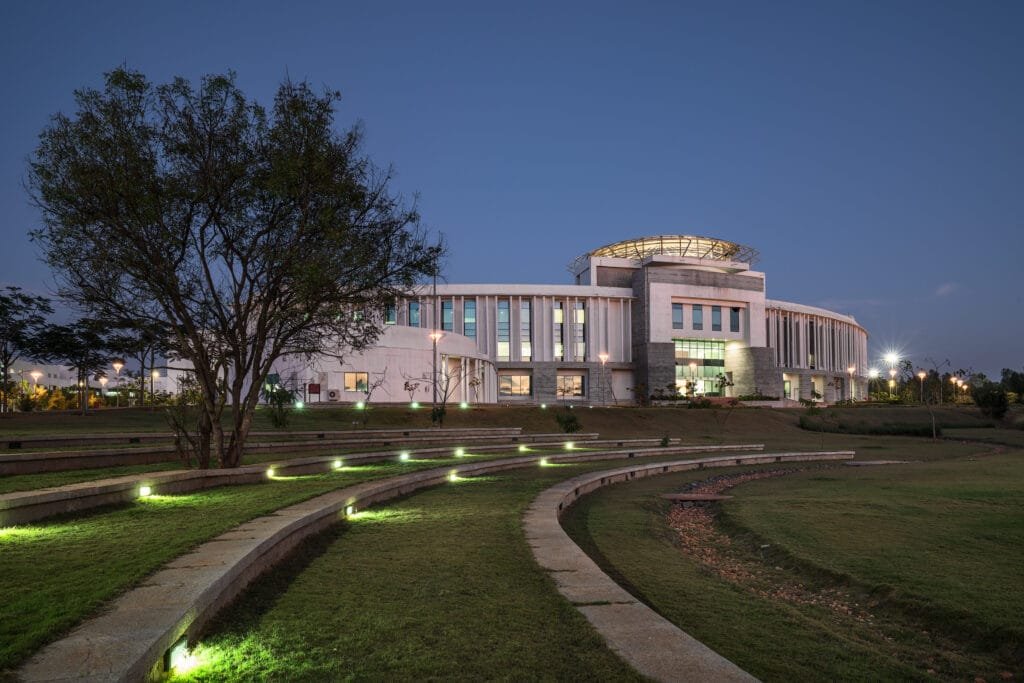 Design Highlights like the strategic alignment of buildings along the North-West axis serve as a brilliant strategy to minimise solar heat gain and optimise energy efficiency. A network of water bodies thoughtfully integrated throughout the premises contributes to a decentralised water recharge system, adding to the project's commitment to sustainable practices. Moreover, the layout showcases meticulous planning, positioning blocks requiring no air conditioning to face the south, taking full advantage of natural ventilation patterns.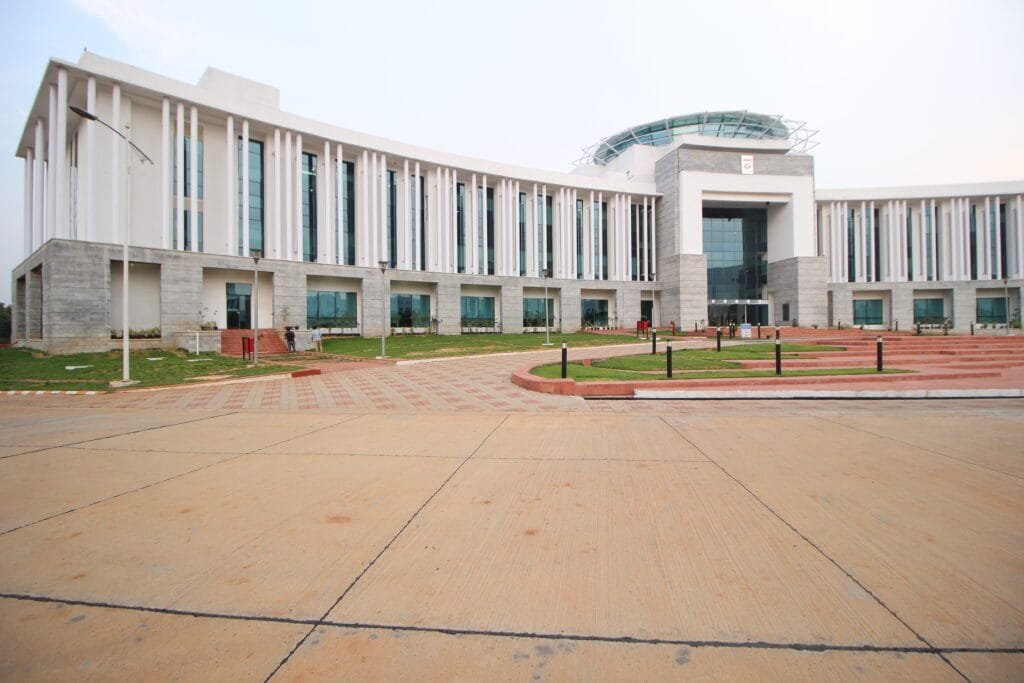 The master plan for the HPCL Green R&D Centre is a testament to its thoughtful execution, achieving a multitude of objectives within its wellstructured framework. It successfully segregates material and human movement, prioritises safety through optimised visibility, provides a flexible and modular layout catering to laboratory needs, and allows for potential expansion and future development. Seamless integration of efficient services and adaptable open laboratories further underscores its versatility, accommodating tailored requirements with ease.
Nirlon Knowledge Park
Nirlon Knowledge Park isn't just a building; it's a collaborative masterpiece. Through meticulous planning and interdisciplinary approach, VA and Consultants JW Consultants, Airtron Consulting Engineers, Sampath Kumar Associates Pvt Ltd and Environmental Design Solutions worked in collaboration to bring life into this 23-acre oasis. Bridging heritage and modernity, the campus is an architectural marvel seamlessly blending history with the future.
Nestled along the Western Express Highway, Nirlon Knowledge Park is a tranquil haven in Mumbai's bustling landscape. Its ecofriendly ethos is evident in every detail, from clay and natural stone materials to energy-efficient systems. With LEED Gold certification, the park stands as a testament to sustainable design harmonizing with urban dynamism. VA's visionary approach reshaped the IT park landscape. Former manufacturing structures find new purpose, while modern towers embrace historic charm. A revived chimney and a transformed cooling tower add a touch of nostalgia, coexisting with cutting-edge design. The campus isn't just a workplace; it's a dynamic, adaptable ecosystem.
With LEED certification, the park offers an oasis of order within Mumbai's vibrant chaos. VA's design philosophy combines context with functionality. From ergonomics to recreation, every detail enhances user experience. Efficient workspaces, green havens, and thoughtful layouts create a harmonious work-life balance, redefining the concept of a corporate park.
"Nirlon Knowledge Park brings order to the city's chaos, seamlessly blending technology and nature. The structure itself speaks of this harmony, an embodiment of our vision. Design emerges from context, enhancing capabilities, and fostering balance through recreation and facilities. Green and efficient, this enterprise is a true park in every sense." explains Naresh V Narasimhan
International Centre For Theoretical Sciences
Planned as an international science hub that would transform scientific research and education in India, the design of the TIFR-ICTS campus reveals an innate understanding of a hightech institution in how it accommodates large open grounds for collaboration while providing spaces that foster focused scientific studies. Spread over a site area of 17 acres and a built up area of 2,20,000 sq ft, the master plan brings together many different functions and users (resident researchers, office staff, visitors etc). The various functions have been strategically arranged to ensure a natural and efficient flow within the site for each of these user groups. A diagonal axis of open spaces defines the master plan and functions as a social, fluid space that provides coherence; this life-giving axis allows access to individual research units, while creating pockets for recreation and informal meetings. A series of horizontally-laid buildings, each a mere 5-min walk from the centre of the site, lends itself to the intimate character of the campus.
The overall program has been spaced over separate buildings, punctuated by courtyards of various sizes that ensure every structure is breathable, light, and takes advantage of the climate and natural landscape of Bangalore. The academic and seminar blocks flank the two ends of the entrance plaza connected via a gallery walk, creating an active edge at the entrance. Contrasting the otherwise grid-like planning for the entire campus, the Library block is designed to follow an organic conical form with a ramp inscribed along its interior walls to create a large open atrium. Much like its inspiration – the Guggenheim Museum – the curves of the exterior, create a more dramatic effect in the interiors. A large oculus, roof lights coupled with reflectors and wall cutouts grant the space ample natural light throughout the day. Besides the dynamic structure itself, the ICTS campus challenges the traditional library culture and reimagines it as a social forum, staging a wide range of experiences and inspiration. Bookshelves and reading nooks are arranged around the ramp that spirals up around the central atrium of the library – its heart.
Prestige Falcon City
Centred on the concept of a 'Walkable Neighbourhood', the design of Prestige Falcon City places emphasis on the pedestrian and is conceived as a series of interconnecting pedestrian streets, courtyards, gardens, and plazas. Mimicking a city, Prestige Falcon City includes residential towers, offices, retail space, school, music academy, a clubhouse etc. spread across 51 acres. The existing site constraints were addressed with thoughtful design interventions. Falcon City attempts to create an environment that enables people to form communities that are active, iconic, valuable, and sustainable.
Residential: The unique configuration of the residential tower creates large, landscaped communities and open spaces by reducing the ground coverage. The cross-shaped building not only optimizes the use of the surrounding landscape but also creates a good lighting and ventilation system within the residential units.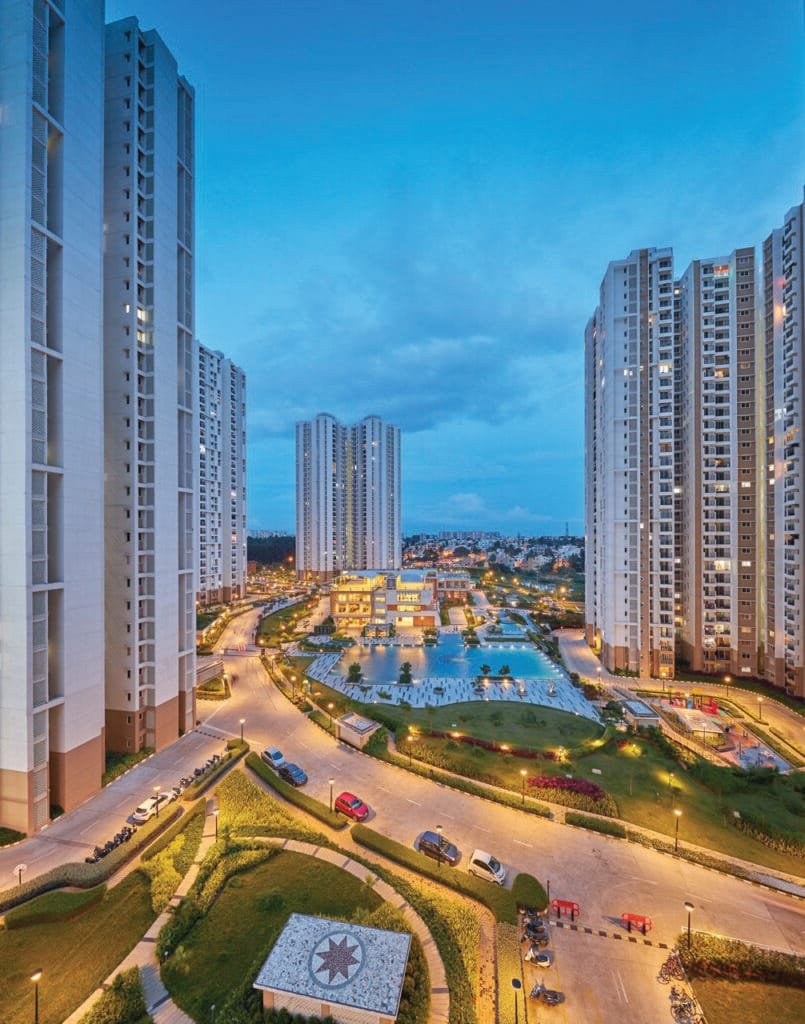 Landscaping forms a uniting element in this development. Large community gardens, waterfalls, bridges, driveway islands, waterbodies, amphitheaters, sports clubs, and pools act as collaborative grounds to facilitate interaction and a sense of community
Forum Falcon Mall
The architectural essence of the Forum Falcon Mall is a fusion of modernism and contextual sensitivity, honoring both its urban surroundings and the aspirations of its inhabitants.
Spatial Arrangement: The interior spatial arrangement reflects a deliberate orchestration of zones, each meticulously crafted to cater to diverse purposes. The central atrium serves as the heart of the mall, a multi-level space bathed in natural light through a grand skylight. Surrounding this vibrant core are the retail wings, thoughtfully designed to accommodate a diverse range of shopping experiences, from high-end boutiques to flagship stores of international brands.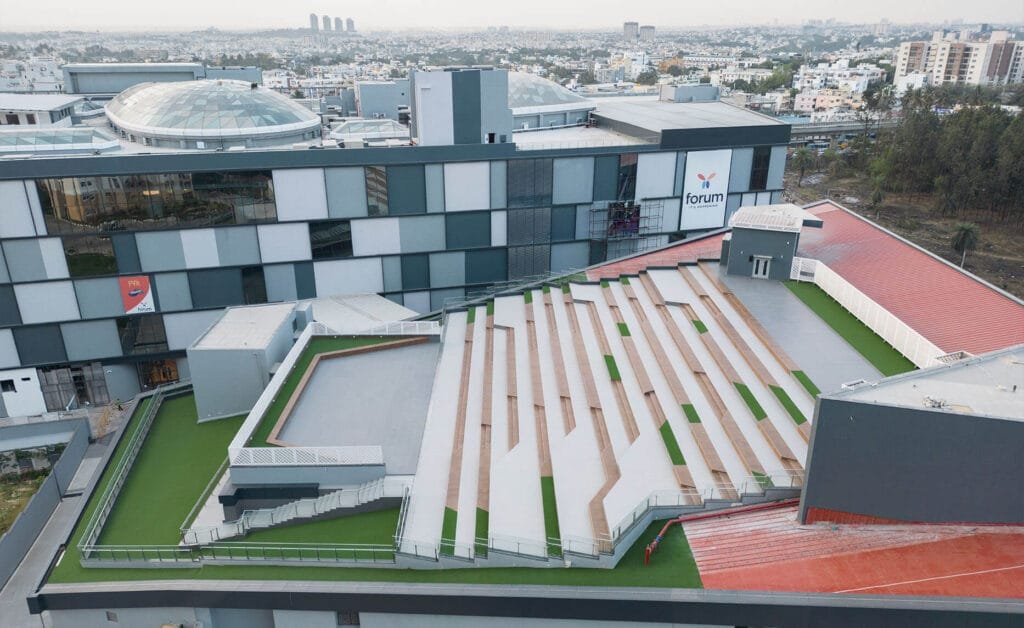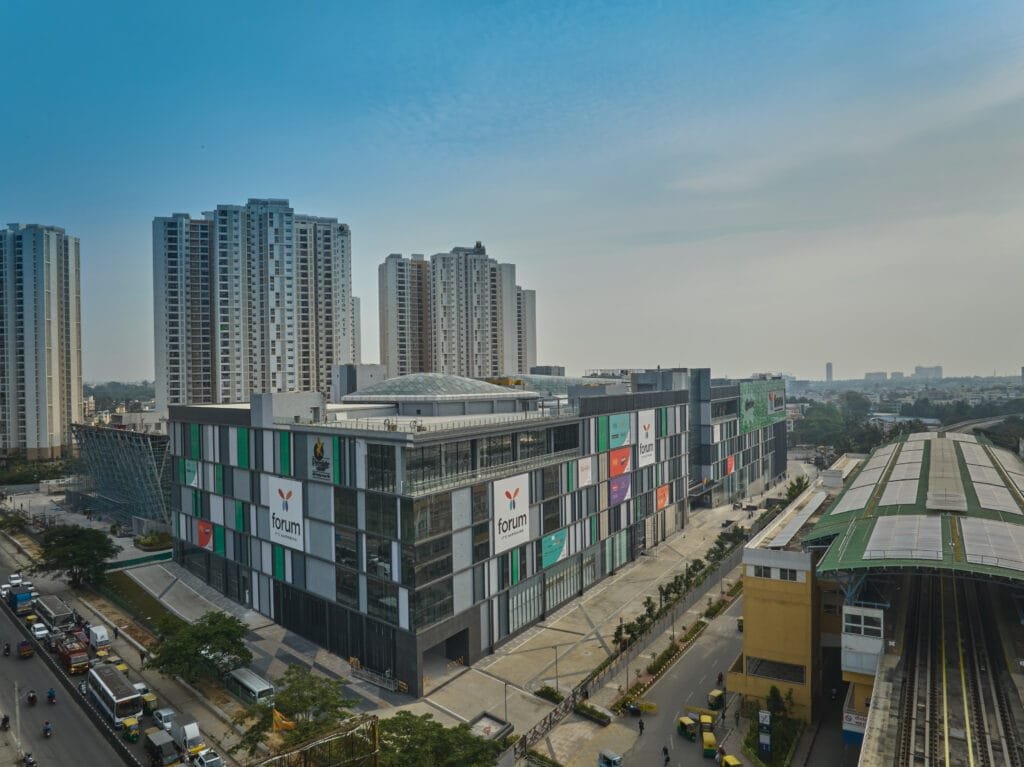 The Forum Falcon Mall stands as a testament to the fusion of visionary design, meticulous planning, and sustainable innovation. As it graces the urban skyline, it not only caters to commercial aspirations but also enriches the social and cultural fabric of the city, positioning itself as an architectural masterpiece that embodies the aspirations of a progressive society.
The Virtuoso by Columbia Pacific
The Virtuoso by Columbia Pacific stands as a pioneering endeavour, India's first independent senior living community. Crafted with meticulous attention to detail, this community redefines the concept of positive aging, adapting to residents' needs, and fostering a vibrant, engaging atmosphere. Guided by NBC standards for accessible housing and ADA guidelines, The Virtuoso embodies inclusivity and accessibility. Every facet of the project has been thoughtfully considered to provide an engaging, supportive environment for residents.
Residents are treated to a plethora of amenities that enrich their lives. A library, games room, salon, café, dining room, theatre, swimming pool, jogging track, and specialized senior-friendly gymnasium are just a few highlights. For those seeking rejuvenation, a spa and wellness center await. Concierge and business services add convenience to residents' lives. Materials were chosen with utmost care, ensuring safety, comfort, and durability. Locally sourced materials were preferred, while non-slip and glare-free floor finishes were selected. Furniture and fabrics were meticulously chosen for easy maintenance and suitability for older adults.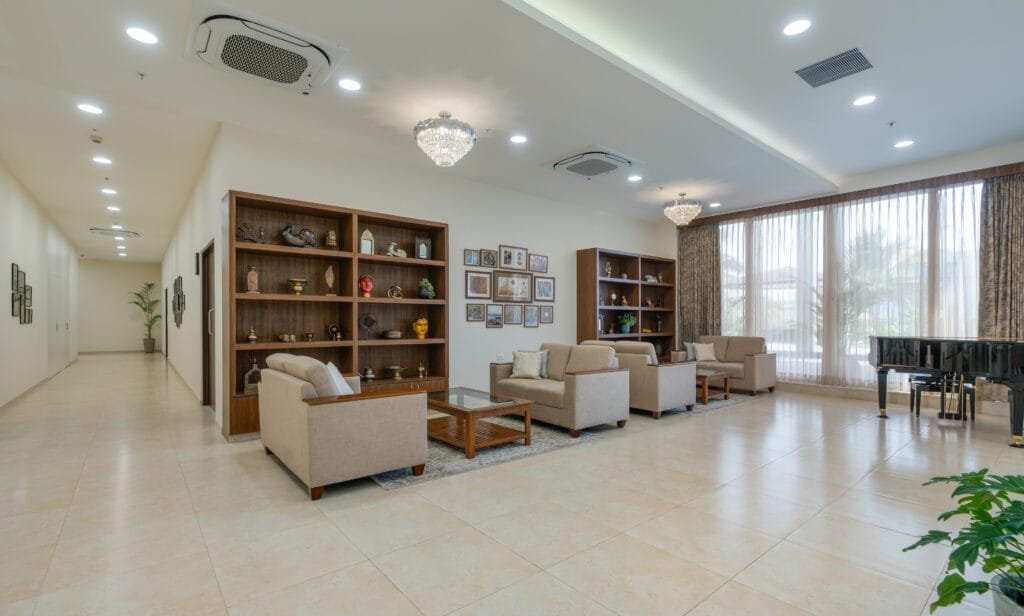 The Virtuoso seamlessly integrates design and nature, maximizing green spaces within the seniorfriendly community. This approach not only enhances aesthetics but also contributes significantly to residents' well-being and overall enjoyment. In the heart of Bengaluru, The Virtuoso stands as a testament to progressive senior living, redefining the golden years as a vibrant and enriching chapter of life.
Additive Manufacturing Facility for Peekay Steel Casting Ltd.
Embracing the forefront of progress, Peekay Steel Castings boasts a remarkable 1-acre site that commands attention on the fringe of the Airport City. As the gateway to this thriving metropolis, the facility is both prominent and inviting, offering a glimpse into the evolution of manufacturing as one approaches the airport. At the heart of this architectural marvel is the world's largest quartz silica 3D printing machine, a testament to Peekay Steel Castings' innovative spirit. Beyond its groundbreaking manufacturing capabilities, the facility is an embodiment of versatility, accommodating a design center, an immersive experience hub, and an expansive venue for public outreach and enlightening symposiums.
Every aspect of this visionary space has been meticulously shaped by the demands of the production process. The core ethos revolves around accessibility and engagement, where the shop floor assumes a central role with distinct pathways seamlessly connecting customers, employees, and services. The thoughtful design affords entrancing glimpses of the manufacturing process, enhancing the visitor experience and instilling a sense of connection.
This contemporary manufacturing haven stands as a testament to the fusion of cutting-edge technology, thoughtful material selection, and climate-conscious strategies. The dynamic interplay of light and shade, guided by shading fins, evokes a mesmerizing narrative. These architectural features ingeniously counter heat and glare, welcoming diffused natural light into the southern shop floors while creating shaded sanctuaries along the western façade.
Enchanting landscaped courtyards, harmoniously integrated with the porous screens, intertwine nature, light, and texture, creating immersive environments that blur the lines between indoors and outdoors. The interior canvas seamlessly echoes the facility's exterior charm, encapsulating clean lines and embracing the inviting warmth of the surroundings. Sustainability and energy efficiency lay at the heart of the design, effortlessly interweaving active and passive elements to embody a commitment to a greener future.
As one steps into the facility's heart, a bespoke light installation in the lobby and boardroom emerges, paying homage to the indomitable spirit of innovation. This beacon of progress transcends walls, casting its luminous gaze onto the immersive experience center that chronicles Peekay Steel Castings' storied journey.
Overall, Venkataramanan Associates (VA) stands as an architectural powerhouse that redefines the boundaries of design innovation. With a legacy of excellence and a dedication to pushing the boundaries of creativity, Venkataramanan Associates remains at the forefront of architectural ingenuity.