The Munot's luxurious family home designed by AlkoveDesign embodies the epitome of sophistication, opulence, and refined living.
Luxury homes are characterised by their spaciousness, often featuring expansive floor plans with large rooms, high ceilings, and an abundance of natural light. This family home named Patterned Vignettes in Pune has all the above mentioned plus it celebrates unpretentious luxury etched on a canvas of patterns crafted by Alkove-Design. Designed by the talented duo Ar. Komal Mittal & Ar. Ninada Kashyap of Alkove-Design, the home offers a haven of comfort and indulgence, where homeowners can enjoy the finest aspects of life in an environment tailored to their tastes and desires.
A peaceful interlude, passionately tailored by the renowned Alkove-Design, the Munot family home nestled amidst an upscale neighborhood in Pune, etches a canvas of patterns whilst balancing diverse needs and creating a cohesive space. Doused in a thread of unpretentious luxury that is seamlessly juxtaposed with innovative design gestures, render this minimalistic sanctuary with an endearing mix of personalities and ready for memorable soirees.
Alkove-Design, headed by architects Komal Mittal and Ninada Kashyap, envisions designing spaces that go beyond the clients' aspirations, forged with an instinctive understanding of spaces and an unnerving eye for detail. Explaining the design concept Komal adds, "The brief for this sprawling 2,900 sq. ft, four-bedroom apartment, with an enviable verdant green view, was of dignified elegance, nuanced with an imaginative DNA that evokes interest and dialogue. The team conjured a creative 'design tool', an artistic parley between the dichotomy of the composed curve and the infinity of lines to foster a distinctive lexicon flow through the space with tranquility."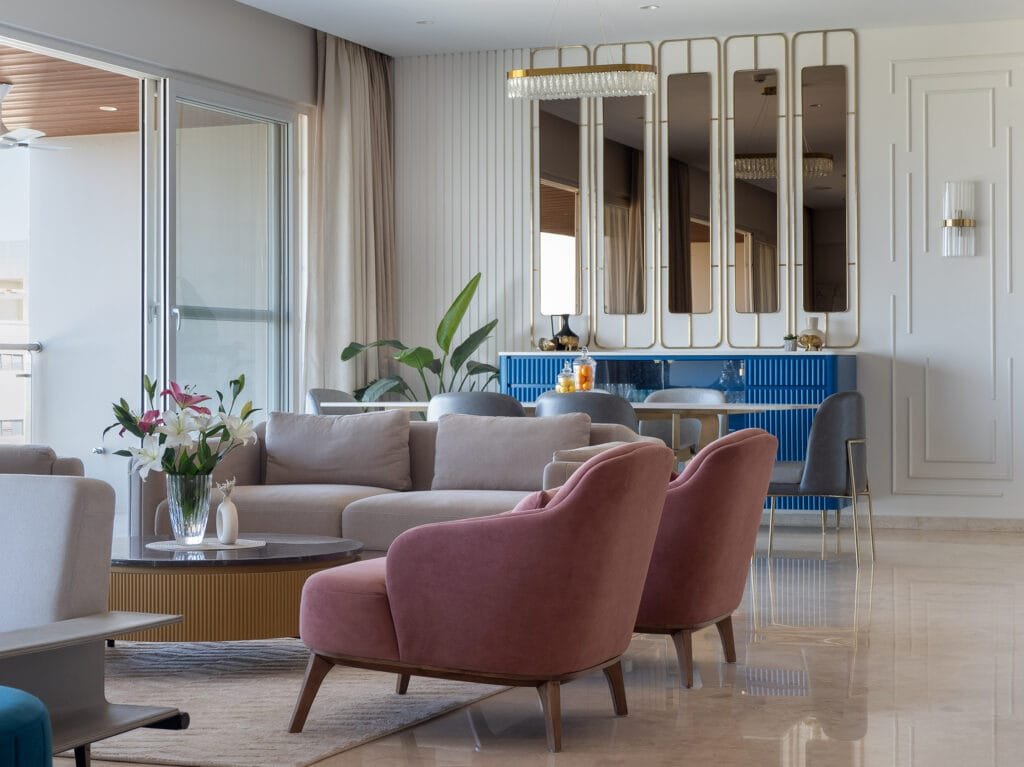 Sunlight streams through panoramic windows across the 44 ft long living room spotlighting the contemporary furniture positioned strategically in pockets for cosy tete-a-tete's. Mellow tones peppered with dusty pink sofas and a vibrant blue console creates an exquisite vignette. Following the cues, the beveled white Italian marble TV back panel and the linear dark oak fluted panel perpetuate the playful alchemy between curves and lines. A sculptured dining table with a rich gold base blurs the lines between furniture and art to regale the dining area, which is further spirited with blue and grey hues in conversation with a fragmented mirror set with gold accents.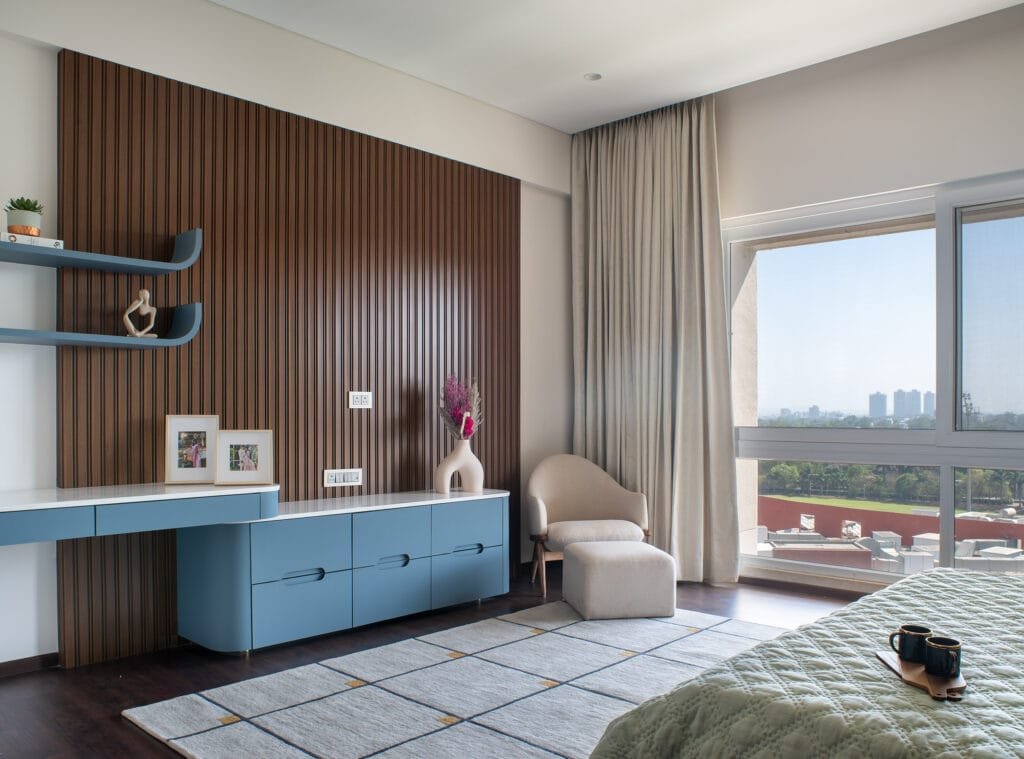 Sauntering through the rounded doorway to more intimate spaces, a pristine white, brass embellished marble altar stands majestically flanked by a dark fluted wooden backdrop with niches homing idols that radiates a sanctimonious aura along the corridor. The kitchen, a state-of-the-art culinary delight in taupe tones and dark fluted glass panels exhibits sumptuous storage and efficient maneuvering space to cater to the family's gatherings.
The young couple's bedroom is a serene beige and blue oasis, where gold accented curved handles, fluted groves on the walls and arresting study cum TV console keep up with the curvilinear synchrony. Adding insight on the girl's room, Ninada explains, "The Awww moment comes in the young couple's baby girl's room, born during the designing phase, where refreshing beige, taupe and dusty pink hues, a customised wallpaper with a botanical theme and curved silhouette emanates the playful mood board." A dreamy concoction of a blush pink bed against gossamer grey walls in the sister room vibrates with a unique rhythm of the two geometric elements to cast a spell of sophistication. A parallel colour palette flows through the parent's calm and tranquil bedroom, nuanced with a bold blue lounge chair, gold accented wall lamps and mirror, allowing the oblong cantilevered planter box reiterates the creative design tool.
"The challenge was to create a multigenerational home that embraces understated aesthetics contrastingly layered with compelling designs, tranquil yet primed for socialising. Drafting an exclusive design tool of 'Patterns' that evolved around the simplest forms of art -line and circle, we tailored the space to blend aesthetically with the family's persona and needs," says Komal Mittal and Ninada Kashyap, co-founders at Alkove-Design.
Photographs: Hemant Patil
Product Details:
Flooring : Marble & Wooden Flooring (Tesa)
Paints: Asian paints
Glass: Saint Gobain
Air conditioning: Daikin
Lightning: Lafit Facade
Laminates: Merino
Plywood: Greenlam
Sanitaryware Fittings: Toto
Flooring: Marble & Wooden Flooring (Tesa)
Furniture: On-Site & Better Living Surat
Furnishing: D'Decor
Doors and Partitions (Materials): Veneers