Jabali Mehta and Devanshi Vora of The Design Team have set benchmarks in the field of design by delivering diverse, thoughtful and creative projects.
Jabali Mehta and Devanshi Vora, Partners at The Team Design, a Mumbai-based architecture and interior design firm, are a powerhouse team who are shaking up the design scene. With their limitless imagination and contagious zeal, they are revolutionising spaces like nobody else. Their design philosophy is as boundless as the sky, and they believe in the power of design to unlock growth. With her expertise and vast knowledge of construction for two decades, Devanshi has used her know-how for providing professional PMC of interiors to developers for multi-store residential projects and common amenities for residential and commercial buildings and private residences. Alongside, Jabali is pivotal in leading the team with her creative vision and conceptual design ideas. Her belief to explore and think out-of-the box adds dynamism and uniqueness to the projects. As designers their effort is to build flexible spaces to anticipate and support this change. It can be rightly said that, the dynamic duo has quietly but resolutely made their indelible mark on the design scene.
Sharing insights on her design inspiration, Jabali Mehta says, "Since childhood my parents and teachers have had no doubt about my artistic sensibilities. I grew up painting and creating 3d art and was always encouraged to follow my dreams. As a teenager I had a chance to meet and interact with a German Architect at a party, and instantly I knew that Architecture was my calling. At college I fell in love with the creation of spaces. I found it fascinating how inhabitants shape spaces and how the space shapes its inhabitants." She further adds, "As a student of Architecture I was introduced to works of Laurie Baker who was a British-born Indian architect, renowned for his initiatives in cost-effective energy-efficient architecture and designs. A true pioneer of organic, sustainable architecture, Laurie Baker is a role model for architects. His designs incorporate rain-water harvesting, energy efficient building materials, maximized space light and ventilation in brilliant harmony."
Interior designing for The Team Design, is a perfect blend of arts and science. Their designs are not only functional but they touch people's hearts and shape their lives. "Designing an interior space is challenging in many ways and so interaction with clients and understanding clients taste and their requirements is the only way one can design a space that's resonates with the client and his brand. Over the years we have learnt to read people, to juggle and compromise between all aspects of a project, be it materials, needs and desires of the customer, laws, costs and so on. We get our clients involved and collaborate throughout the design process", informs Jabali. Their exceptional people skills, enable the team to forge lasting friendships with their clients, going above and beyond to create spaces that transcend mere function.
There is a general awareness on being eco-friendly, sharing their approach on the same while designing projects, Jabali says, "As designers we want to facilitate human living and not dominate it. The idea is to fit everything in the poetry of existence and not disrupt it. Hence as responsible designers The Team Design strives to create designs that not only look good but are also reflective of the nature-health relationship which is most important in the built environment." Some of the firm's current projects include, Residence for Mr Naveen Jain, a 3000 sq. ft. apartment in a plush residential building in JVPD scheme, PMC works for residential building in JVPD scheme, PMC for residential interiors in JVPD scheme, 3500 sq. ft. Restaurant interiors in Andheri West, Office interiors at Andheri East, Farmhouse design at Aurangabad, 4500 sq. ft. residence in JVPD scheme, restaurant at Iskcon Juhu and interiors for Iskcon temple in Juhu, to name a few.
Let's have a look at some of their works in the Residential and Commercial domain:
Walkeshwar Residence: This Mumbai residence located in the Victorian style stone structure at Walkeshwar, flawlessly merges Classic and modern interior design style. Spread across 2009 sq. ft. with a 350-square-foot verandah, the home overlooks the Walkeshwar road, and the sweeping expanse of Arabian sea that unfolds in the distance. The designers have designed a home that refuses modern minimalism for old-world charm. It's warm, welcoming and homely aura, is precisely what the clients had stated in their brief to the team.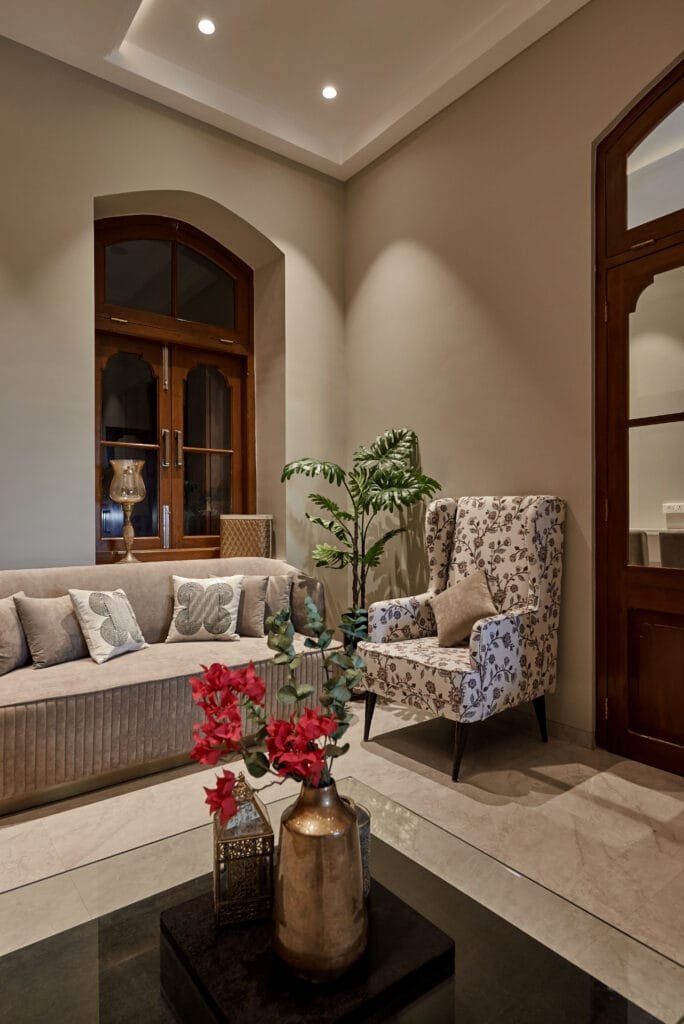 This was a challenging project. The stone structure built in the British era was originally designed to be bandsman's quarters with stables on the ground floor and staff accommodation on the 1st floor. The gorgeous structure is built with 1-foot-thick stone walls and wooden rafters that support the ceiling. The team had to work very closely with the structural engineers as they could not risk loading the structure with heavy walls or breaking any of the existing walls or windows. We had to retain all the wooden frames but that actually just added to the look. Originally the structure was dull and dingy as the openings were small. They made use of all the existing gothic style ventilators over the doors to let the light filter in. One of the bedroom had no windows at all. The designers planned a multipurpose sun lounge overlooking the Arabian Sea adjoining this bedroom so that light could filter in when the connecting door is kept open.
Office project in Vile Parle: This 1,500 sq. ft. office was designed to be a functional and beautiful office with minimal maintenance. The aim was to design a designated workplace that was conducive to maximizing not only productivity but also the health, safety, well-being, and performance of employees. It was about creating a space that was functional and interiors that provided a setting for success; a place in which people are happy to work. The shell comprising the walls, ceiling and flooring was designed to be in neutral shades with a few accents of metallic graphic paints on walls to give it a minimalistic yet beautiful interior. The walls were left bare to provide maximum surface area for light to bounce off making the interiors look light, bright and airy with a relaxed vibe. Our team's effort was to create a work environment that provided a blend of comfort and style that would enhance productivity and motivation.
The Design Team doesn't resist change and this is clearly obvious from the variety of work the firm is involved in. The increasingly high profile client list is the testimonial to the quality of work the firm has been continuously delivering. The firm's expertise in the field of interior design reflects in their projects. Their dedication and innovative methods have resulted into well-designed projects, with many more in the pipeline.