Society Interiors & Design Honours 2023 Pune, felicitated professionals and developers for their exceptional contribution to the fields of architecture, interior design and real estate.
Society Interiors and Design, India's leading architecture and interior design magazine has been a forerunner in the industry of design publications for many years. The esteemed magazine has been felicitating architects and designers who have been constantly setting new benchmarks in their respective fields with their diverse body of work. The Society Interiors & Design Honours 2023, Pune, exemplifies this endeavour and carries forward the magazines legacy.
Society Interiors and Design along with INDIA COVERINGS EXPO, one brand that takes efforts to get new materials under one roof, felicitated visionaries and achievers in the fields of real estate, construction, architecture and interior design on June 24th, 2023 at Sheraton, The Grand, Bund Garden, Pune. The glamorous event was hosted by emcee Simran Ahuja.
As is the tradition, the evening kick-started with the ceremonial lamp lighting by Chief Guest IAS officer Shekhar Singh (PCMC Commissioner), Ashok Dhamankar, Founder and Director Magnate Publishing, Sunil Khavnekar, Director Magnate Publishing, Swati Balgi, Consulting Editor, Society Interiors and Design, Andrea Costabir Editor, Society Achievers, Preeta Nair, Director Magnate Publishing, Shivendra Parihar, Marketing Director, Magnate Publishing & Priya Prabhu, Senior Writer, Society Interiors and Design.
The chief guest for the evening was IAS officer Shekhar Singh (PCMC Commissioner) who recently took charge as the new commissioner of Pimpri Chinchwad Municipal Corporation (PCMC). The gala ceremony also saw some others who have contributed to the industry and given it its current pioneering standard. Some of the prominent names from the guest list included the likes of Mr Amit Dhariwal Partner, Hridaan Realty and Director Hridaan Ventures (Real Estate, Automobile, Hospitality), Karan Dhariwal and Anita Shamani, a highly gifted furniture curator, among others.
The evening started with the key note speaker and special guest Mr Amit Dhariwal, Partner, Hridaan Realty and Director, Hridaan Ventures (Real Estate, Automobile and Hospitality) and son Karan Dhariwal, an architecture student, giving an overview of the real estate industry in Pune. Unwavering resolve with passion best describes Amit Dhariwal, a first-gen entrepreneur whose proverbial 'fire-in-the-belly' has propelled him to reach the acme of success. Beginning his quest for success at the age of 19, Amit has become a connoisseur whose understanding of business and what it takes to stay profitable makes him choose right, every time. A veritable business tycoon in the making, he believes that power isn't derived from money or success, but from love, intelligence, charisma and kindness.
This was followed by the ICE EXPO segment –
INDIA COVERINGS EXPO brings together leading brands from the hardware, surfacing and tiles industry in India under one roof during their EXPO. Architects and Interior Designers will be able to explore the latest designs and trends in these industries as well as connect with industry professionals. This is a great opportunity for professionals in these industries to stay ahead of the competition and discover new possibilities.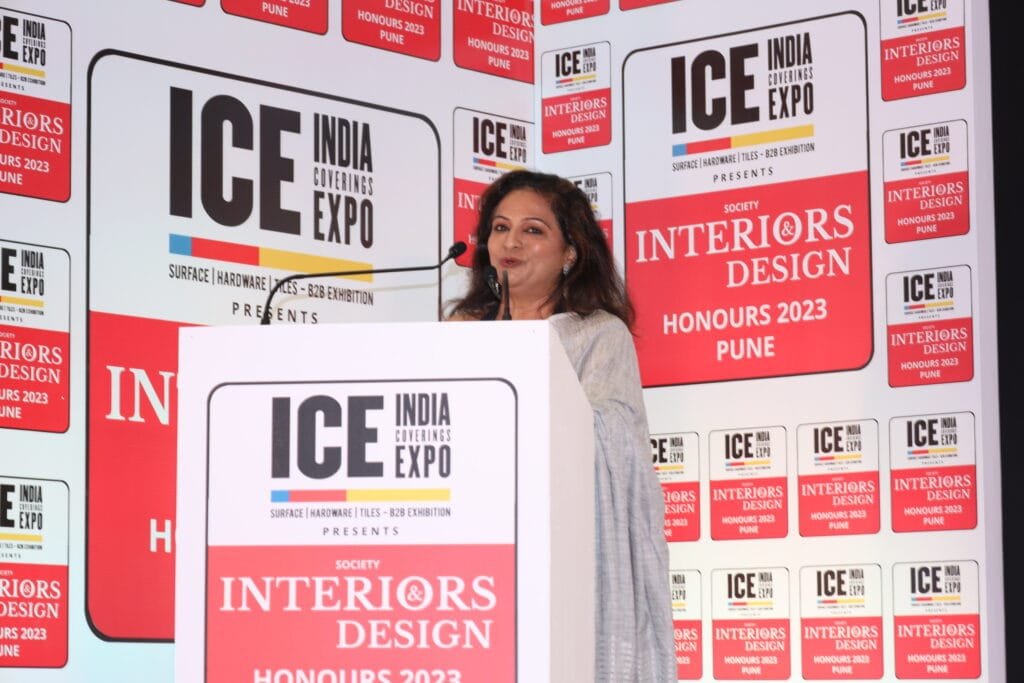 The glitzy evening also witnessed the unveiling of a new ICE Talks Show by Mr Pravin Hingad, MD, ICE EXPO, Aarti Mehta, Business Development Head and talk show host interior designer ID Soniya Potdar, who called upon stage Ar.Chandrashekar Kanetkar, Ar. Ashwin Lovekar, Ar. Anjali Lovekar, Ar. Anil Ranka and Ar. Sunil Patil, who spoke about their excitement for the Talk Show.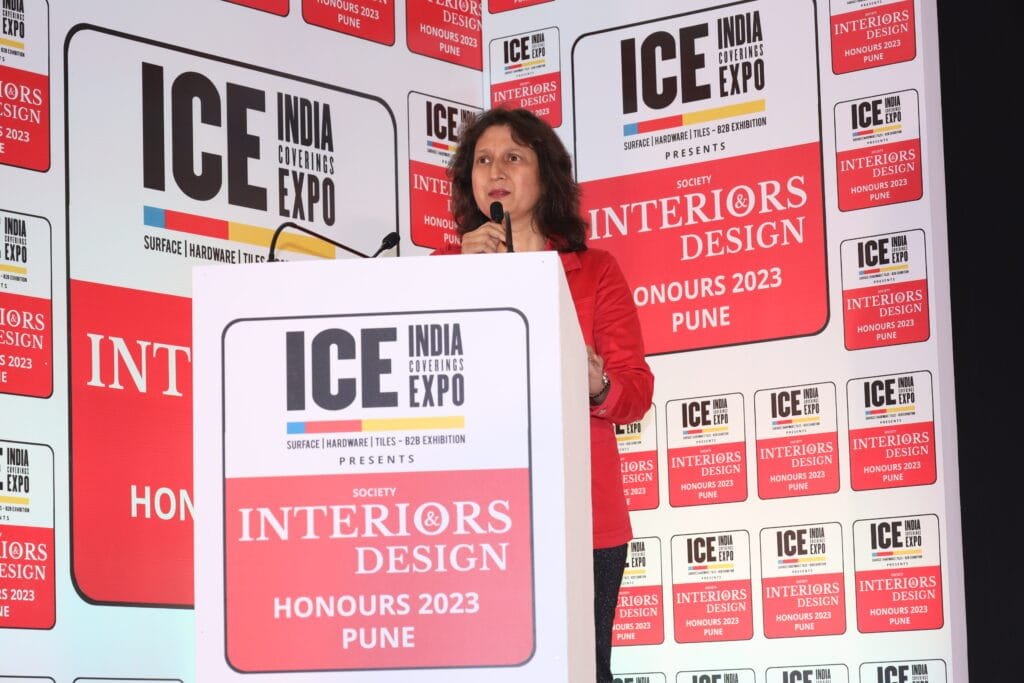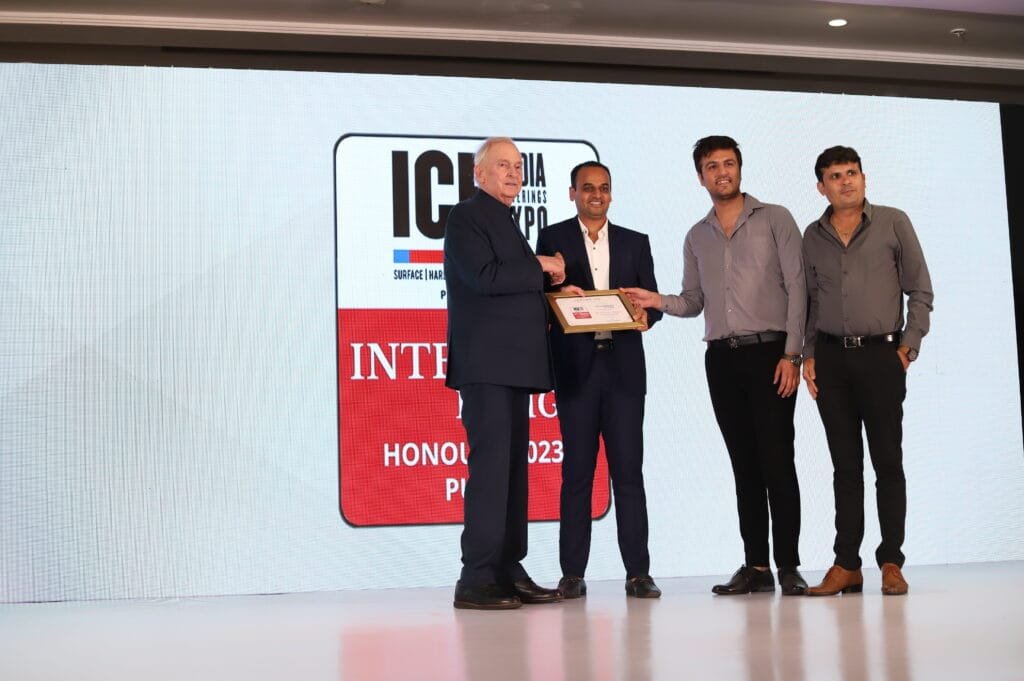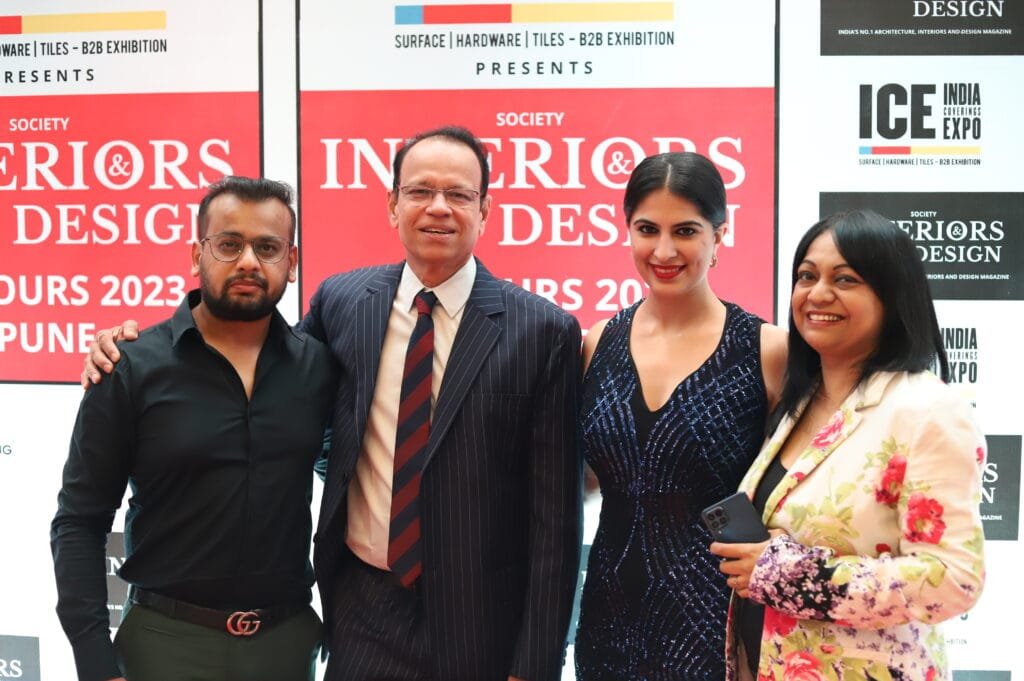 The awards ceremony started with FELICITATING ARCHITECTS and design stalwarts for their pathbreaking contribution in redefining the architecture and design industry
The FIRST Category of Awards which is the most prestigious set of awards –
the Design Legend was awarded to Prof. Christopher Charles Benninger – CCBA Designs, followed by Ram Naidu, Partner and Associate who joined him on stage to celebrate Mr Benninger's 55 years of design.
Design Legend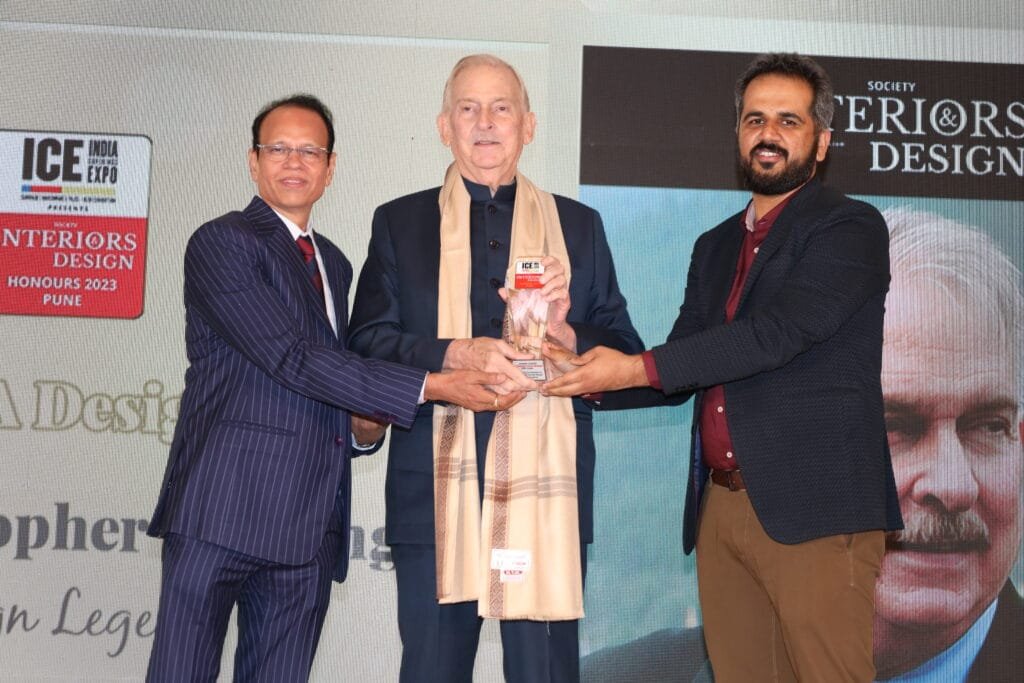 Professor Christopher Benninger is a highly respected architect in India. He has received the Indian Institute of Architects' Annual Award for Excellence six times, which is more than any other architect. His notable projects include Mahindra United World College of India: This project is a renowned educational institution located in Pune, India. It is known for its architectural design and commitment to sustainability. The Samundra Institute of Maritime Studies: Situated near Mumbai, this institute is dedicated to providing maritime education and training. The design of the institute is recognized for its functional and aesthetic aspects. Suzlon One Earth: This project is the world headquarters of Suzlon Energy, a leading renewable energy company. Located in Pune, India, the building showcases sustainable design principles and is regarded as an eco-friendly structure. National Ceremonial Plaza and Supreme Court in Thimphu, Bhutan: Professor Christopher Benninger's architectural contributions extend beyond India. He has designed the National Ceremonial Plaza and the Supreme Court buildings in Thimphu, the capital city of Bhutan. These projects highlight Professor Benninger's talent, expertise, and commitment to architectural excellence in various domains.
Outstanding Contribution to Architecture and Interior Design
Ar. Chandrashekhar Kanetkar is an accomplished architect with a rich background in the field. As a gold medalist from M.S. University in Baroda, he has displayed exceptional talent and dedication to his craft. His early influences include renowned architects Le Corbusier and Louis Kahn, who played a significant role in shaping his architectural sensibilities.
Ar. Kanetkar also had the privilege of being exposed to the designs of Charles Correa, a celebrated Indian architect, with whom he had the opportunity to work on the Navi Mumbai Town Planning Project. This experience would have contributed to his understanding of urban planning and architecture. Over the span of more than five decades as the Principal Architect and designer of his firm Chandrashekhar Design INC., Ar. Kanetkar has undertaken a diverse range of architectural and interior projects. These include family homes, highend residential towers, business hotels, luxury resorts, and various interior design projects both in India and overseas. His extensive portfolio demonstrates his versatility and expertise in creating architectural and interior spaces that cater to different needs and contexts.
Outstanding Contribution to Architecture and Interior Design
Ar. Ravi Gadre graduated in 1977, by receiving special medal for excellence in design for five years. He has won several national awards and has designed projects of various typologies. Ravi has been invited to present his works in architectural colleges in India, Taiwan, Shanghai and has travelled over 20 countries. He strongly believes in modernism and takes lessons from nature for its logic and climate responsiveness, and vernacular for its efficient and intelligent use of available building material and technology for the relevant life in that period.
Outstanding Contribution to Architecture and Interior Design
Ar. Suntosh Baheti of Baheti & Associates has been on the interior design and architectural map of the country for the past 30 years. They have an immense and dire passion for design and that has been reflected in the creation of every project. Under the guidance of Mr. Baheti and his adroit vision, the firm has carved a niche for themselves and are advancing forward to set up new benchmarks in design.
Outstanding Contribution to Architecture and Interior Design
The fourth honour in this category was presented to Anand Bhagat, Co-Founder Metaphors Design is a prominent architectural and interior design firm wiith an experience of over 25 years, the firm has established itself as a leader in the industry. Led by Ar. Anand Bhagat, Metaphors Design boasts a team of talented professionals including architects, interior designers, civil engineers, and a skilled 3D modeling team. The firm's approach is centered around the pursuit of perfection, and they leave no stone unturned in delivering high-quality designs. Their portfolio showcases a diverse range of projects, including residential, commercial, institutional, and hospitality spaces. Metaphors Design takes pride in creating bespoke solutions that cater to the unique requirements of each client.
Outstanding Contribution to Professional Practice and Education
Ar. Prakash Anjarlekar, the founder of Anjarlekar and Associates is a qualified Architect and Interior Designer. He worked in Riyadh-Saudi Arabia for 5 years with American company, Bechtel Consultants and then continued to work with Biswas & Kumar Consultants. Beginning in 1993, He decided to pool his knowledge in Project Management and Quality Control being his main focus.
He continues a commitment to excellence by striving for quality in every job regardless of size, budget or time line. He still maintains the same foundation of integrity, trust and mutual respect that has made the business an everexpanding success and one of the premier design-built professional in the country. He could successfully handover many turnkey large scale projects of reputed multinationals. Having a well-rounded experience of all three components of construction i.e. Designing, Contracting and Project Management added lots of values to the project. Apart from his work he has dedicated many years teaching students of Architecture and interior design.
Outstanding Contribution to Architecture and Interior Design Large Scale Projects
Ar. Sandeep Shikre spearheads SSA Architects, a firm that renders Architectural, Interior Design and Construction Management Consultancy Services. Sandeep, a USGBC LEED Accredited Professional Founding Member of IGBC has a deep commitment towards sustainable development. He is also the Chairman of IGBC (Indian Green Building Council) Mumbai Chapter. He is a patron of CTBUH (The Council for Tall Building in Urban Habitat) whose head office is in Chicago, USA on advisory committees for several forums. He has recently been honored and is with 'Senior Fellowship Award' by IGBC and has been recognized as India's top 30 Architects' by Forbes India.
Outstanding Contribution to Sustainable and Innovative Architecture Practice
Ar. Sunil Patil is the Principal Architect at Sunil Patil and Associates with a Bachelors Degree in Architecture in 1989-90, from Kolhapur, India. With more than 26 years of experience has successfully executed more than 375 projects in various sectors. He has delivered many seminars on various topics in architecture and also has written architectural articles for various newspapers. His works have been published in more than 80 magazines and journals- International & National. He has won various architectural awards and competitions.
The Creative Excellence in Architecture and Interior Design
Pratap Jadhav & Associates is a respected architectural firm in Pune, dedicated to providing architectural services that meet the needs and aspirations of their clients while adhering to high standards of design and functionality. Pratap Jadhav & Associates is known for their expertise in designing a wide range of projects, including residential, commercial, institutional, and industrial buildings. They work closely with clients to understand their unique requirements and translate them into well-designed and functional spaces.
The firm places great emphasis on attention to detail, quality craftsmanship, and sustainable design principles. They strive to create buildings that are not only aesthetically appealing but also environmentally responsible and energyefficient. Their experienced team of architects and designers, combined with their collaborative approach, ensures that each project is executed with professionalism and excellence.
The Creative Excellence in Architecture and Interior Design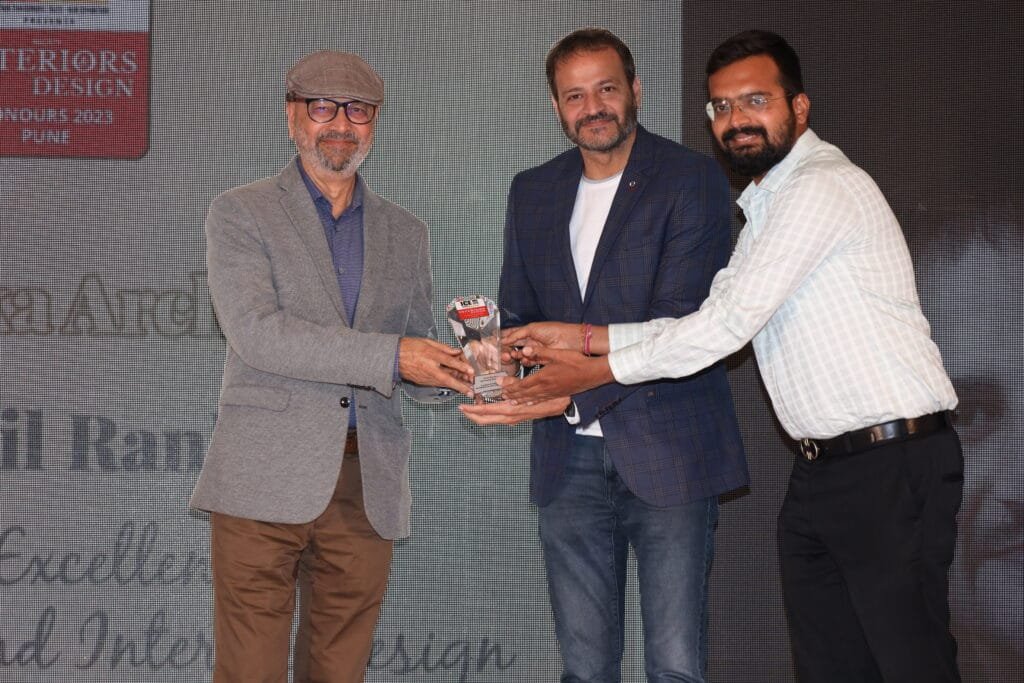 Ar. Anil Ranka, Founder, Anil Ranka Architects has made its presence felt through innovative and timeless designs. Ensuring that each project is given equal priority and attention from the designing stage to detailing to execution to final – delivery, makes ARA an award-winning firm. Constantly striving to break new ground in field of architecture and interior design, the firm puts great emphasis on producing exceptional work rather than pushing a single, signature look or style across its project. Exploring the world of architecture through different mediums like sketching, photography and travelling can be reflected in their work. They thrive to maintain their presence through innovative and timeless designs maintaining a balance between aesthetics and functionality.
The Creative Excellence in Architecture and Interior Design
Sanjeev Mita Joshi Architects and Interior Designers is a renowned architectural and interior design firm. The duo specialises in architectural work related to residential bungalows and residential interior design. They understand the unique requirements and aspirations of homeowners and translate them into functional and aesthetically pleasing designs. Their architectural solutions encompass various aspects such as space planning, structural design, and exterior aesthetics, ensuring that the bungalows are well-suited to the client's lifestyle and preferences. They have a keen eye for detail and a deep understanding of how interior spaces can enhance the overall living experience. Their interior design services include space layout, furniture selection, material finishes, lighting design, and other elements that contribute to creating harmonious and comfortable living spaces.
The Creative Excellence in Architecture and Interior Design
Ashwin Lovekar and Anjali Lovekar have graduated in Architecture from the prestigious Sir J.J.College of Architecture, Mumbai, in 1991. After having worked with different architectural firms for about 2 years in Mumbai and Pune, the design firm of Lovekar Design Associates was formed in 1993. Lovekar Design Associates believe that every project has to be masterminded carefully taking into account the client brief, fidelity to site conditions & the time & economic frame for the same. They believe in teamwork, ably supported by the team members & co-workers who skillfully execute their share of work on the project. A keen sense of aesthetics & visual appeal along with discipline in the design is the underlined character of their work. They believe in creating spaces that the owner is comfortable with & relates to as his own. Enjoying the process of designing to obtain a creative & feasible solution is their goal towards each project they undertake.
Outstanding Contribution to Architecture and Interior Design
Sankalp Designers is a 21 years old architecture firm founded by Architect Shitesh Agrawal a pioneer of bespoke architecture and interior design – from Multifamily dwellings, townships to urban planning, corporate, commercial architecture & Metro Stations, Public Domain Projects. Since its inception in 2002, Shitesh has undertaken several prestigious projects, of varying magnitudes and design styles, in Architecture and Interior Design. On a large scale, the firm develops townships as big as 50-55 acres and housing complexes as big as 7-8 million sq. ft. On the micro scale, they mostly develop single family residential projects. They work with various multinationals like Godrej Properties, Mahindra Lifespace, Panchshil Reality, government organizations like Maha Metro, CPWD and other private developers. Their main aim is to make projects which are truly sustainable, with genuine efforts to reduce the Carbon footprint and energy requirements.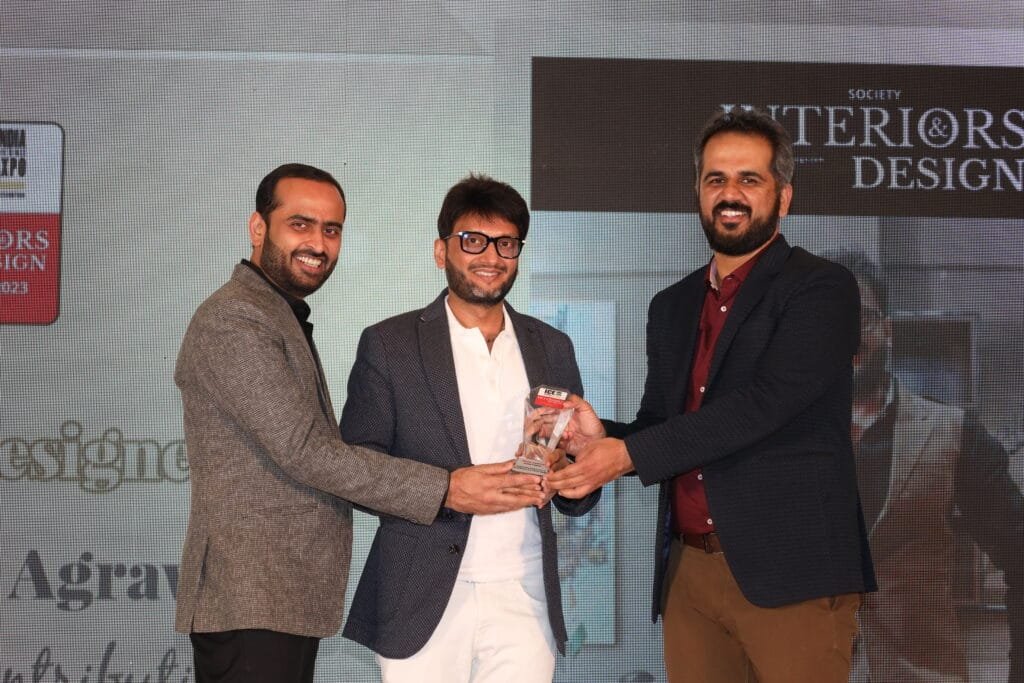 They are one of the Leading Architectural Firm with majority of Projects Based in Pune and Mumbai and an apt leader in shaping future of Urban Transportation with Project like Swargate Multi modal Transport Hub that comprises of Underground Metro, Intercity & Intracity Bus Terminus & a huge Retail & commercial Footprint in Pune and Creator of Iconic Buildings enhancing the skyline of Mumbai with ICG Towers at Worli Sea Face in Mumbai. They have designed an Iconic Commercial Building at the busiest Commercial Street called One Place at F.C. Road Pune. The company's future vision is to correct iconic Designs that are profound comprehension of contemporary mutation with respect to the environment, not specifically at an ecological level but in the way in which buildings relate to the landscape. The firm has been reaching new horizons in Pune region with Projects of multiple magnitudes and various design strategies with some of the Iconic Projects like designing Iconic Commercial Building at the busiest Location J.M. Road, Pune, Developing Ultra Luxurious High-end residential projects at Viman nagar, Wakad, Tathawade, Kiwale, Pune, A Commercial Project with high street retail and premium office spaces at Kharadi, Pune. Other premium office spaces at Baner, University Road, Tathawade, Wakad, Pimple Saudagar, Pimple Nilakh, Kiwale, Viman Nagar, Pune.
Emerging and Promising Architect & Interior Designer
Ekta Ahuja of Tejomaya Architects & Interior Designers pursued her passion with a degree from Dr. B. N. College of Architecture, Pune in 2001. She started her career under Architect Hafeez Contractor, who's work culture and design ethos were both something that inspired and intrigued her in equal measure. An avid traveller with a keen interest in technology, Ekta defines her ever-evolving style as both "classic contemporary" and "maximalist."
The Creative Excellence in Architecture and Interior Design
Mrs. SUPREET BAJAJ – Founder & Director of PURPLELOFTS is a perfectionist and an achiever since her growing up years. Supreet graduated as a medalist & a university topper in Delhi. Soon after, she pursued her MBA from Symbiosis and worked for various esteemed MNCs in India. With diverse ideas and a keen eye for what is good design, she decided to dive deeper into the world of architecture and interior design as a professional. After heading design & execution teams in various organizations, to start her venture was a significant game-changer in her career span, and since then, she has never looked back.
Interior designing is the art and science of enhancing the interior of a building to achieve a healthier and more aesthetically pleasing environment for the people using the space. Interior design is the art of understanding people's behaviour to create functional spaces within a building. PURPLELOFTS is an Interior Designing & Execution Company that creates World Class Designs from Budget to Premium Segment for both Residential & Commercial Spaces. PURPLELOFTS is headquartered in Pune Maharashtra from last 1 decade & delivering Interior Designing & Execution Services across India. In an unorganized Interior Designing Sector, PURPLELOFTS brings in systematic Designing & Execution process that has been successful in delighting hundreds of clients till date. Its USP lies in its fast designing & quick execution policy. This keeps PURPLELOFTS ahead of the pack & stand out in the highly competitive field. The firm's expertise lies in designing small studios, apartments, villas, bungalows, and commercial spaces for corporate, hospitality and entertainment facilities.
The firm has achieved many Landmarks one of them – Interior Designing & Execution of more than 50 Apartments of various sizes & configuration in one single project with unique design for each and every apartment. The Interior designing of all the apartments was completed during the construction phase & fully functional apartments were delivered to clients along with the possession of the buildings. It is their vision to venture into unconventional furniture and execute them in India, thus aiming to be a UNICON company in the next five years. PURPLELOFTS is working on an upcoming project which will be Landmark project in developing space for underprivileged children. The project has two aspects, First – to create a space for underprivileged children which includes – Resident Hostel, Education Rooms, Recreation Center, and In house Dinning & Outdoor Space for explore the nature. The Second aspect is to connect the first with the main stream which includes designing a commercial & educational space where people can come and spend time with world of space, science, culture & commerce.
The Creative Excellence in Architecture and Interior Design (add more info)
Pratul Bajaj is a spirited, magnetic and passionate human being looking to design eternal spaces that contribute to the joy of people who own them and those who experience these spaces. Hailing from a family that was in the business of contracting exclusively for nationalised banks, he was always inclined to do something more stimulating and expressive. Projects with more ingenuity, private homes and spaces with a wow feeling always thrilled him. That interest then evolved and stimulated him to create timeless spaces that got him into the interior design industry. His main interest is always learning something new, understanding people and their lifestyles, and thus, Anante Designs was born. Some of the landmark buildings and projects created by him include, ARIA in the plush environs of Koregaon Park in Pune, EON Waterfront at Kharadi, Pune, Raheja Reserve, a plush commercial sea-facing office space spanning 10000 sq. ft. in Belapur for a Singapore-based multinational.
With Anante Designs, he plans to go pan India and venture into turnkey projects for commercial buildings as well as design interiors for even Commercial spaces. Some of the projects in the pipeline include, Raheja Reserve client Vice Admiral Mr. Rb Pandit, Row house in Clover Classic in Koregaon park, Pune and a commercial Office and an industrial factory space at Khed Shivapur, Pune.
The Creative Excellence in Architecture and Interior Design
AR. SIDDHINA SAKLA
THE ARCH STUDIO
The firm was started by Ar. Siddhina Sakla, who completed her Bachelor's in Architecture from Dr. B.N. College of Architecture, Pune, India and then pursued her Master's in Urban Design at Sheffield University, UK. Alongside, she also completed some modules at the University of Westminster, London, UK. She worked with eminent architects like Christopher Charles Benninger Associates, Pune, India and Nasser Gulzari Architects, London, UK, which specialises in sustainable Architecture in Palestine and also designed the parliament for Palestine. She devised her own design language through her varied experience in architecture and interior across London and Pune.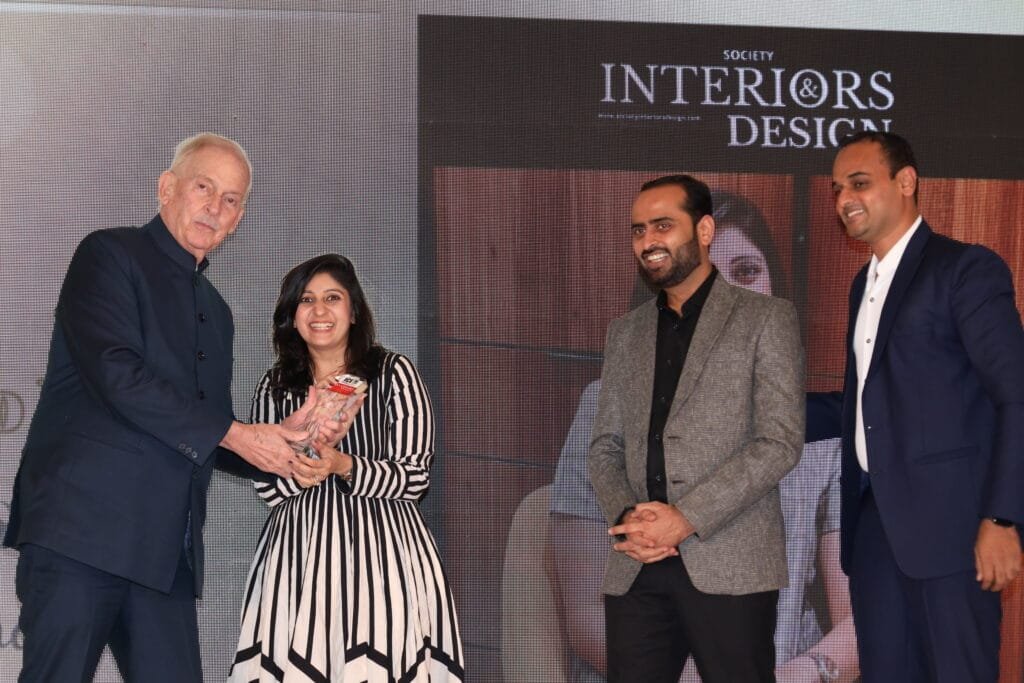 THE ARCH STUDIO is a young multi-disciplinary design studio, offering Architecture and interior design solutions for residential, commercial, hospitality and retail projects. They also offer feasibility studies of plots to developers to know the viability of the land. THE ARCH STUDIO aims to actively pursue opportunities to grow and achieve even greater heights. The future holds immense potential for the firm. By embracing a visionary outlook, collaborating with government entities, and pursuing continuous growth, they aim to become catalysts of positive change within our city and the wider architectural community.
The firm has currently designed and are executing a 100 m tower in PCMC area in Pune. A ground-breaking project, a majestic 100 M Tower, is currently underway, promising to be an iconic landmark that will redefine luxury living in the area. With its opulent amenities and a bespoke elevation design never seen before, this architectural marvel aims to captivate residents and visitors alike. With its bespoke elevation and world-class amenities, the tower stands as a beacon of architectural brilliance, ready to make its mark on Pune's skyline and etch itself into the hearts and minds of all who encounter its grandeur. Besides they have also designed a 3 lakh sq. ft. residential project soaring three towers, 14 floors each housing more than 300 apartments with bespoke amenities. Underway they have ample of redevelopment projects in the design stage along with bungalows and villas in and around the city. They are currently working on more than 20 interior design projects from residential luxury to bespoke office spaces, retail and hospitality.
Excellence in Green Design and Sustainability
Coming to the real estate segment, Greenway Properties (Mr. Ashok K Ravat, Mr. Radhakrishna Narayan Shenvi, Mr. S Vishwanathan and Mr. NileshLodh) was facilitated with
Greenway Properties caters to clients that want to live a life surrounded by nature. Greenway designs are sustainable and are built with locally sourced materials. Considering the climate and topography, the property is managed to enhance the native natural ecosystem. In 73 acres of gated communities in Wada, one can experience the magic of community living in mother nature.
Excellence in Residential and Commercial Project
Raju Bhise of Austin Realty.
Their journey at Austin Realty began in 2014, driven by a passion for creating exceptional living spaces. Since then, the team at Austin Realty have dedicated themselves to fulfilling the dreams and aspirations of their clients. With 16 lac sq. ft. of space delivered, Austin Realty has established a solid track record of successful project completions. Over the course of 19 years in business, they have delighted 1000 happy clients with their exceptional real estate developments and continue to thrive in multiple locations. Their focus on quality has allowed them to establish a strong presence in Pune's PCMC region, positioning them as a premier brand.
Among their completed projects, Austin Park NXT stands tall, offering a serene living experience. Further enriching the cityscape is Austin Park, a marvel of architecture and design. Triose, with its modern flair, adds a touch of sophistication to Pimple Saudagar. Journeying along the Pune-Nashik Highway, one can't miss the allure of Golden Palms, an oasis of tranquillity. Some of their ongoing projects include, Lush Residences, nestled in Tathawade, is a symphony of elegance and comfort. As you explore Pimple Saudagar, you'll be captivated by Austin One, an embodiment of luxury and style. Their upcoming projects in Tathawade and Mamurdi promise to elevate the standards of modern living even further. While the projects that are in the pipeline include, forthcoming projects in Tathawade and Mamurdi area.
The brands future vision is to create green and sustainable developments in Tathawade, revitalizing the area while fulfilling the dreams and aspirations of our customers.
Excellence in Residential and Commercial Project
Paranjape Schemes Construction
Paranjape Schemes Construction don't just build homes but believe in creating a happy vibrant community. They have over 190 top of the line projects completed in the past 30 years with a strong presence in both Residential and commercial sectors. They are the pioneers in Incorporated on 18th September 1987, the brands underlying vision is to become one of the most trusted real estate companies. The brand commitment to continue the Athashri movement and to take it across the country and indeed, across the world. When you are a part of any Paranjape project, you are welcomed into a vibrant and lively community that truly reflects the sense of oneness. The Happiness Network, as they call it, is synonymous with the spirit of New India where diverse people come together to form one harmonious community. The core idea of the network is to spread the feeling of belongingness. Paranjape Schemes also conducts several community events that include Paranjape Super League, Ganarang, Anandghan and much more. These are only few examples to illustrate how all roads at Paranjape lead to a vibrant, happy life.
Creative Excellence in Residential project category
Atul Goel of Goel Ganga Group
Goel Ganga Developments is one of the most trusted real estate developer in Pune. It is also a multi-faceted business conglomerate with business ventures across myriad sectors like education, logistics and energy. They are known for their time-tested commitment to details, innovation, reliability and value. Be it any sector they deal in; a customer-first approach is the crux of their business operations. Atul Goel, has been conferred a doctorate by the prestigious European International University. An engineer by training, an entrepreneur by instinct and a nation-builder by intent, he is Armed with a BE (Civil) from the prestigious Bharti Vidyapeeth, followed by an MBA (Finance) from Pune University, then a degree in Family Business Management from ISB Hyderabad, and a Diploma in Law from ILS Law College, Pune.
A second-generation entrepreneur, joined the family business as early as 1996. He is a firm believer in the adage that learning is a lifelong process. Learning and growing at a rapid pace resulted in the emergence of a well-rounded real estate leader with expertise in acquiring land through direct purchase or partnerships, conceptualizing projects from design to marketing to delivery, liasioning with government agencies and bringing them on board as partners as well as in developing the real estate industry as a whole.
Excellence in Infrastructure & Real Estate
Prayag Khose of B K Khose Group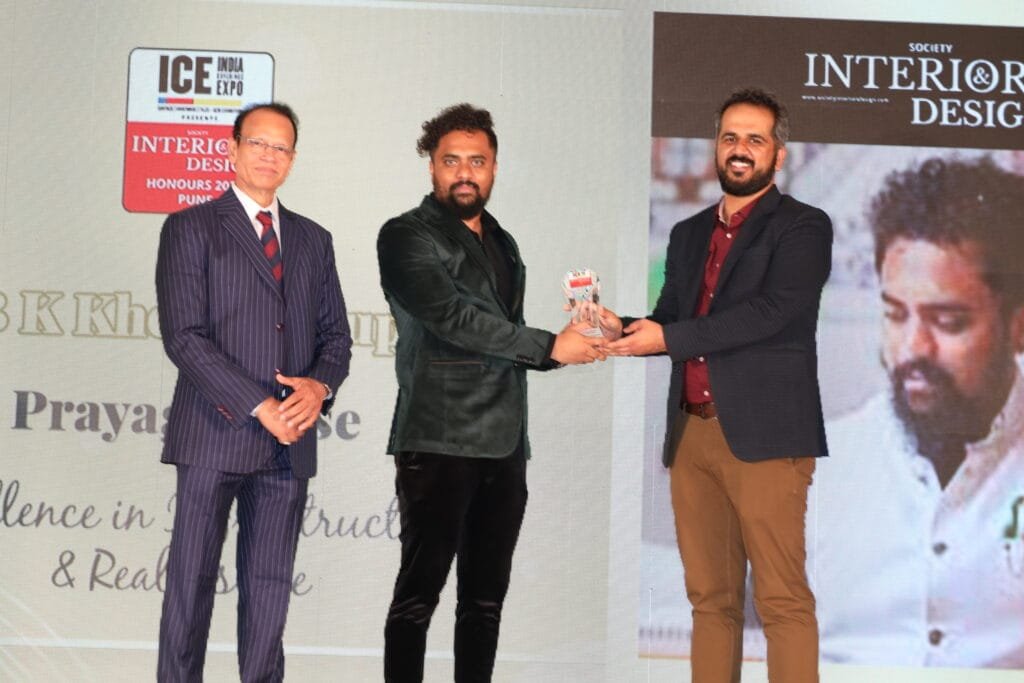 Upon joining the company, Prayag Khose of B K Khose Group chose to start from the ground level. He firmly believed that in order to truly understand the core of the business, he needed to familiarize himself with every aspect of its operations. As he gradually absorbed the company's inner workings, he recognized opportunities where he could apply the management skills that he had acquired during his time at The University of Manchester. Armed with a comprehensive understanding of construction management principles, project planning, and financial analysis, Prayag Khose of B K Khose Group began implementing new strategies to streamline processes and enhance efficiency. As the company expanded, he embraced technology to drive innovation and improve their operations and implemented cutting-edge software and tools to enhance project tracking, cost control, and communication with stakeholders.
The company has undertaken and successfully executed several prestigious infrastructure projects in the PCMC area. Among these remarkable ventures are Santpeeth, International Wrestling Centre, and Bahinabai Chaudhary Sarpodyan. The company's future vision is to become a leading force in the real estate industry, known for their innovation, excellence, and social responsibility. Sustainability is their key focus, they incorporate eco-friendly practices and adhere to green building standards. Social responsibility will be paramount, as they actively contribute to communities through philanthropic initiatives. Their goal is to establish themselves as a trusted industry leader, making a meaningful impact in the real estate sector and beyond.
The company has recently embarked on two significant projects that hold immense importance in our portfolio. The first endeavor involves the construction of the MIDC office building. Equally exhilarating is their upcoming Residential Real Estate project situated in the vibrant locale of Tathawade, Pune. Their Residential Real Estate project will embody innovation, modernity, and the highest standards of quality, reaffirming our position as a prominent player in the real estate domain.
The event also witnessed Anita Shamani, a highly gifted furniture curator who enlightened the audience about the latest home trends. She is also noted for being the driving force behind the success of Tangent the furniture mall, the first of its kind in Pune. She also has her own furniture brand Agami the design Galleria by Anita Shamani. A third generation in furniture manufacturing, Anita is a firm believer in hard work, and a living example of tenacity, devotion, and willpower. She is an active participant in the education of the disadvantaged as a member of the MNVTI advisory council, and she shares her knowledge with the next generation. She has also received numerous visual icon awards. Let us bring Anita Shimani to the stage to offer her thoughts on the future of Interior Design.
With plenty of cheers, celebrations and of course posing for the cameras with hard-earned awards, the ICE India Coverings Expo & 'Society Interiors & Design' Honours 2023, Pune wrapped up on a high note. Later in the evening the guests and the awardees were seen having a gala affair together over cocktails and dinner. It was truly an entertaining, creative and powerpacked event.