Meera Pyarelal, Principal Designer, Temple Town has fused different styles and functionality into a classy Penthouse for the Joy Alukkas family in Cochin
Each home reflects the personality of the homeowner. Billionaire Jeweller Joy Alukkas' penthouse is a true reflection of his refined lifestyle. The awe-inspiring home is designed by Meera Pyarelal, Principal Designer, Temple Town. Spread over an area of 5,000 sq. ft. this penthouse situated on the 22nd floor of the Joy Alukkas Gold Tower in Cochin is an elegant mix of global influences and reclaimed pieces. This spacious apartment is filled with beautiful period furniture and design classics, set against a colourful palette.
Adding further insight on the client's brief and her design concepts, Meera Pyarelal, Principal Designer, Temple Town says, "The client's brief was to create a space that was homely enough when they were alone but large enough to easily play host to their extended family and friends. It was an absolute pleasure to work with his daughter, as she had impeccable taste and insisted on using reclaimed wood and sustainable options."
The design team headed by Meera skillfully conceived the schemes that not only fulfilled the brief but also evoked different moods from room to room. The beautiful reception in the entrance lobby with a Queen Anne console and a sculptor from Anthropologie UK set against the backdrop of plaster mouldings further add to the aesthetics of the space. A relaxed formality was set in here with the partnering of antiques and lush greenery.
A cane and wood chest occupies the pride of place in the foyer with a beautiful vintage mirror and botanicals that provide valuable storage. Vibrant colours, beautiful period furniture, and layered fabrics are key to this glamorous style.
As you enter the formal living room a repurposed old door from a Haveli in Jaipur is flanked by two Regency chairs upholstered in white and gold silk reminiscent of the quintessential Kerala textile.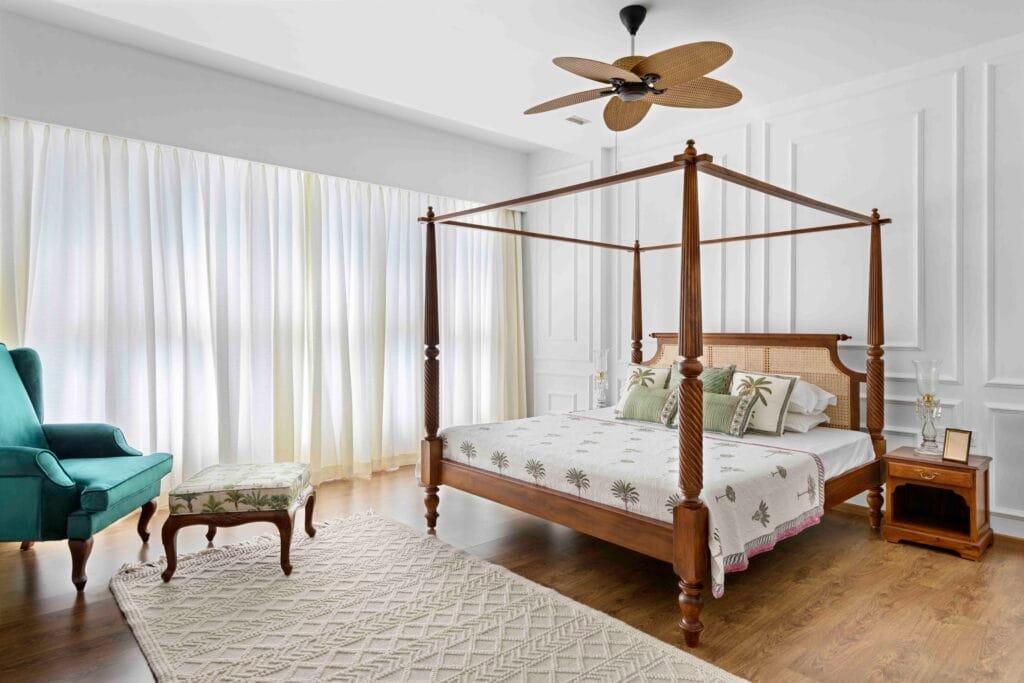 The drawing room has a sumptuously finished chesterfield in heavy green velvet, a Dutch colonial divan with piles of silk cushions, a traditional south Indian oonjal or swing, and a set of brass and wooden center tables resulting in an intriguing mix of design classics. A console table with a line of ornate brass mirrors adds glamour and increases the sense of space.
"The beautiful artwork above the divan is charcoal on silk by award-winning artist Suneesh from Kerala. I love throwing in that element of the unexpected that takes an interior from being predictable to interesting and unique." says Meera.
The dining room is a combination of classic elements and playful twists. The freshness of the Lewis & Wood wallpaper and brass mirror is a beautiful foil to the traditional Louis xvi style furniture. A bespoke brass pendant light in the form of a banana leaf envelopes the entire table. The 10-seater dining table has been styled using beautiful crockery from the Rosabagh series from Good Earth, brass cutlery, and customized linen napkins.
In the bedrooms, we combined unexpected colours revealed, in boldly patterned wallpapers and furnishings at every opportunity. The wintry blue bedroom has a handsome cane bed set against the backdrop of a tropical kalakaarihaath wallpaper that is classic, colourful, and inviting. The wall opposite the bed has a collection of dried flowers which is a stylish and sustainable way to enjoy your favourite blooms all year round. Everything in this room is luxurious from the silk curtains to crochet embroidery and velvet seating.
The master bedroom has European-inspired plaster mouldings, black and white prints from Rome, and tropical patterned bed linen that feels like perfect partners in this luxurious master suite. The balcony from the master bedroom offers far-reaching views across the city. The guest bedroom has an antique wooden panel for a headrest, individual beautiful objects, layered textiles, art, and lamps, and manages to be both calm and stimulating.
"We converted one of the bedrooms into a media room/study with a wall of antique stamps, velvet drapes, and a painted console. The perfect place to relax and catch up on world events in your favourite spot." says the designer.
A bespoke lacquered kitchen in pastel green with a satuario marble backsplash and brass fittings lends the new kitchen a timeless quality. Keeping the functionality in mind the designer has designed the breakfast station which has ample storage and a pleasing look with perfectly scaled panels for doors, cane lights, and bar stools in Ajrakh print silk fabric.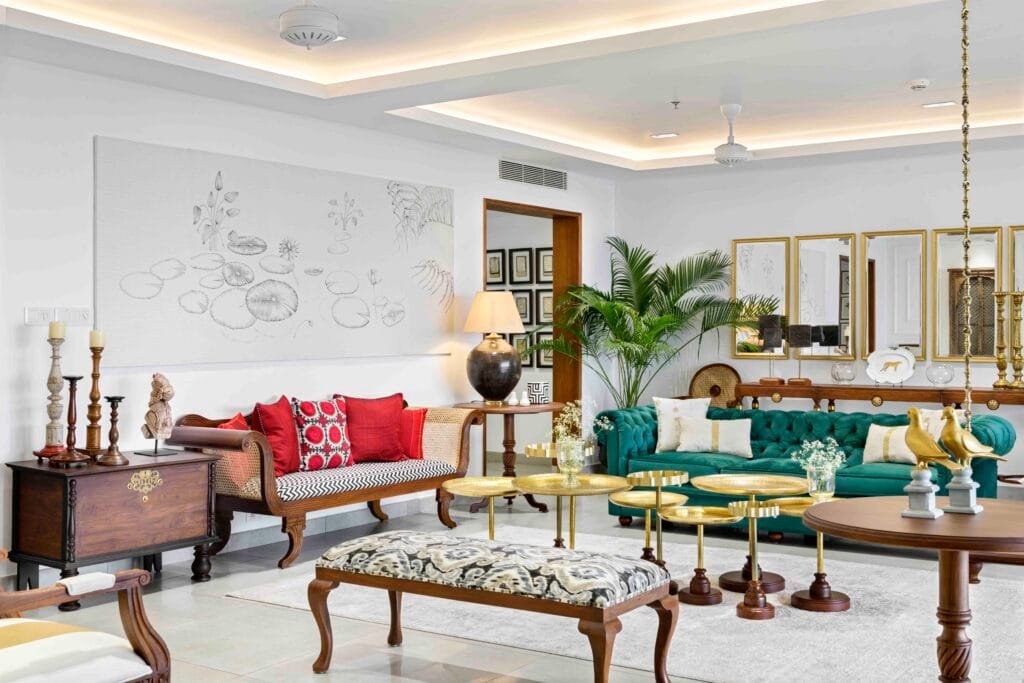 The main balcony has a wall of potted plants that reflects the love for greenery, while the plantation chair brings a note of nostalgia. Everything in this pied a terre is inspiring from the decorative interiors to the natural light and evocative furnishings. The key to the design was to bring a sense of appreciation to all things vintage, antique, and global and to let that seek into the consciousness of the space.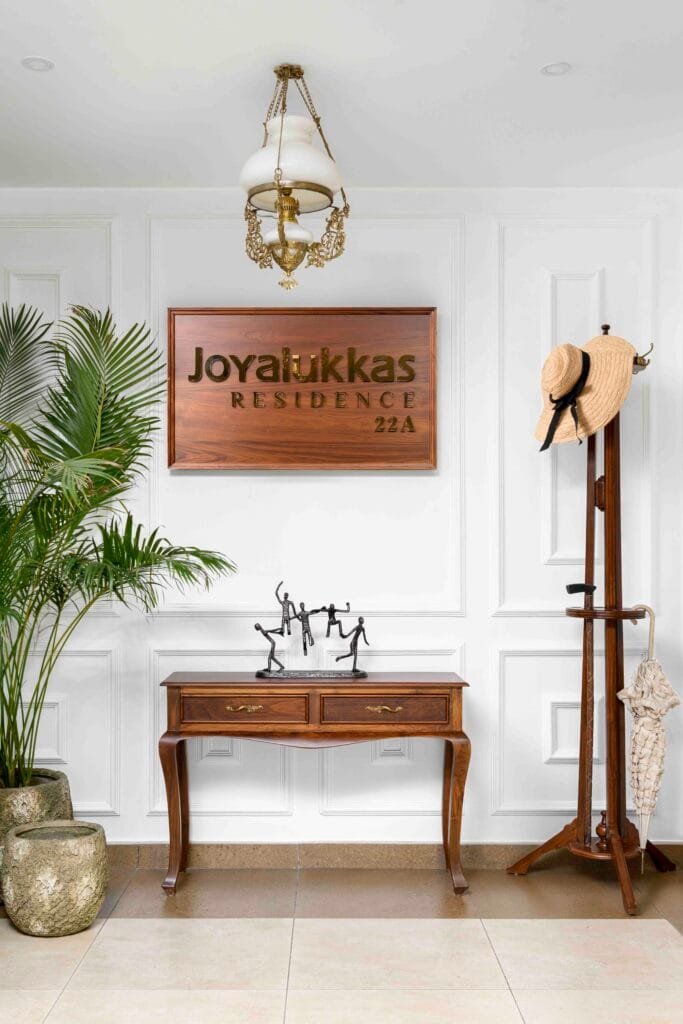 Meera Pyarelal has designed a home that is a true reflection of the family-oriented, welcoming, and bighearted people that they are.