Meera Pyarelal, Founder & Interior Designer, Temple Town has fused modern and traditional design elements for this residence in Kerala. 
In the picturesque city of Thrissur, Kerala, a remarkable residence has taken shape—a haven for a family of five seeking a home that seamlessly blends openness, warmth, and contemporary aesthetics. With a sprawling 4,500 sq. ft. expanse, this new-built abode encapsulates the essence of tropical modernism.
As you step onto the property, you are greeted by a charming veranda that leads to the main foyer. The house gracefully unfolds into distinct zones, each with its own personality yet harmoniously interconnected. At the entrance, a whimsical touch is added by a rustic live edge swing, evoking a sense of playfulness. A long console adorned with an iron mirror and accompanied by smart seating arrangements beckons you further. The walls, adorned in varying hues of beige, come alive as the morning sun streams through the glass windows, located strategically atop the staircase.
To the left, the living room welcomes you with its bright and airy ambiance, adorned with playful colours. Here, we have created an intriguing juxtaposition—a contemporary blue sofa against a backdrop of traditional millwork and an exquisite rattan chandelier, all custom-made to elevate the space's allure. A touch of glamour is introduced through an accent chair in plush white and black velvet. Moving to the dining room, a sense of cool and classic elegance permeates the air. An eight-seater dining table with a wooden top and brass base takes centre stage, accompanied by a bespoke cane buffet table adorned with botanicals, adding a subtle touch of luxury. The streamlined all-wood kitchen boasts practicality and functionality, with its clean lines and absence of unnecessary details.
"Throughout the home, natural materials like wood, stone, marble, and metal have been thoughtfully incorporated, ensuring both timeless appeal and enduring quality. Underneath the staircase, a stylish bar awaits, adorned with geometric-patterned tiles and custom-made brass and glass ledges, forming an eye-catching feature. Against a backdrop of natural woven baskets, a Chesterfield exudes tropical modernism, adding a dash of character and uniqueness." explains Meera Pyarelal, Founder & Interior Designer, Temple Town.
On the ground floor, the master bedroom beckons to the right, offering a sumptuous sanctuary. A four-poster bed, complete with a silk headrest, is adorned with ikat cushions, while artwork created by capturing palm prints of the entire family adds a personal touch. The adjacent bedroom features an upholstered wing headrest, complemented by a collection of old keys displayed above it. Injecting drama into the space, a bold accent chair boasting Frida Kahlo prints steals the spotlight. A linear wooden staircase leads to the family room upstairs, where Mario Fernandez caricatures grace the walls, infusing cheer into even the gloomiest of days.
The eldest daughter's bedroom boasts four-poster beds, crafted with iron and wood. In this otherwise monochrome space, a chest in deep blues serves as a vibrant focal point, accompanied by artwork by the local artist Mahesh. The second daughter's room is a tropical paradise, featuring a luxuriously upholstered headboard against a backdrop of kalakaarihaath wall wallpaper, cocooning the room in a sense of tranquillity.
"Staying true to our design ethos of sustainable design, we have meticulously chosen materials, furniture, and decor pieces with environmental consciousness in mind. Our commitment to locally sourced wood, responsibly crafted and custom-made in our workshops, ensures a reduced carbon footprint and longevity for each piece. This home embodies a fusion of Indian and European styles, striking a balance between timeless elegance and contemporary sensibilities." says Meera.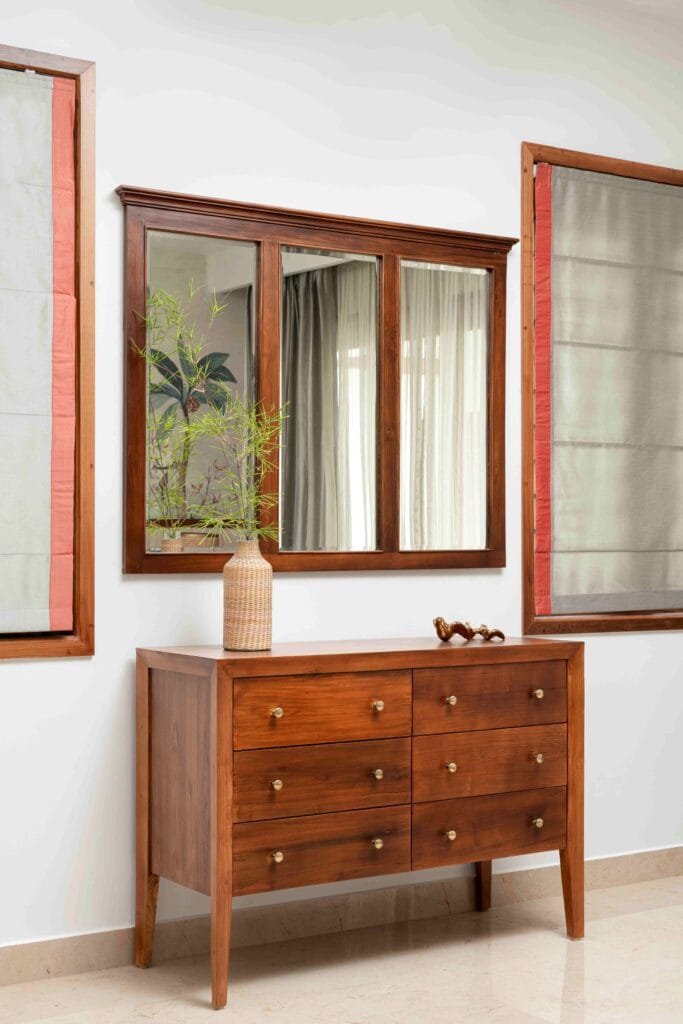 In this residence, the designer has embraced the art of experimentation, allowing each room to exude its distinct vibe while seamlessly blending into the overall narrative. This residence stands as a testament to the elegance of tropical modernism—an ode to open, airy spaces drenched in natural light. With sustainable design at its core, it embodies a harmonious fusion of styles, creating a warm and inviting haven for the family to cherish for generations to come.
Photographers: Justin Sebastian
Project Details:

Flooring: Nexion
Paints: Asian paints
Glass: Saint–Gobain
Air Conditioning: Blue star
Lightning: Temple Town
Laminates: Green
Plywood: Green
Sanitaryware Fittings: Kohler
Furniture: Temple Town
Furnishing: Adore by Asian
Doors and Partitions (Materials): Vaya Doors Teak