Rupesh Baid, Principal Interior Architect at And design shares his experience on Salone del Mobile 2023.
As anticipated the Salone del Mobile 2023 in Milan indeed was the much-awaited event of the year and it goes without saying that it lived up to its name. There were different international brands that showcased their exceptional materials, and exquisite products.
Post-pandemic this design fair was a welcome change as it gave Brands and the professionals a chance to experience the beauty of spring in Italy along with the array of furniture and decor that was at display through the installations that were popping up across the city. The fair which commenced from April 18th through 23rd needed more than a blink of an eye for the amount of time that was needed to cover everything that was on display. What really caught my eye was the different approach that the creators took this time where throughout the week, historical palazzos were taken over by the brands and designers who showcased their art through some of the most creative design installations and this offered a path to explore the city as they were used as a backdrop for the same.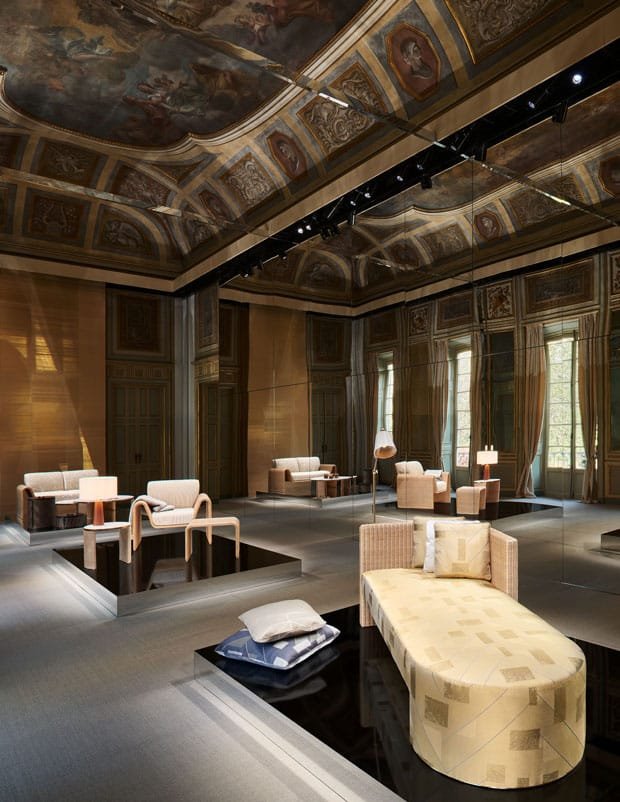 Kohler partnered with female Artists from different countries where they created a limited–edition global collection. The brand showcased a monumental aerial sculpture by artist Janet Echelman and it had a user-controlled design experience at Palazzo del Senato during Milan Design. Overall the whole fair was very vibrant but there were certain elements that left us with moments of unexpected enchantment and left us with a lasting impression. One such element which gave Style a new definition was the VISIONNAIRE. The collection presented here was embracing almost every moment of a person's daily routine which developed a broad and multi-vision all thanks to the creative minds that went into it. What really caught my eye was the Shibari armchair by Studiopepe, as it had a large knot used as a decorative element: which is considered a symbol of Immortality (Egypt) but here it depicted softness.
We also got to see a very interesting installation where we had products of the past which were masterpieces created by the masters of design were brought to the fair with slightly updating their materials to keep up with the modern times.
The Baggy lamp was designed by Paola Navone for Contradi and shows the workmanship of materials making the polycarbonate diffuser look like a crumpled paper tube. Lasvit also exhibited their new line of light fittings named Constellation lamps designed by David Rockwell. They put up a breathtaking exhibit which was titled "It All Comes from Above"
Then we also had Morghen Studio's Cascades of Light which hung in the center of a deconsecrated church and the exhibit was named "Desacralized".
A 4- floor palazzo featured the New showroom concept by Giorgetti which demonstrated the company's collection in a sophisticated setting and it was titled "The Place".
I could cover the event which is a true haven of creativity where talent meets ingenuity for a mere 3 days. Salone del Mobile, a show as vast as this where it was not just the halls but one could feel the entire city coming together and celebrating the occasion. As, I am writing my experience of these 3 magnificent days which just went by as quickly as a Blink of an Eye, I would like to end by mentioning a quote that I read somewhere "In a mere glance we can very simply glorify or dismiss a product without actually calculating and understanding the efforts and time that's poured into it." If ever given a chance one should visit this fair whether or not interested in design or innovation, this is the place where you do nothing but lean in and enjoy every bit of what's in front of you.