Nishant Sawhney, Founder & Principal Designer of Raffinato Design offers unique customized design services read on to know more…
Nishant Sawhney is the Founder & Principal Designer of Raffinato Designs. His journey of designing spaces for the last 20 years has been extraordinarily unique. He purveyor's in bespoke designs which are futuristic and sustainable. The historical vernacular reference in designs is always inspired by location along with the bold and electric choices inspired by the community and history of the area. Warm colours inspire the ambiance and speak about the rich culture of design.
Raffinato's ideology is to thread the needle between craft and technology which expresses the purity of form and material through a collection of softly sculpted furniture and accessory designs, their Interior language is eclectic and contemporary with a blend of fusion.
When we design the entire space, we combine strong architectural elements while prioritizing efficiency, a clean but detailed interior, and a beautiful lighting
As Nishant says "The mantra of my success is not only great designs coupled with integrity, hard work and futuristic vision"
They have different verticals offering various services including Turnkey Projects, Design Advisory and Furniture Design.
Turnkey Projects
"We manage your project starting from the conceptualization of design at the 'bare shell stage' to its execution. The holistic approach extends beyond the regular interior design service- to strategize every detail of your project from inception to its complete execution. All aspects including conceptualization, space planning, civil treatments, wall and ceiling finishes, home accents, manufacturing of furniture, kitchens and wardrobes along with art are taken care of by us." informs Nishant Sawhney.
When it comes to Design Advisory, they provide the required design inputs to their clients and execute their projects. They also guide the client's execution team towards obtaining results that are at a minimum possible variance from what their turnkey services are unfailingly guaranteed to deliver.
Speaking about their Furniture Design Unit, Nishant says, "With our in-house manufacturing forte including craftsmen bringing to life the extraordinary designs we are known for. You are guaranteed to enjoy our bespoke furniture pieces which are as much functional as they are artful." This confluence of art and craft, skilfully transformed into products incorporating complex techniques, minute detailing, multiple elements and diverse styles is a truly sensual experience in visual statements that evoke an unparalleled sense of emotion.
Modern Day Traditional
The team over the years has executed concepts like Indian Modernism which is characterized by a fine balance of the old and the new, a design style that weaves together traditional and contemporary elements to create an atmosphere that suits today's evolving decorating scenarios.
Vintage-inspired features or Art deco elements like furniture, lights and accessories with the intentional use of bright colours and patterns through textiles, ornaments, and crafts makes it embrace and allow you to incorporate Indian Modernism into your space.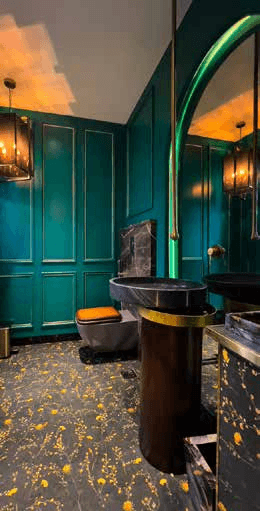 Infusing this form of design into any area gives the space an ambiance that is rooted in Indian culture but with a contemporary charm.
Art Meets Culture
Combining the ideas of different contradictory styles, forming a holistic, harmonious space. All elements of the interior are connected not at the functional, but at the effective level. This denial of typical stylistic norms and rules makes it possible to create unique, absolutely exclusive interiors.