Designed by Studio Mestry this abode in Mumbai combines classical design elements with modern luxury, resulting in a harmonious blend of opulence and comfort.
This tranquil 1,200 sq. ft. home located in Santacruz, Mumbai is a well-designed space that brews a traditional identity while remaining modern in its conception. A project designed by Akshaya Mestry, Principal Architect of Studio Mestry, redefines the art of living by seamlessly integrating personal narratives, history, traditions, and beliefs into bespoke spaces that stand as living testaments to the enduring threads of the clients' lives. A young, multidisciplinary design firm based in Mumbai and Pune, Studio Mistry's Designs are centred around simplicity, functionality, and focus on essential elements. Conceptualized in early 2018, the firm believes in providing client-centric design solutions by perfecting the details and transforming sites into beautiful livable spaces.
The client's vision was to create a timeless, soothing, and comfortable living space that spells sophistication. Sharing the client's brief, Akshaya, says, "In a concrete jungle that never sleeps, our clients Sujata Biswas, Co-founder of Suta and her husband Siddharth who reside here with their parents and their son wanted a home that exudes tranquility and tradition. This residential space is a marriage of vintage charm and quirks with traditional details woven in seamlessly. The clients had a set of antique furniture and artefacts given to them by their grandparents. But since they wanted the comforts of a modern lifestyle, they needed our expertise to create a balance between the old and the new."
The original layout had 2 separate apartments which are now combined into a 4BHK residence. The space comprises an open plan living room, dining area with an open kitchen which one arrives into through an entrance foyer. Adjacent to these areas is the master bedroom and a study cum yoga room. A linear corridor connects the dining to the parent's room and along the corridor on one side is the children's bedroom.
The cane screen at the entrance opens into the living space that features a beautiful traditional low-height seating nook, adorned with two vintage wooden columns on the side. Akshaya adds, "We selected curvy wooden loose furniture pieces, such as the living room sofa and round coffee table set, and used off-white textured paint and stained dark wood highlights. The living space has a carpet of printed tiles laid out to add character to the space." She further explains, "The clients loved hosting parties and soirées and wanted the perfect setting to do that. Hence we decided to break the kitchen wall to turn it into an open kitchen with an island counter as it was perfectly placed next to the dining space". The combination of a window side bench, the raw live edge wooden dining table and chairs, the bamboo decorative lighting against a wallpapered arch as the backdrop really sets a beautiful social space for the family.
Keeping the brief in mind, the team at Studio Mestry designed a minimal, uncluttered home that features a clean and understated design, with an emphasis on functionality and creating a sense of openness and timeless elegance. The home has a warm and inviting backdrop and it's predominantly the straight lines and smooth curves with traditional elements because of which the old and new blend and co-exist together. The residence is adorned with minimal details and a neutral color palette of white, beige, grey and sage green. Natural materials such as wood, stone, and cane are used to add texture, while wallpapers with tropical imagery and traditional motifs add visual interest to the spaces.
Akshaya further informs, "We kept three important principles in mind while designing the house.Open plan, Natural Light and Ventilation – Fluid spaces for the living area with visual connection across the home and opening up walls to get in tons of natural light.Simplicity – optimal use of existing spatial elements and natural finishes to retain the old world charm and lastly Materiality – Using materials like cane, lime plastered walls in combination with wooden elements & furniture pieces throughout the space which bring in so much character."Plants and other natural elements are incorporated to add a touch of life and vibrancy.
The designers have opted for warm lighting throughout the home to highlight the warm textures used. "Decorative lighting was custom designed by Luuma for all the cane lights and we also made a paper mache ceiling lamp for the main living area in the house," says Akshaya. The home is a mix of custom-designed furniture, some sourced items, and some existing pieces that hold sentimental value for the clients. The team has spent a lot of time crafting different elements for the home: the low window seating, partition screens, beds and all other loose furniture pieces were tailor-made to co-exist with their old antique furniture, all within the comforts of their modern lifestyle. "We are especially proud of the curved bar unit and the traditional low-height seating nook which was constructed from scratch on-site", says Akshaya.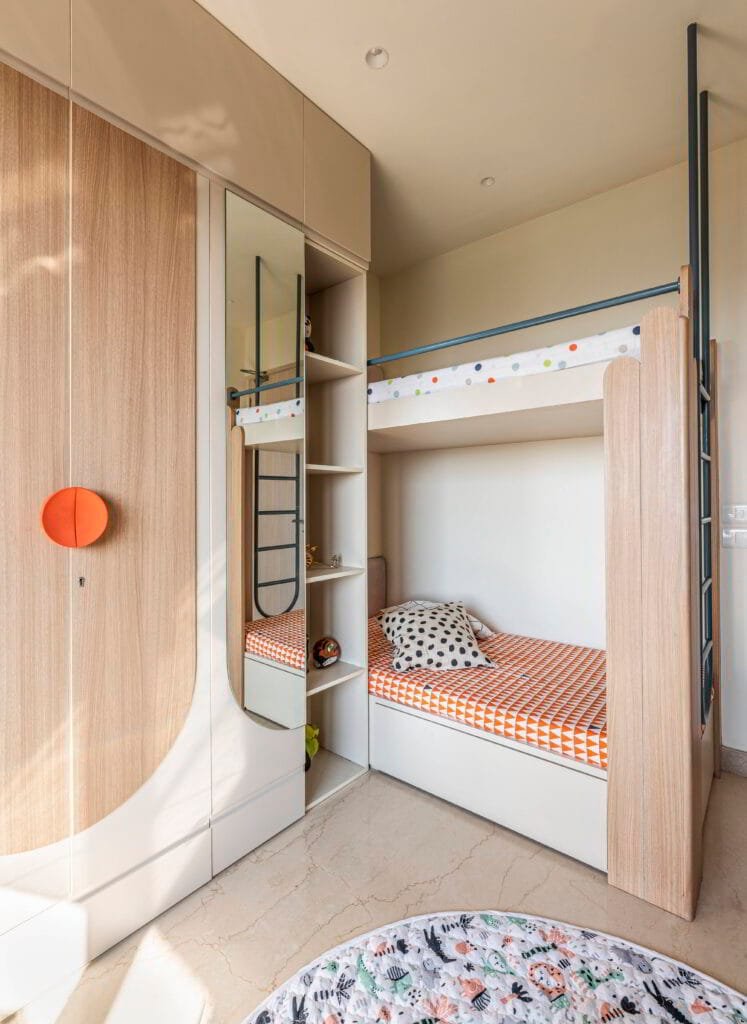 Sustainability being the need of the hour, Studio Mestryas a practice has started making a conscious effort to recycle and repurpose the waste that comes out of their sites. For this home, they experimented with lights made from the wastage collected on site. This included- old discarded ply, wood, and newspapers.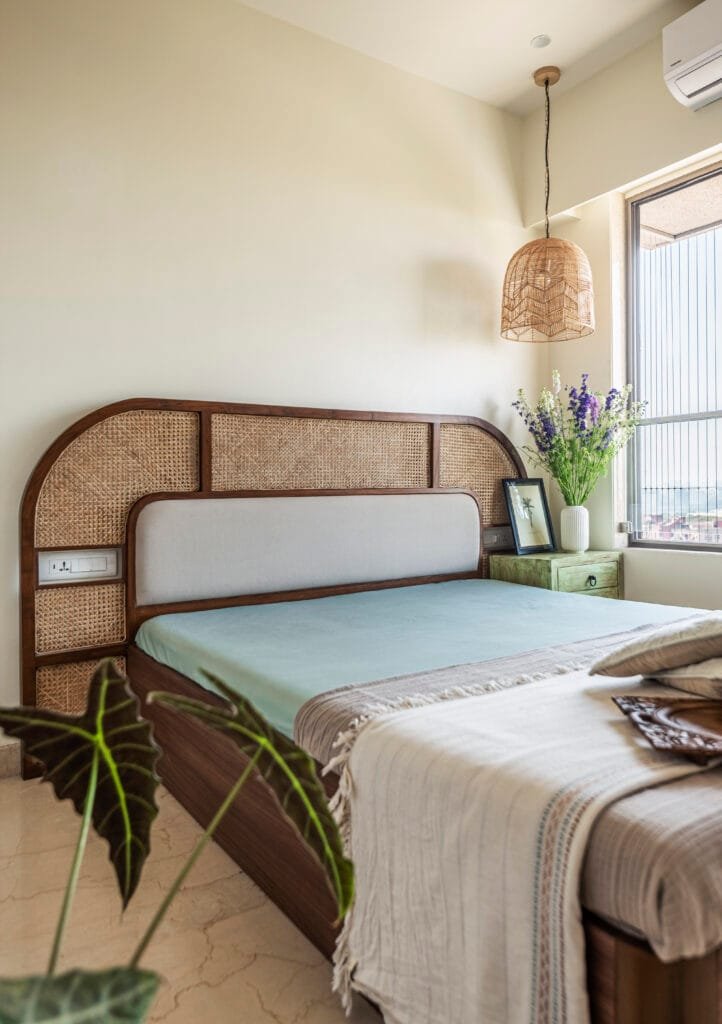 The success of this project is also attributed to the remarkable collaboration between the client and the design team. Despite the customization and attention to detail, the project was executed with remarkable swiftness. Akshaya Rejoices over the sheer satisfaction of working on this project. "It was a truly rewarding experience to bring the client's vision to life and transform this space into an inviting home," she concludes.