Abin Design Studio integrates traditional and modern architectural elements to design outstanding projects. Read on to know more
Abin Design Studio is a globally recognized architectural firm headquartered in Kolkata, headed   by visionary Architect Abin Chaudhuri. With a dynamic team of architects, interior designers, and branding specialists they have redefined the standards of design excellence in every project undertaken, constantly pushing the boundaries of creativity, challenging traditional norms, and crafting spaces and brands that epitomize innovation, sophistication, and functionality.
Abin Design Studio serves as a vibrant hub of creativity, where ideas flow freely, collaboration thrives, and originality flourishes. "Our skilled professionals bring a wealth of experience and expertise from diverse design disciplines, whether it's creating architectural marvels, transforming interiors into captivating realms, or strategically shaping brands." says Architect Abin Chaudhuri.
With a portfolio spanning various sectors and a reputation for excellence, we invite you to embark on a design journey with Abin Chaudhuri where creativity knows no bounds, and every project emerges as a masterpiece waiting to be unveiled. We speak to the expert to understand his design vision and more…
What are the thoughts that cross your mind when you take on new projects?
When embarking on a new project, my thoughts invariably centre around its potential impact. It's not just about design; it's about seizing an opportunity to influence and inspire many. I assess whether there are challenges we can overcome and whether there's a profound message this project can convey to all who encounter it.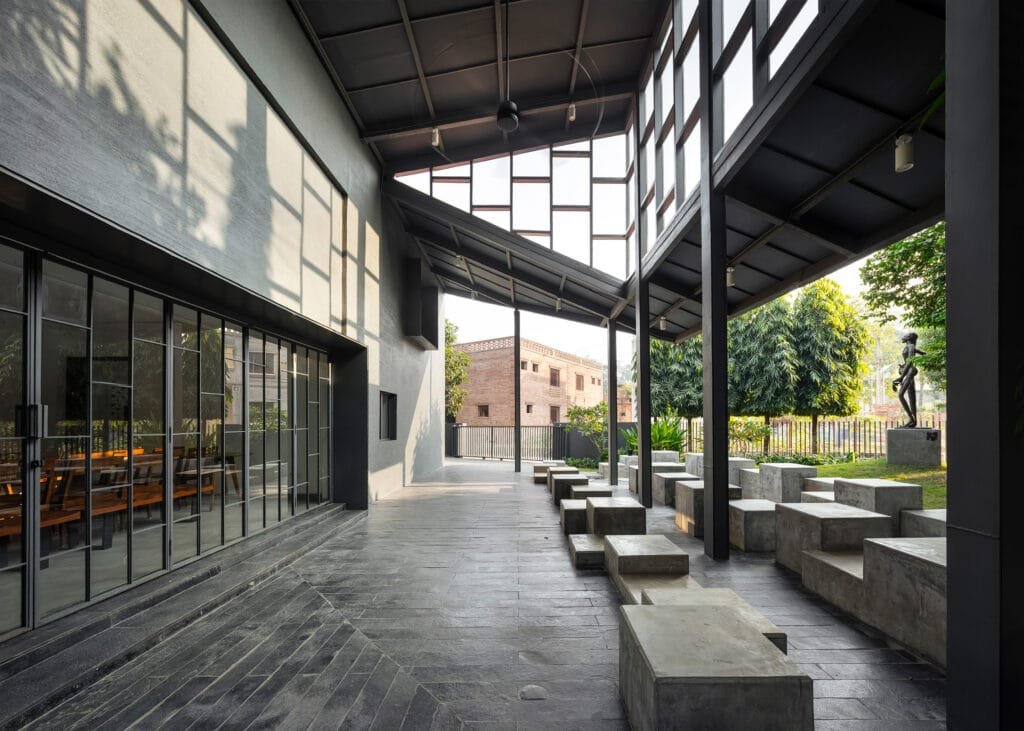 The essence of taking on a project isn't solely about crafting a design; it's about setting an example and establishing a benchmark. These benchmarks become touchstones for others to aspire to. So, if there's a project brimming with possibilities and after numerous discussions, we decide to embark on it, it's an opportunity where we don't just design; we create a legacy that doesn't necessitate navigating conscious complexity.
Do you find it difficult to consistently develop innovative designs for such diverse needs?
The pursuit of innovation is an ongoing endeavour, and surprisingly, the constant constraints and challenges in the global south act as fertile ground for generating fresh ideas. We delve deep into these problems, analysing them thoroughly, and from there, a myriad of fascinating solutions emerges. The diversity of our country and the multitude of projects we engage in ensure that we continually face a wide array of multi-layered challenges. These challenges, in turn, become the wellspring from which innovation flows, constantly invigorating our practice.
What are your best personal experiences while working with a diverse national and international clientele?
In my experience, whether it's working with national or international clientele, the essence lies in the mutual education and enrichment that occurs during the collaboration. It's about forging a deep understanding of each other. In our design process, the client is not a separate entity; they become an integral part of our journey.
We strive to discern their needs and, based on that, determine our role in infusing architectural ideas into the project. However, the noticeable difference between national and international clients often revolves around time. International clients tend to place a strong emphasis on timelines and are often more stringent in their adherence to them, which can sometimes differ from our experiences with national clients.
What defines your work?
We are privileged to create, as we are responsible to manifest. The privilege is earned through tireless hard work; the responsibility is realized as an emotion inherent to our paths in life. The architectural practice has always bridged the complex gap between people's needs versus their aspirations, sometimes falling into a set pattern of beliefs, past learning and known results. To break the stagnant glass ceiling, it is often the new paths taken in our lives that can create a new state of practice, one that is responsive to the changing timeline.
The studio has evolved through winning competitions, getting awarded with large scale projects to being honoured to design for private clients, who have eventually become mentors in professional as well as personal life. Through a diverse portfolio, the one challenge always taken up by the studio has been in the exploration of materials, technology and the design vocabulary, without compromising with the quality of the design. Explorations through architecture, installations or pro bono practice have been used as a tool to create projects. A path-altering example is my hometown of Bansberia, where successive projects taken up by the studio have become a catalyst for creating confidence in the common man, and even strengthened our faith in the ability of design in changing lives.
Real estate is usually a point of contention amongst design studios, due to the challenges of modular design and limited autonomy of architects to provide good solutions, but a necessary realm for practice, as such large scale designs have a larger impact on the society. Our studio intends to have a role to play, not just in designing for private clients, but also keeping up with the social context through generous design for the public, contributing to the upliftment of the social labyrinth. The need for good architecture can only be made aware through public projects and pro-bono interventions, the respect of the common man may be earned by dissipating the myth that architecture is only for luxury, and proving that it has a long-term responsibility towards socio-cultural development.
Time and again we have realized that architecture is a collective endeavour, of the dreams and passions of the client and designers rising hand-in-hand, the skills and enthusiasm of the craftsmen standing at the forefront, hoping to inspire the world around them. The variety in practice, from the expansiveness of high-rises to the minutest details of fixing, have been an exploratory journey for the mind, pushing us to discover further, not just through ideation, but also through physical manifestation, to immortalize the idea.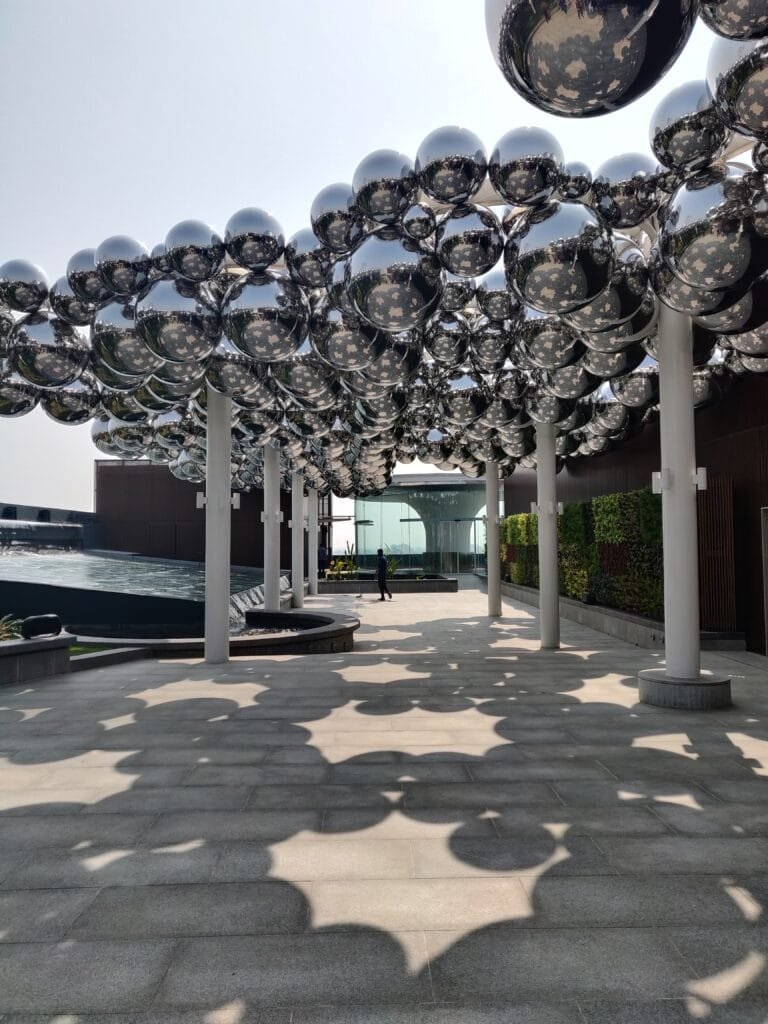 The book is not only about our efforts, but also the story of the people working with us, being deeply involved in the process, through extraordinary sacrifices, the chance to meet future mentors from unusual walks of life, giving manifold guidance to the studio, and the opportunity to continue our exploration through their unflinching support.
The past few years we have designed projects, which remind us that every good architecture is in itself a great mentor. Taking inspiration from each such lesson, the studio as a team have poured their passion, dedication and thought-process, reflected in the work, the celebration of which is the crux of the book.
What type of projects challenge you the most?
I find myself most invigorated by projects that call for leadership in public engagements and possess the power to shape design concepts within a broad spectrum of minds. Furthermore, I am particularly enthused by endeavours that extend an invitation to collaborate with a diverse array of groups, all in the name of fostering inclusivity.
Having won so many national and international awards is there something more coveted that you aspire for?
Amidst the accumulation of numerous national and international industry hours, our path doesn't merely progress linearly. Rather, day by day, we embark on a journey driven by a quest for projects that resonate with deeper significance and inclusivity. These projects aim to touch the lives of many. They are a canvas upon which we paint the theories and philosophies that underscore our work, crafting architectural marvels that transcend boundaries.
These creations must not only be meticulously designed but also inherently inclusive, capable of addressing the nuances of the social and environmental landscape. They serve as reflections of our commitment to systemic thinking, especially in the face of climate change. In doing so, they set a precedent for how architecture can be a force of transformation in the broader public sphere.
Do you think we're at par with the West regarding architecture and design?
Are we currently facing inefficiencies in architectural design? This issue can be divided into two distinct realms of understanding: the perspective from the global south regarding architecture and the challenges it poses. When addressing global service-related challenges, we generate numerous innovative design ideas. However, the representation phase becomes a significant hurdle, consuming around 80% of our efforts. Unfortunately, the execution often gets diluted due to the influence of real estate, public projects, and government decisions. Consequently, the envisioned quality of these projects is sometimes compromised, leading to uncontrolled constructions and erratic budget allocations.
This issue leaves us lagging behind in terms of public architecture. However, in the private sector, we manage to excel in certain cases because execution is more straightforward. Another crucial aspect is education. The concept of architectural education plays a pivotal role in how projects are conceived and executed. In this context, there exists a significant degree of laxity in educational standards, which has contributed to our ongoing challenges in the field of architecture and its equations.
What are your forthcoming projects?
In the tapestry of our forthcoming endeavours, we weave a rich and diverse narrative. Beyond the hallowed halls of academia and the corporate citadels we've designed, we now venture into the realm of homes, a new chapter in our creative odyssey. These undertakings, while laden with multifaceted challenges, beckon us with a siren's call.
Yet, it is the projects fuelled by a vision for the greater public good that set our hearts ablaze. Despite the financial and material constraints that shadow their path, we find ourselves drawn to the prospect of crafting ideas that can metamorphose countless lives. Our project portfolio is a constellation of opportunities, and as we tread this path, we dance with dreams and possibilities, eager to breathe life into them.
What is your take on sustainable architecture?
Sustainable architecture is not merely a theoretical concept; it's an imperative response to our current world plagued by climate change. Responsibly managing resources stands as the linchpin in architectural theory today. In fact, in my perspective, architecture devoid of sustainability lacks its very essence. Without a commitment to sustainability, architecture loses its meaningfulness.
Sadly, amidst the flurry of construction, many buildings rise without a thought to reusing resources or value engineering. However, for us, architecture's true success lies in its inclusivity and sustainability across multiple facets. It transcends certification labels; it's about our responsibility to the environment, to nature, to the materials we use, and to the people who will inhabit these spaces. It's also about being fiscally prudent. Sustainability, for us, is a tapestry that weaves together design, people, and the environment, making architecture a resounding success.
Your message to the budding and aspiring architects from India.
For the budding architects in India, here's my message: In the realm of practicing architecture in the global south, there are unique challenges to overcome. The significant gap between ideation and implementation is one such challenge, unlike what's often experienced in the West. Here, the key is perseverance. In the journey from idea to execution, while 20% might be dedicated to generating ideas, a significant 80% goes into the meticulous implementation, navigating challenges, and surmounting struggles.
Success in this context requires unwavering tenacity and conviction. It's about envisioning grand projects and realizing them, all while ensuring they resonate with people and the environment. Architecture should be inclusive, thought-provoking, and respectful of its surroundings. It's not just about 2D or 3D visuals; it's about enduring impact.
The process of creating, without compromising on these principles, is both an exciting and challenging endeavour. Embracing this journey will make practicing architecture in the global south a truly fascinating and fulfilling pursuit.
The Loft- Collateral of Terraces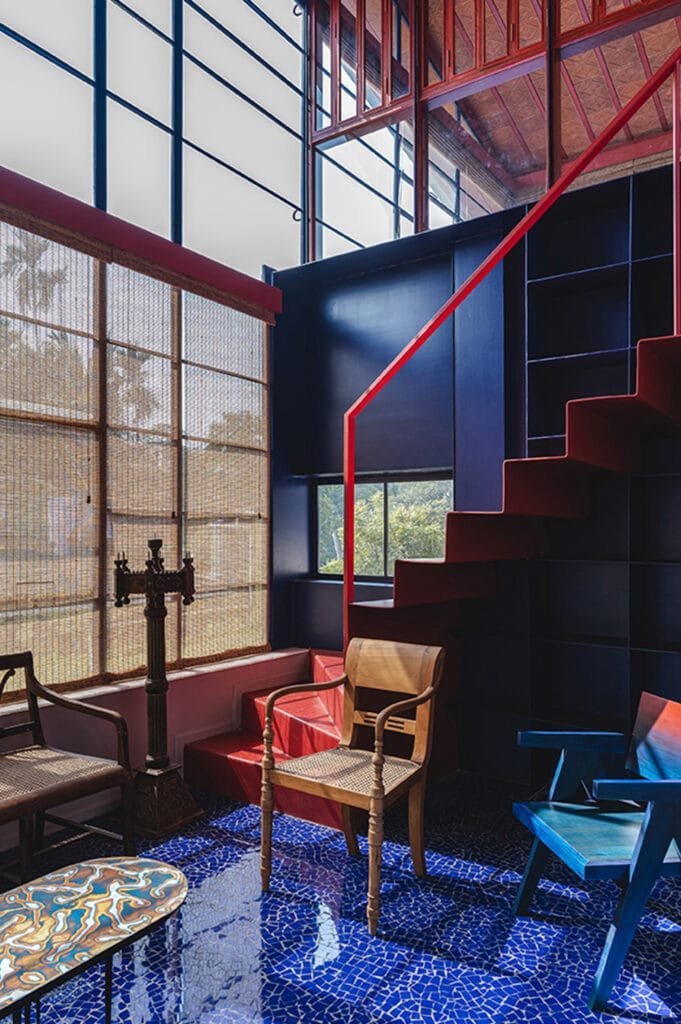 Legacy at The Loft is the serendipitous extension of a 35-year-old home in an attempt to preserve the physical and emotional history while acknowledging growth and evolution of the residents. The existing building is a G+1 parental home, built by the architect's father. To immortalize the man who was a central pillar of inspiration and admiration in his life, the architect wished to add on to the legacy of his childhood that molded his upbringing, by preserving the existing but enhancing it with a little of his own developed flair.
The overall design is employed in retrofitting the loft space atop the retained structure. The major benefit of the site was that it provided an extraordinary opportunity for a multiple terraced structure. This was taken advantage of, to create a triple layer terraced abode consisting of the living facilities, toilets and a study. Each of the spaces overlooks a terrace.
While the older building was repainted in beige, it provides the neutral base for the new construction which is a celebration of colour and art. The structural skeleton in primary shades complement and provide the backdrop for antique pieces and period furniture from the yesteryears which are part of the architect's collection, crated through travels domestically as well as overseas. Ceramic tiles, steel and wood have been harmoniously used to achieve timelessness in design. The binding element of the house – the striking mosaic flooring is a result of recycling the left-over tiles from various projects.
One of the most striking spaces in this uniquely enthralling construction is the front terrace, which showcases a myriad of antique pieces from large various ceramic and brass vases, to the traditional solid wood columns to a specially collected wooden temple goat from Kochi, all of which give the sense of a miniature museum but connected to the context with the integration of potted plantation in varying heights so as to camouflage the interiors from the exterior.
Swarnim International School
Children spend a considerable duration of their formative years in a school, and hence the built environment is key in shaping their developmental approach. As a school is rightly called a student's "second home", home must be a place of comfort, growth, safety and empowerment. Additionally, whether a small child or an adolescent, it is not uncommon for them to fancy a small corner, nook or niche anywhere in a place that they frequent and to make it their "spot" where they can spend hours carefree.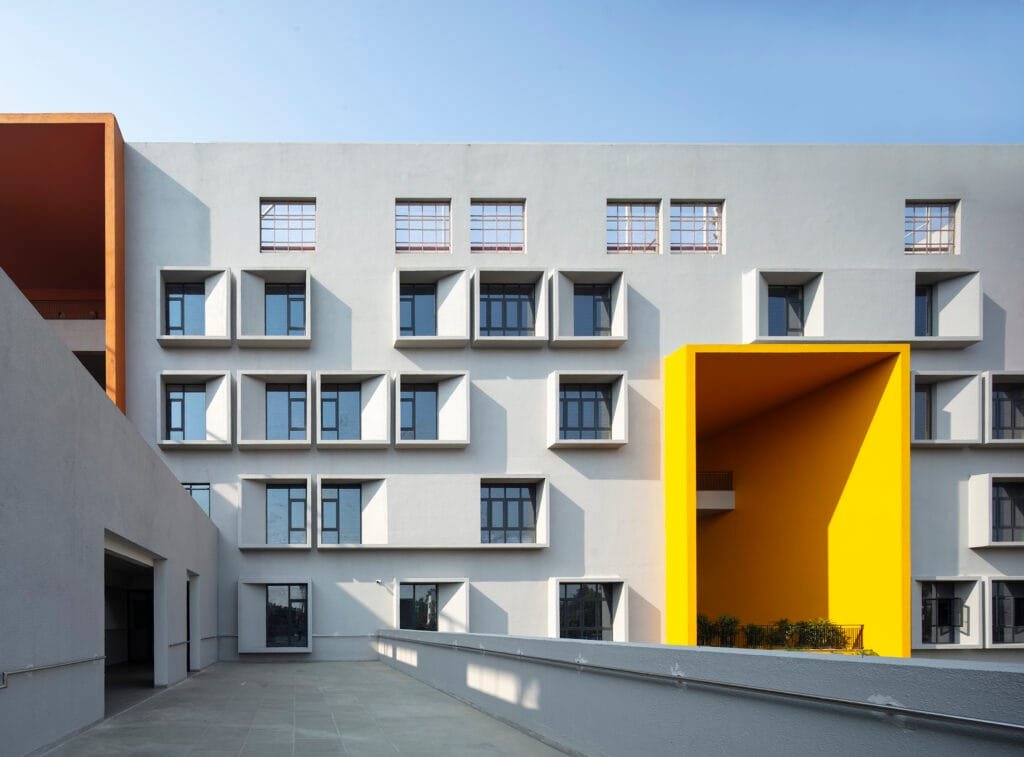 The school's design aims to create a harmonious and stimulating learning environment that prioritizes student engagement and well-being. While the overall massing sees a "tetris-stacking" of sorts, a harmonious composition of blocks exudes a dominative yet protective sense. The facade seems proud in its surrounding but on entering, becomes a C-shaped plan, skirting the field and playground. It is designed with a modern and minimalistic approach to create a sleek and cohesive design. The building's jali facade, highlighted in red, adds a characteristic element to the design. Functionally, it enables cross ventilation and an exciting play of light and shadow that is dynamic with the movement of the sun as the day progresses.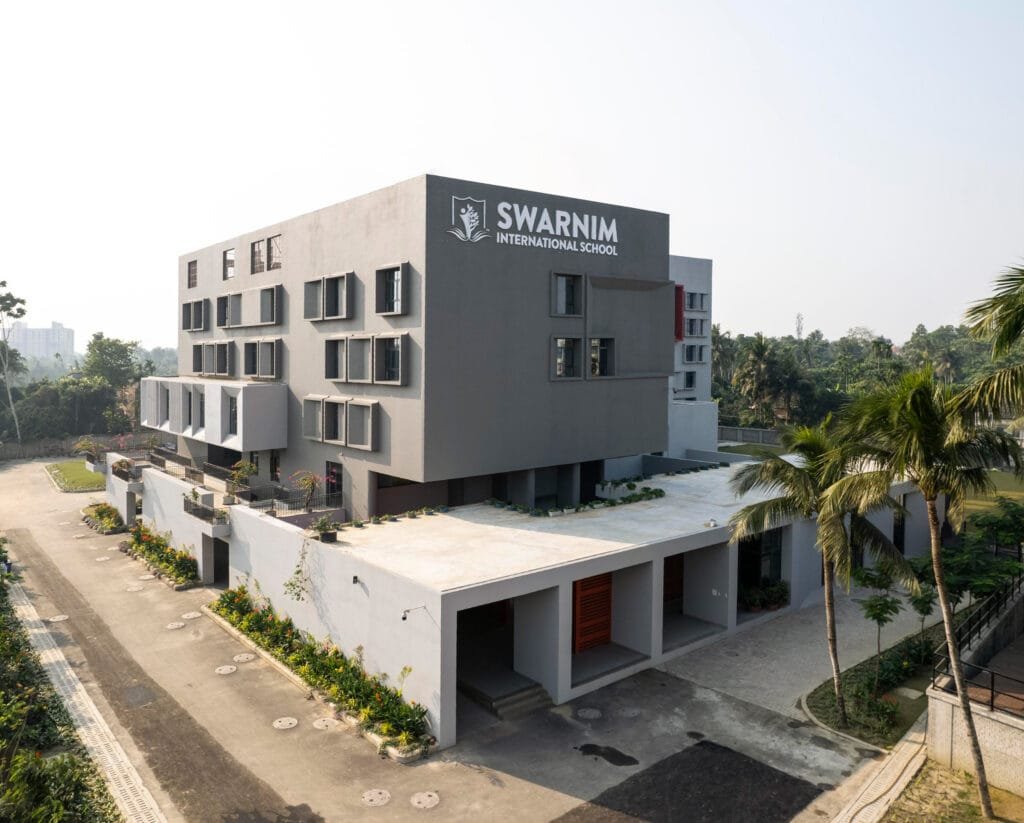 The design incorporates several break-out spaces either as planted courtyards, smaller informal corridors and play areas for children to informally interact outside the classroom. The internal landscaped courtyards provide a welcoming and open atmosphere. These spaces are strategically placed throughout the building to provide a sense of connectivity and integration between the interior and exterior spaces.The landscape is carefully integrated into the design, with greenery seamlessly blending into the building's overall aesthetic.
The triple height cut outs are a prominent design feature highlighted in vibrant colours. When viewed from the outer or inner facade of the building, since they have slender cantilever on either side, they seem to create unique chambers that break the monotony of the otherwise flushed facade. Due to their scale with respect to the surface punctures on the superstructure, they create a sense of grandeur and openness while providing ample natural light and ventilation throughout the building.
The use of bold colours, unique design features, and seamless integration of interior and exterior spaces contribute to the school's modern, dynamic and hence "young" aesthetic.
RPSG Corporate Office
The corporate office began as a forefront of experimentation with spatial narrative through craftsmanship. An organization of stalwarts, intent of creating an atmosphere of ethical equanimity, the client gave its blessing to transcend the boundaries of 'container' and 'content'. The client being an avid patron of the arts and an enthusiastic collector, the design intervention required a corporate office that merged with the idea of a contemporary museum. The space was specifically designed to house artefacts and human aspirations, along with a running work environment.
The central core diffuses into multi-planar spaces, with natural light washing across the full-height atrium, filtering into seamless working spaces, segregated vertically as required in the hierarchy of corporate offices. Although physically segregated to justify efficiency of function, the spaces are visually connected, transcending boundaries of closed office habitats, celebrating art and life through accessibility and ownership through a sense of pride.
A play of monumentality and intimacy, subdued material palette, and larger-than-life focal elements was implemented for a grand entrance atrium. The design is reminiscent of the life-affirming river 'ghats' of the country, leading up to the spires of temples and places of collective wisdom where everyday life meets spirituality.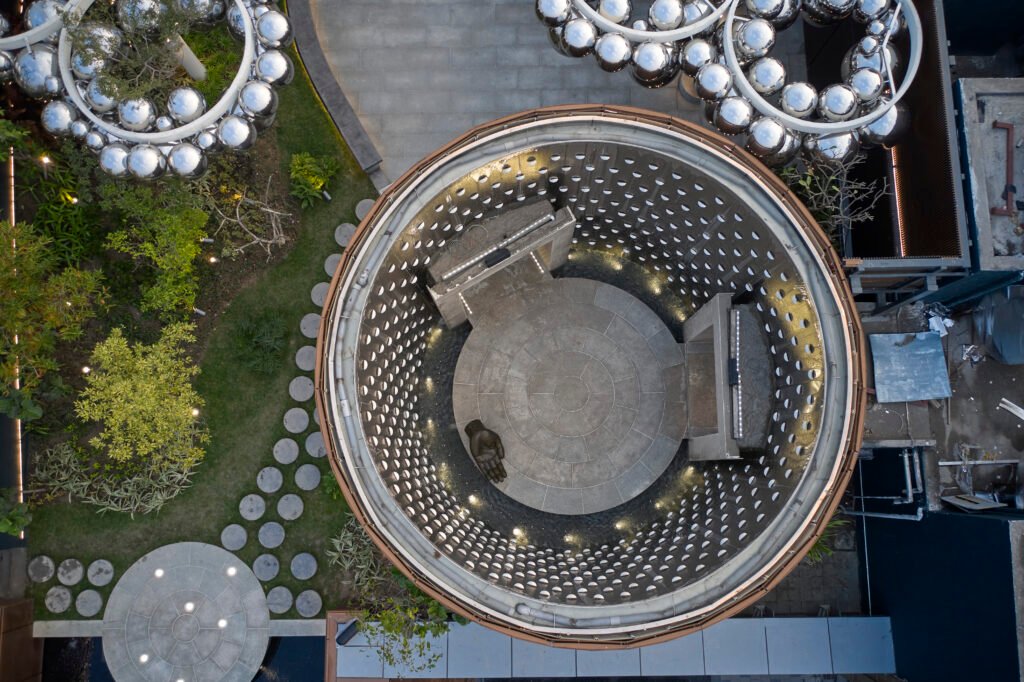 The grand steps leading up to the atrium; declare a proprietorship over the valuable collection of art, leading up to the library shelves, which house the invaluable collection of literary treasures. The challenge of 'content display' has been addressed by utilizing partitions between several conference rooms, which have been re-imagined as the library shelves.
Each lobby introduces the design language of each floor. The reception desks have been treated in various ways to express the same. From back-painted glass to even leftover carpet rags, use of colour, artwork and material has been utilized to create customized statement pieces.
Chromatic Indulgence
Colour is a significant catalyst for creative exploration, which made its integration into this project a major design decision. A father wanted to gift his entrepreneurial son a space for innovation – the latter was venturing out on an IT startup journey. Our responsibilities, here, were more than those of a designer – we visualized this office to be a stimulating journey through various vibrant expressions.
A number of challenges governed our design process informs the architects he further adds "The site was linear, with light coming in from the opposite end of the entrance through the only window in the entire space. Nevertheless, maximum natural light was to infiltrate both, the workspace as well as the cabins. This was achieved by a primarily open floor plan with workstations interspersed with planter boxes which double as storage cabinets – an efficient furniture design to integrate landscape in an otherwise tight space. Secondly, since the primary users were young employees, a "quirky" space was to be envisioned, while not losing the integrity of a corporate office. The 3 executive cabins were cordoned off in glass cabins to achieve the necessary private spaces while also maintaining the overall transparent nature with areas which are more free-flowing and spill over into each other."
Upon entering the office, a vibrant Reception leads into the main Workspace via the service annex. This annex consists of washrooms, a pantry, the server room and the cafeteria. Placing these adjacent to each other, separating only the cafeteria from the rest of the annex, across a passage, the user is provided with an opportunity to feel the expanse of the work area lying beyond, only after stepping into it from the narrow passage. This also enhances the principle of "Axis" of the space. The choice of keeping the services and meeting room near the Entrance was for the ease of logistics.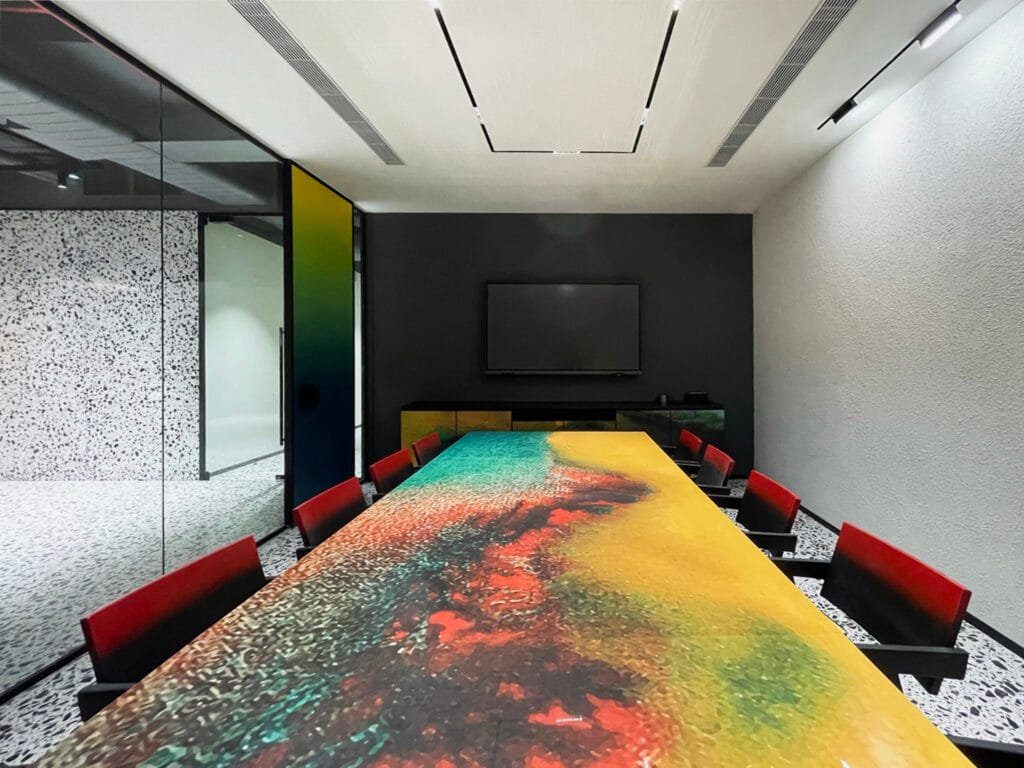 Whether it's the solid partitions or ornamental furniture or dramatic accent pieces, "layers" have been created to fashion a stunning experience of "chromatic indulgence". This is seen in the "crafted colour" doors in rainbow hues; a cafeteria cladded in glass tiles to achieve a monolithic look; a sculptural bench, in the Reception, painted in a gradation of colours; the Conference table top and console, whose fascia are treated with graphically exploded paintings, with synchronized shaded chairs – all of which are sitting on a monochromatic backdrop of white terrazzo and locally available black "Kadappa" stone, generating a remarkable visual as well as spatial experience. Exposed services were another practical yet creative intervention of doing away with conventional flat false ceilings and allowing the room more volume.
Arthshila – a Cultural adaptation Re-using private infrastructure
Santiniketan is the cradle of the Bengali Renaissance, primarily because of its close ties with Rabindranath Tagore. This is the place where the red soil and the air breathes music, art, and, culture. Inspired by this unique setting, a center amidst nature emerges as a cusp of culture and heritage which resonates with Bengal's ethnicity in a different spectrum. Arthshila is a first-of-its-kind confluence of workshops, exhibition spaces, as well as indoor and outdoor art galleries.
""A 22-year-old architect, with the help of his professor, sketched a vision of a residential building with a sloped concrete roof. Decades after, when the founder of Takshila, an Educational Society, approached ADS to restructure a 3BHK residence into a cultural epicenter, it was a dream that came true. Definitely, it is a unique dream for any architect to subsume a different function onto the same building footprint."" Says Abin.
The strategy taken was simple: to retain the profile of the old residence, an additional extension to the same slope of the house is introduced. This creates an elaborate shading device for the open plaza to protect it from the harsh summer sun and torrential incessant monsoon rain. The extended roof serves a dual purpose by also becoming the unique feature that narrates the language of the space and adds a cultural scale to the building – it transforms a humble home into a grand pavilion for public gathering.
The internal rooms in the Ground Floor are converted into galleries while the top floor rooms and terraces witness their transformation into a library, a gallery, and guest rooms.
To pay homage to the immediate surroundings, this project after extension has restored all the existing full-grown trees and yet navigates the roof for a higher extension to cast long shadows & bring light through the skylight.
Terracotta tiles on the roof and MS structure are the primary elements of this project. Pandomo flooring is seen in the interior whereas the exterior is cladded with black Kadappa stone.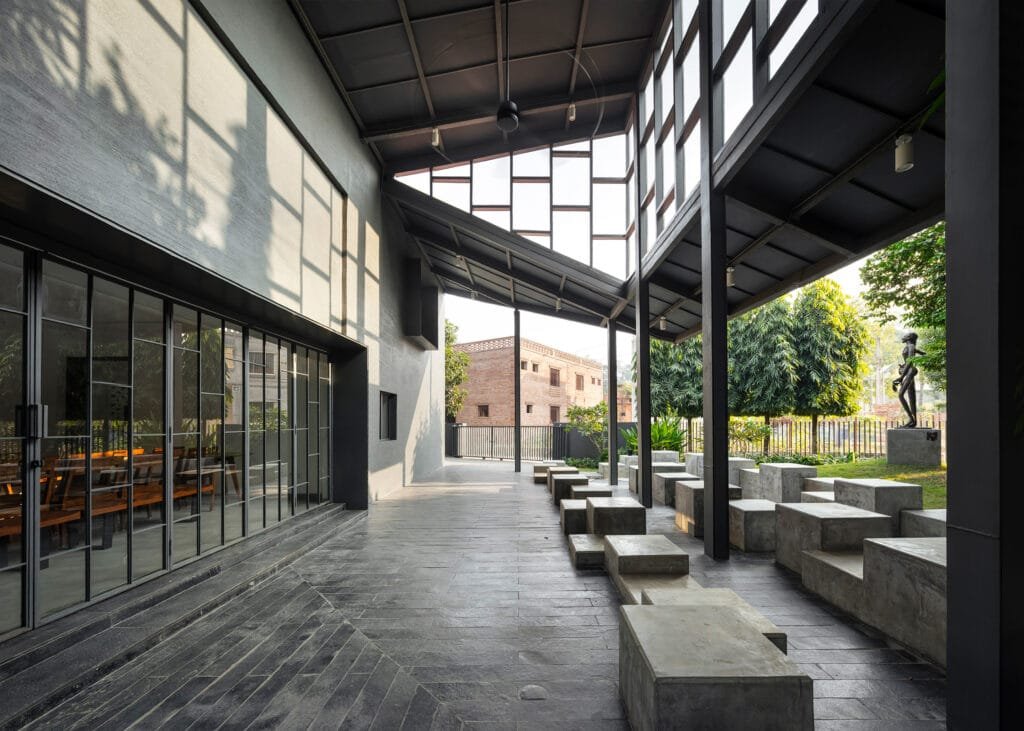 The exterior landscape becomes a part of the building as it is used as a "sculpture court" – a multipurpose lawn to showcase displays. The peripheries also accommodate a pantry and outdoor seating which can be repurposed as a performance space or as seating for the audience that attends an event held in the AV Room. A soft threshold has been established through the playful arrangement of seating blocks that sits at the juxtaposition of the indoor and the outdoor.
With such subtle design interventions throughout, it is attempted to only tweak the scale of the previous house into a space that accommodates more users at any given time, without losing the charm and essence of a home when one enters the space.
Today, Arthshila acts as Santiniketan's vital part of cultural activity since it acts as public forum. It is that one project in which a redo of an age old residence is transformed into a center that was born from a desire to fit into the soft rural landscape and pay homage to the site's unique architecture. This is an exemplary rendition of a true Adaptation.