CIRQA, Mumbai's all-new cocktail bar lends a contemporary twist to the city's rich traditional history and cosmopolitanism. 
Sitting at the centre of Mumbai's erstwhile mill area, CIRQA is a story of respecting and restoring history through its architecture. Helmed by Mumbai-based The Busride Design Studio, the bar is housed in a standalone mill structure in Todi Mills. CIRQA is an ode to romantic art deco styles of old Mumbai, through its colour, craft, and construction. The intimate geometric seating that celebrates the two-way bar, a romantic outdoor section, tall windows, circular clock design, and lots of foliage makes for the perfect turn-back-time atmosphere.
Sharing insights on what sowed the seeds of inspiration for CIRQA, Pankaj Gupta, Founder of CIRQA, says, "It all started with a book. My brother Avinash and I were enjoying a couple of cocktails at a bar in Mumbai, and got into an intense conversation over how we should do one, channelling all of our experiences from travels around the world. So, for research purposes, I took off to Europe to get better clarity about what I wanted to do. One day, while I was rummaging through thrift stores and old book shops, I came across a cocktail book, which was over a 100 years old, and quickly bought it for a few pounds, only to later realise how priceless it was. That was how it all started." Pankaj was very clear that he wanted the space to be an ode to Mumbai, something that the city would be proud of.
Paying homage to the city's diverse heritage and art deco elegance, CIRQA invites patrons to savour meticulously crafted cocktails, engage in cross-cultural conversations, and immerse themselves in a nostalgic journey through time and taste. The space stands as a tribute to the wanderers, settlers, and traders who found a haven in Mumbai. Each flavour, every ingredient, is a testament to the city's spirit of assimilation. Yet, CIRQA isn't just a culinary marvel; it's a story told through architecture. Zameer Basrai, Principal Architect, The Busride Design Studio says, "The design evokes nostalgia with geometric seating arrangements, a two-way bar, an enchanting outdoor section, and abundant greenery. It's a time capsule that immerses patrons in the elegance of bygone days, while the little bit of cutting-edge and modern technicalities from culinary practices around the world, fills the space with a freshness of the future. "
The design language speaks to the city's legacy with finesse. The intimate geometric seating arrangement celebrates the two-way bar interaction, beckoning patrons to engage in conversations that span cultures and time zones. The circular clock design with stain glass having the embellishment of the history of Mumbai is a nod to the passage of time, reminding us that CIRQA is not just a place but a journey. "The clock has got a figurative indication of various stages of the city's history", informs Zameer. Tall windows flood the space with natural light, breathing life into the meticulously designed interiors, while the infusion of foliage adds a touch of nature's tranquillity, juxtaposed against the vibrant backdrop of Mumbai's urban buzz. Zameer further adds, "We have tried to follow two very distinct themes in the space below and above. The ground floor depicts an overt expression of vintage Bombay with a lot of ornamentation which is extremely visible in the space below. The upper floor follows a completely diverse design. It goes back into a mill warehouse kind of phase with its exposed brick walls and light fixtures that have been integrated into the structure of the space. Patrons looking for a cosy feel can gravitate upstairs, while those preferring a well-lit space with boisterous energy can settle down." But that's not all. Accompanying the nostalgic architecture is an "anti-speakeasy" bar on the second floor called 1960, a sophisticated venue for curated parties, launches, supper clubs, and events. Pankaj further adds, "Why the name 1960? It is an homage to the year Mumbai became the capital of Maharashtra, and the year the first international Air India flight took off from the city. These and many more factors make CIRQA a unique experience."
The ground floor has a lot of luxe vintage kind of lighting with brass works, thin glass rods and fluted glass, while the upper level has lot of industrial feel to it. The ground floor has a special light above the bar which signifies five stages of Mumbai's history. On one side is the boat which speaks about the Koli history, second one features a basalt rock, which is popular in Mumbai, the third one is the 3D tetra pod used for the reclamation phase when Bombay was modernizing. The fourth one is the sea link which talks about modern-day Mumbai, while the last one is a resin cast with organic matter talking about conservation of architecture.
CIRQA is a cocktail-forward bar wherein the makers have spent a lot of time and attention to detail to create a new style of cocktails that are outrageously delicious while being slyly potent. "Alongside transforming CIRQA into a cocktail temple, I also aim to make it a watering hole for art, culture, music, fashion and lifestyle enthusiasts. We wanted to break the cultural norm of hopping between places and instead offer a comprehensive experience in one single location", concludes Pankaj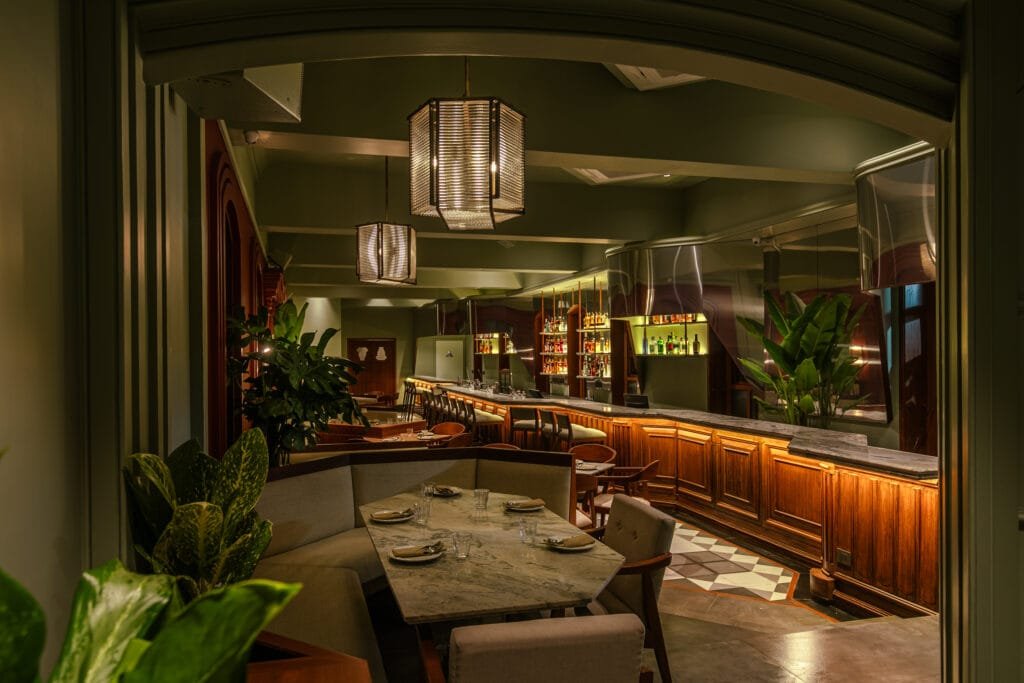 CIRQA isn't just a bar; it's a testimony to the city's cosmopolitan heart, an epitome of the city's voracious curiosity and open-hearted embrace of diverse cultures, signalling patrons to embark on a journey through taste, time, and tradition.