Ar. Hiten Sethi designs projects without any 'preconceived notions' that allow him to come up with ingenious designs. Read on to know more…
Hiten Sethi and Associates (HSA) have been instrumental in building several towering structures and crafting imaginative spaces in India and abroad. They are a team of dynamic architects committed to designing spaces that are imaginative, functional, and sophisticated. Headed by talented Ar. Hiten Sethi, an award-winning architect; his outstanding designs has been inducted into the Hall of Fame of modern Indian Architecture, which he created as a true intelligence and creatively motivated professional. According to him, "Meaningful Architecture is a product of the synergic process, customised to generate built and unbuilt forms that are lifeenhancing, sustainable, and eternal." His area of specialisation includes urban design, master planning, commercial, residential, institutional, transportation, hospitality, and healthcare projects.
Hiten has successfully led his company to tremendous heights for the past 20 years, earning numerous medals and commendations in the process. The client's needs and finances are understood and accommodated while placing a high value on quality and fast delivery. His awareness of regional customs is wellknown.
Hiten has guided his company to great heights for two decades and has garnered numerous medals and commendations. He places a high value on accuracy and timeliness, with an emphasis on comprehending and accommodating the client's requirements and spending limits.
Adding insight on his design philosophy Hiten adds, "The firm has over the years handled various design challenges on different scales. Its work culture involves research and innovation in every project. The firm concentrates its design ideologies on new materials applications and opportunities offered by new building techniques and lighting with a comprehensive view of sustainable architecture."
Because of his reputation for cultural and environmental sensitivity, his lasting constructions emphasise sustainability and coexistence. As the Co-Chairman of the Mumbai Chapter of the CII-Indian Green Building Council, he leads the Sustainable Design movement in addition to basing his own designs on sustainability principles. He was appointed as an expert member of the State Expert Appraisal Committee, Government of Maharashtra, for two consecutive terms after the Ministry of Environment & Forest recognised his sustainable and responsible practice.
For his outstanding projects, Ar. Sethi has won numerous National and International accolades. Hiten's clever strategy has made it possible to create a professional network with a solid base for long-term business partnerships. Government and corporate organisations including CIDCO, NMMC, the Government of Karnataka, the UT Administration of Daman & Diu, the Government of Assam, IDBI, Bank of India, Reliance Industries, L & T, and NISM (a SEBI project), among others, are some of his esteemed clientele.
Ar. Hiten Sethi has started an ambitious push to establish a presence across all of India and to enter the international market with some outstanding designs.
Here we showcase a few of the design firm's noteworthy projects designed by Hiten Sethi and Associates (HSA) over the years.
National Cancer Institute, Nagpur
The National Cancer Institute is one of the most remarkable projects in recent times which will be inaugurated next month by our honorable Prime Minister Narendra Modi. This is the first-of-its-kind project in terms of experimental designs, use of innovative materials and technology. This project with a total construction area of 7.5 lakh sq ft and a site size of 14.20 acres, is a quaternary care oncology centre. This initiative was launched under the leadership of Dr. Abaji Thatte Seva Aur Anusandhan Sanstha (Trust), who had the foresight to launch it. This institution has a 500- bed quaternary care cancer centre with a built-up area of roughly 7 lakh sq ft. The design flexibility allows for future expansion of 700 beds if required.
The National Cancer Institute, which was designed as a comprehensive care facility, exhibits proficiency in basic, clinical, and epidemiological research in addition to providing top-notch cancer care. The project has been certified by NABH and JCI. Other highlights of this project are the seismic-compliant design with safety factor 1.5, a surrounding landscape designed to provide a healing environment, and features designed to target Gold Rating under IGBC Green New Building Rating System.
Large expanses without columns are intended to be created as part of the architectural goal to allow for flexible usage and effective planning. As a result, the entrance lobby has broad, column-free spaces that are around 24 m by 24 m in size to facilitate movement. The building was built to withstand temperatures ranging from 5.5 degrees to 47.5 degrees celsius during the course of a year, considering the high temperatures in the area. Overall, the talented architect has designed a landmark trendsetting building.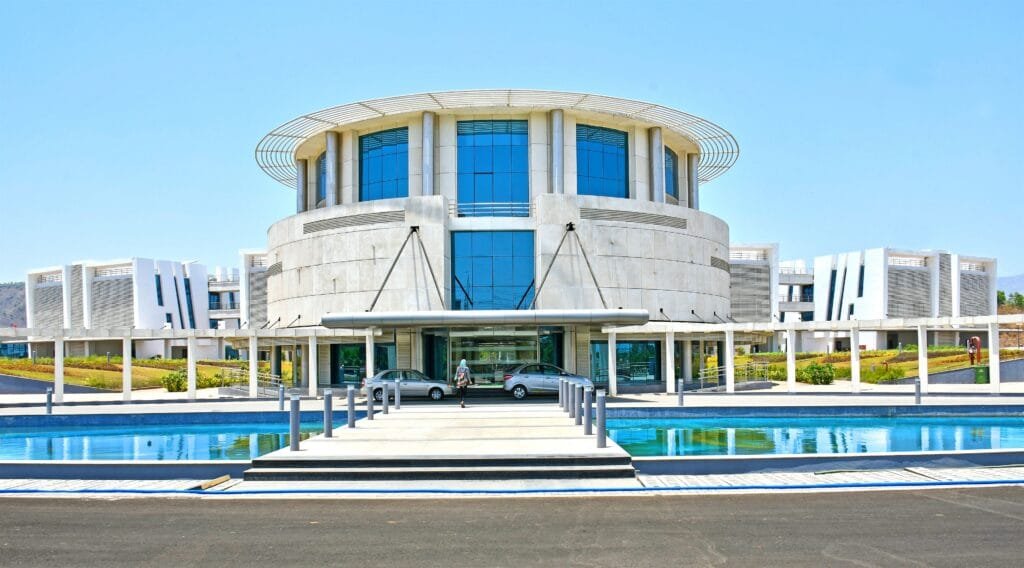 Proposed Head Office Building for Navi Mumbai Municipal Corporation (NMMC)
This proposed ongoing site is located on Plot No. 1 Sector 15A in Belapur, Navi Mumbai. The office building is spread over an area of 20,000 sq.m with a total permissible builtup area of 20,000 sq.m and a gross construction area of 33,258.95 sq.m. The proposed development will consist of a building with basement and G+5 floors and parking in the basement and on ground level.
At present there are no trees on the existing site, so the architect has envisioned to plant 200 trees on the site. Keeping the Energy Conservation Measures for Building, they will be installing Energy-efficient All T5 lamps. All fixtures will be energy efficient LED and CFL fixtures.
As far as the Fire Safety is concerned self-glowing/ fluorescent exit signs in 'Green' colour are provided in all areas showing the direction of escapes /staircases. The entire building is provided with a manual as well as automatic fire alarm system, with main control panel in Fire Control room. The entire building shall be provided with smoke detection system will L.C.Ps. at each floor level. The entire building will have automatic sprinkler system and Fire Control Room. The entire team has meticulously worked toward providing the best of amenities for smooth functioning of the space.
Proposed For Administrative Head Office Of Panvel Municipal Corporation
The New Panvel Municipal Corporation Head Office is envisioned to be an iconic, state- ofthe- art- structure with a clear vision of being sustainable and aiming at net-zero building. The structure will be equipped with futuristic technology and work cultures. "Panvel Municipal Corporation aspires to be one of the progressive corporations of India. The glory and concept of The National Emblem of India has inspired us to evolve this concept of New Head Office for Panvel Municipal Corporation." explains Ar. Hiten Sethi.
Designing a more fluent and transparent environment. A civic building of this stature in general has contextual and national importance. "The design is inspired from The National Emblem of India. The Emblem features four lions which stand back to back symbolizing the four noble truths. The lions placed looking at all the four directions also symbolise vigilance in all the directions. The capital as a wheel depicts spread of Dharma (duty) in all directions. The 24 spokes represent 24 hours in a day, signifying that time cannot be bounded. The two animals' horse (representing loyalty, speed and energy) and bull (hard work and steadfastness) represented below the abacus also holds a great significance." explains Hiten.
The new building is set in the beautiful greenery. The tropical garden involves elevating the building form by 12M from ground level. Working with nature is essential to the experience of the building with advance digital technologies, offering the users smart office environments.
Reduction of stress and boosting productivity in the work environments, is yet another advantages provided by the team. The building has been designed to work in response to sun's exposure and changing incidence angles during the different days of the year. It is estimated that the designed perforated external screen will reduce solar gain by more than 30 per cent and reduce the building's need for air conditioning. The shaded landscape with proper wind circulation will encourage the users of the building to gather around the open spaces and will result in increased productivity.
Campus For National Institute Of Securities Markets (NISM) at Patalganga
This campus has been built on a 6.50 lac sq ft in the first phase of construction. The state-of-the-art facility is built to accommodate 1,000 students. The design is flexible to accommodate future expansion planned for 4,000 students. This project is 4-star GRIHA precertified project with sewage treatment plant and organic waste composter for waste management.
The premise is designed to offer all the courses under one roof with accommodation for students and staff. The campus is designed in such way that it should facilitate future growth to launch new programmers. The entire project is developed phase wise using topographical features, natural water bodies channelized as per contours following rain water path orientation. The interior space is planned where academic and administration areas have central interaction and leisure zone as nucleus with all activities around it. The library placed in between existing hillocks as a connecting feature giving a bigger dynamic to concept of nature amalgamating into a built form.
Sun City for Paradise Group
Paradise Complex is inspired by Sun City, which sits poised and majestic with its imposing structure and towers visible from across the site. The architecture and decor oozes splendour and opulence and the ambiance in every aspect of the complex. The complex has integrated the natural beauty of its surroundings into its design, taking architectural and interior themes from the legend of a lost African tribe to capture the essence of The Palace. With modern amenities including the swimming pool, steam and sauna, cafe and spa, the space is equipped with all the luxuries. Central Plaza gives a view which stands in awe at the sheer scale and grandeur of the masterpiece of faux elephant tusks, sculptured bronze and crystal, and jungle cascades.
The magnificence of the wild landscape has been immortalized in statues, stone carvings, mosaic illustrations, vaulted ceilings, dazzling flame-topped towers and bronze wildlife sculptures. The decorative domes give a palace feel over the residential building. Surrounded by luxurious botanical gardens interlaced with cascades, lakes, pools and an assortment of water adventure rides giving it an enthralling appearance. Tusk Bar and Lounge are perfect for sundowners and winding down.
A rejuvenating session between the decorative elements making it feel royal residence of an ancient king, is truly the most extraordinary experience.
Overall, Hiten Sethi constantly looks to push the envelope and create out-of-the-box structure. Each project designed by Ar. Hiten Sethi possesses its own distinct identity, character and soul. Hence, each project is an endevour to creating building that are innovative and unique.