Ar. Sumit Dhawan's residence in Gurugram is a perfect example of zero-maintenance, green design and skillfull space planning.
Copy: "Architecture is a to-and-fro process between aesthetics and functionality and keeping the context at the core, the resultant is ever relevant and organic", says Ar. Sumit Dhawan, the Founder of Cityspace Architects and the Principal Architect of countless energy efficiency designs. Here is his recently outlined residential design that follows a seamless narrative of extraordinary attributes.
Located in the ever-up scaling city, Gurugram, Ar. Sumit Dhawan has designed his residence as an example of a zero-maintenance and maximum green area design. This residence, with a footprint of 2,700 sq. ft., has been carefully crafted to optimize natural light and use a wide spectrum of colours, textures, geometry and natural materials to achieve a sense of comprehensiveness. The project also aims to nurture green urban living and rekindle the relationship with nature in its immediate surroundings.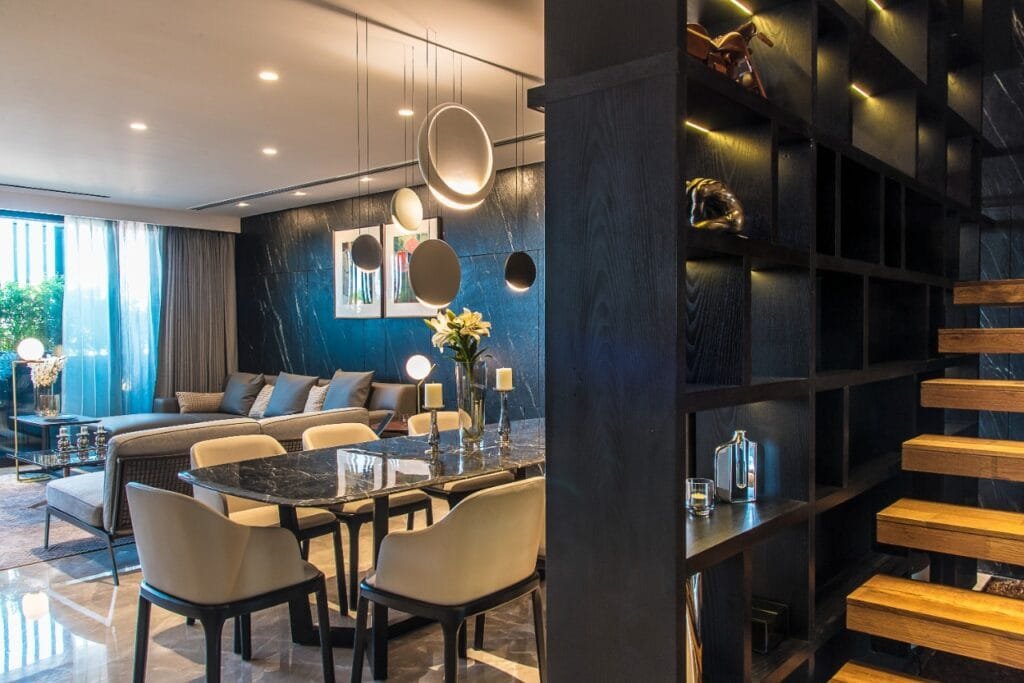 The house is segregated into thoughtfully designed zones, including stilt, parking, home office, and servant quarters. Sumit preferred multimodal interaction in the home that could accommodate parties of all proportions, including a limited number of intimate friends or a large circle of relatives. Privacy was cherished on par with all members meeting in commonality in the house at times but also enjoying the feeling of isolation to themselves occasionally. The house was divided into levels, with his brother living on the ground floor and his parents on the first floor, and a shared space for family gatherings. Connected through an internal staircase is the second floor, where he resides with his wife and two daughters.
The living room reflects a minimalist, contemporary aesthetic. Each room features a carefully chosen collection of clean-lined, modern furnishings that have been enhanced with subtleties like plush upholstery, vibrant artwork, fresh greenery, and eye-catching lighting.
Beyond a mere sleeping chamber, the bedroom is designed as a house within a house with essential furnishings that assist to create a clutter-free space for leisure, a place to mingle, and a corner to work. The presence of a neutral colour scheme in the room with the usage of common metallic finishes has been crucial to achieving an opulent aesthetic. The wide balcony next to the room lets in plenty of natural light, reducing the need for artificial light during the day. The other room features well-chosen wall art, comfortable furniture, nightstands, and a framed shelf with variously sized storage. This tranquil retreat uses grey indicating that it is everything beyond drab or boring and evokes a sense of both traditional and ultramodern.
The use of double-heighted spaces is a design strategy adopted throughout the house, enhancing both the functional and aesthetic potential of the structure. Through the use of automation in the HVAC system, the house ties all of its components together so that everyone can benefit from it to suit their own preferences. Nestled among large trees, the residence enjoys uncommon privacy in a close urban setup of a tranquil yet dense neighbourhood. The outdoor spaces of the house and its open terrace all make use of a misting system that helps reduce the surrounding temperature by almost 5 degrees, offering an ambient atmosphere even during the hot summer months.
The terrace is intended to be a natural haven for children to play, and families to convene to experience life through every sunshine, green sprout, and breeze.
The residence is a luxury home designed to be functionally efficient and aesthetically pleasing. All living spaces are planned towards the front and rear of the plot to open onto balconies with greens to bring in natural light and ventilation, bridge the indoors with the outdoors and maximize the views. The common areas, including the living room, dining room, and kitchen, are all contained within a single volume and thus visually integrated. A natural and rustic material palette of Italian marble, wood, wallpaper, and panelled walls clad in veneer is used in conjunction with a monochromatic colour scheme, defining the interiors, and suffusing spaces with quiet sophistication. Everything is how it should be, in accordance with nature. Double-glazed windows and VRV systems also help keep the home energy-efficient.
The design makes use of high-end products and bespoke furnishings. Immersive decor pieces placed in the subtle interior reflect the vibe of the house. This elegant house grants a distinguished vibe through the walls fabricated in small portions of Pigmento Grey Zinc, with mouldings creating a monolithic impression for the facade. Geometric volumes of wooden finished louvers and glazing perforate this block which seems like a cut-out of a dark dense mass of material. The depressed cladding pieces provide a subtle shadow effect in the façade, revealing beautifully under the sun.
Thus, in a noisy natural setting, the dwelling embraces an efficient future of the contemporary language.