Shaping dreams and giving them a form is a challenging task for any creative field. When it comes to architecture and interior design, it's the passion to create and see your thoughts taking shape in a built form, self analysing and the vigour to do better results in awe-inspiring work. This is the work culture at Aamir and Hameeda Interior Designers (AANDH). Spearheaded by Aamir and Hameeda Sharma, their extensive and versatile body of work ranges from interior design of residences, corporate offices, retail stores to hospitality projects.
They love discovering their clients' vision and approach each project with an open mind to create something unique. Their interest in global and local trends in fashion, lifestyle, travel and design is reflected in their varied palette of retail spaces, breweries, restaurants and residential projects
Aamir Sharma started his own practice alongside his wife Hameeda in the year 2000 and has successfully completed and delivered over 240 projects. The journey has been long but successful with multiple awards and accolades along the way. Aamir's working style is unconventional with a lot of sketches, designs and details given at site conditions, he is known for his quick designs and out-of-the-box sensibility in designing along with his eccentric designs. He is also followed and loved for his eccentric fashion sense. He designed numerous projects for renowned names from the entertainment fraternity like Akkineni Nagarjuna, Sunil Shetty, Mahesh Babu and Allu Arjun. He has created out-of-the-box designs for a variety of restaurants, residences, farmhouses, etc. He has even conceptualised lavish showrooms for luxury brands such as Rolls Royce, BMW, Mini Cooper, to name a few. While Hameeda Sharma says, "The phrase "Out of the Box" is completely justified with the kind of results our firm delivers. Comfort, Style and Function are always given. There is only one rule for us which is… 'There are NO Rules'".
In Conversation with the magazine Aamir and Hameeda Sharma share their design vision, challenges faced and more…
What are the thoughts that cross your mind when you take on new projects?
We meticulously study the client's needs and lifestyle. Once we understand the functional requirements, we get a budget from the client. And then we have a couple of discussions with both the husband and wife to figure out their colour and design preferences. Later we put in our creative best to weave in their functional requirements with our design aesthetics.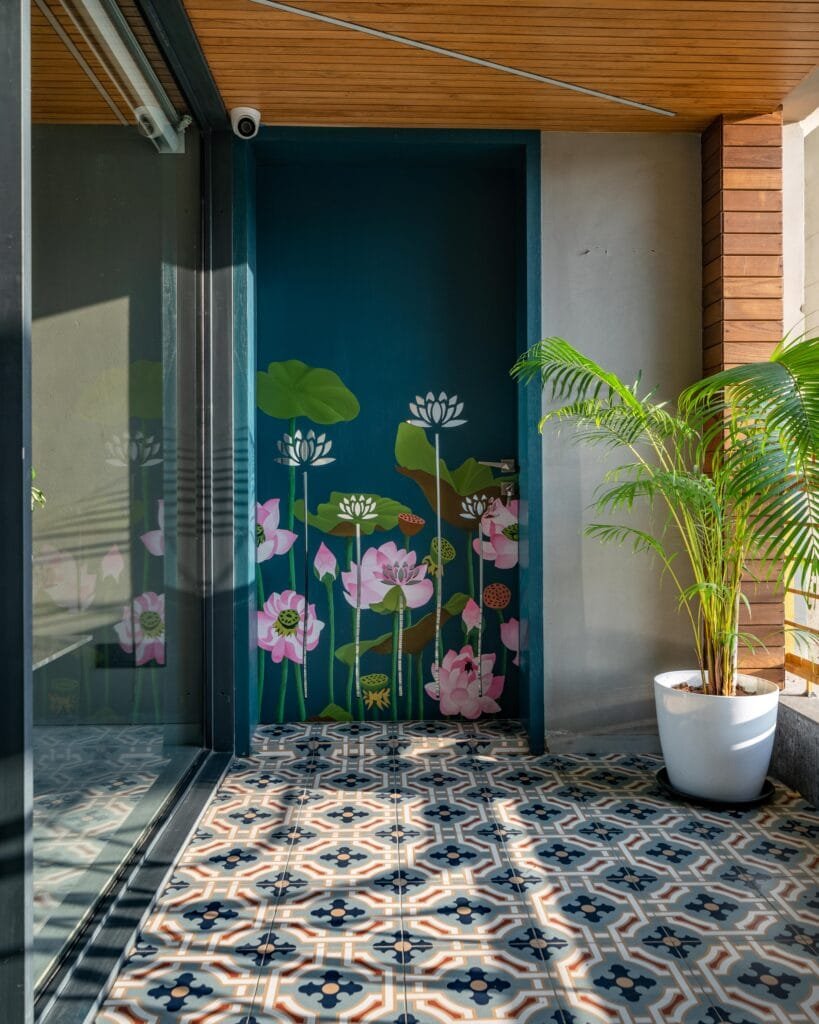 Do you find it difficult to consistently develop innovative designs for such diverse needs?
We've always tried to do very different out-of-thebox design. For most of our projects, be it homes or commercial projects, we are constantly working on innovative ideas.
What are your best personal experiences while working with a diverse national and international clientele?
We have worked with many clients, we have done close to 350 homes over the past two decades and most of them have been documented. There is not one experience that I could possibly set aside from the other, some of the international clients that we have worked with have been very demanding and they are not easy. Our Indian clientele is much easier to work with because we interact with them very often. International clients know what they want and they have set patterns and ideas, so I guess it makes it quite challenging to work with them.
What defines your work?
There is nothing as such that defines our work. We have different design vocabularies to different design patterns that we possibly do. We would design Contemporary Tropical architecture in one project, while the other projects would be minimal and the third would be classical, so there is nothing that defines our work, we take inspiration all the time from anything, and everything that we can get inspiration from.
What type of projects challenges you the most?
Commercial projects are the most challenging; we have to meet a deadline. Plus we have to deliver the best of design as it is a very competitive segment.
Having won so many national and international awards is there something more coveted that you aspire for?
These awards are actually now just a part and parcel for us as the real awards are when we receive a letter or message from the client expressing how much they love the home or space they are in, there can't be a bigger award than that for us.
Do you think we're at par with the West regarding architecture and design?
India is emerging and whenever we hear a lot of talk shows by international architects a lot of us have already been there and done that. We are not at par but I feel we have an edge above most of the international architects. Unfortunately, some of the architects who are extremely creative in India don't get the opportunity and the scale to perform well here because the spaces could not be that large but given an opportunity Indian professionals can be competitive and much better than the West.
What are your forthcoming projects?
Currently, we are doing close to 60 projects between us. There is lots to look forward to in the next coming years.
What is your take on sustainable architecture?
Sustainable architecture is the way forward now with the young generation also looking at more and more sustainable ideas I guess that's where the future is taking us now.
Your message to budding and aspiring architects.
There is no such thing as getting rich or dying trying, where architecture is concerned. It has taken us over two decades or maybe more to come up to where we are today. There is no escaping hard work but yes we have to be very vigilant in today's time, Studying is everything, we have to keep emerging and keep thinking about what to do next.
We take you through the versatility of the design firm Spirit showcasing their design oeuvre…
House of Art
This 10,000 sq ft home designed in a gated community is the perfect blend of Indian art, carved old antiques, and detailed sculptures and has the perfect balance added with contemporary Italian furniture. As it's a weekend home, it has two floors, four bedrooms and two courtyards. The design was created with a flawless blend between indoor and outdoor by opening up the spaces with sliding doors and windows.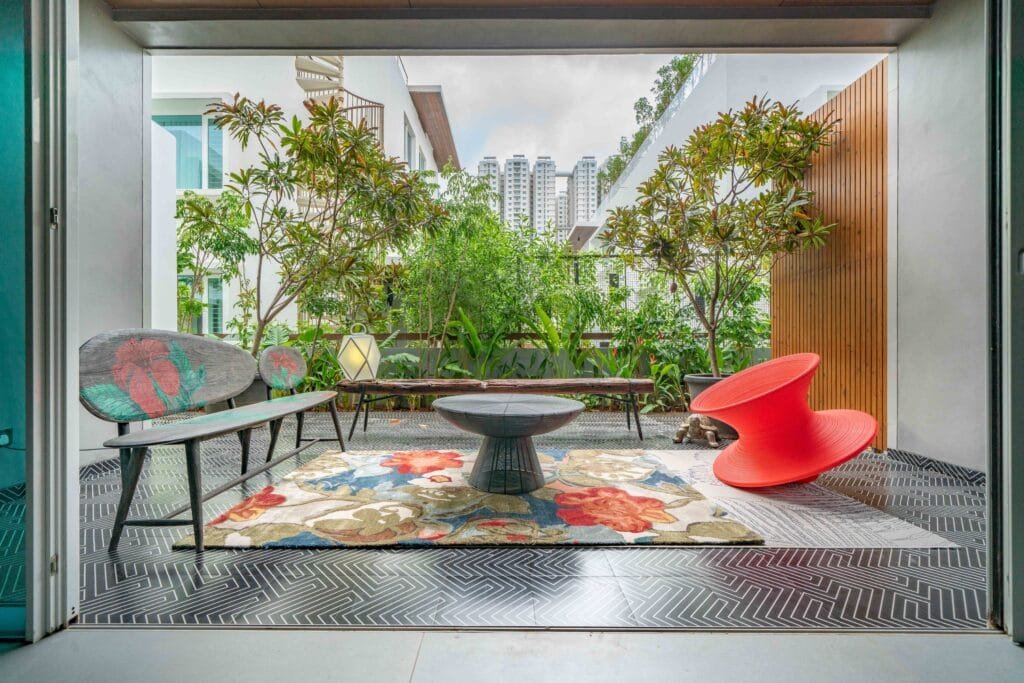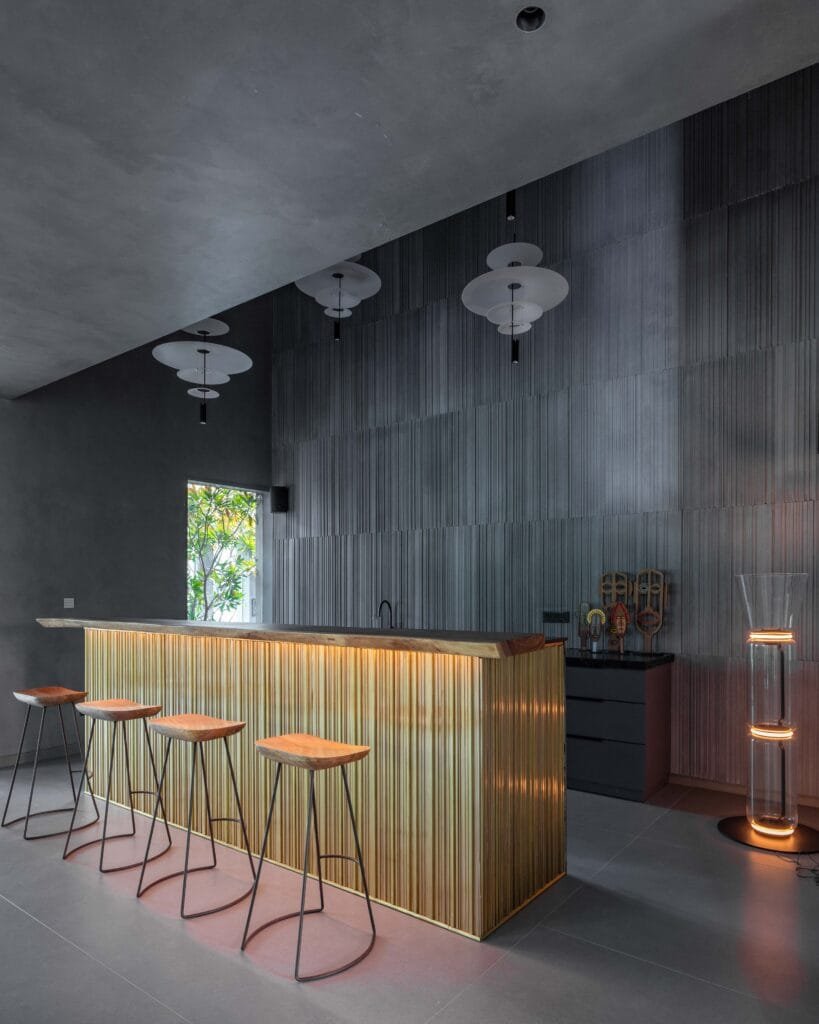 Lots of local products were used to retain the authenticity of the home and to bring a perfect blend between modern and traditional design which go hand in hand together to create this masterpiece. This flow of design brings openness to the space. "As this home is designed around art, we have incorporated more than 600 years old carved pillars in the living room. On the first floor you are greeted with the detailed and highlighted pooja room which was done by the artist Rama from Chennai. In the living room we have infused art by Mr. M.F. Hussain has added soul to the space, with the iconic yellow bull by the artist Srikant which gives the pop of colour." says Aamir. The dining area opens up to an outdoor space which was designed with outdoor furniture and heavy greens for privacy. Adding to the openness was the double-height wall with nuance panelling behind the detailed and customised brass bar. Hanging light above the bar from "Vivia" adds character to the space. This home instantly puts you in a state of freedom from storm or disturbance.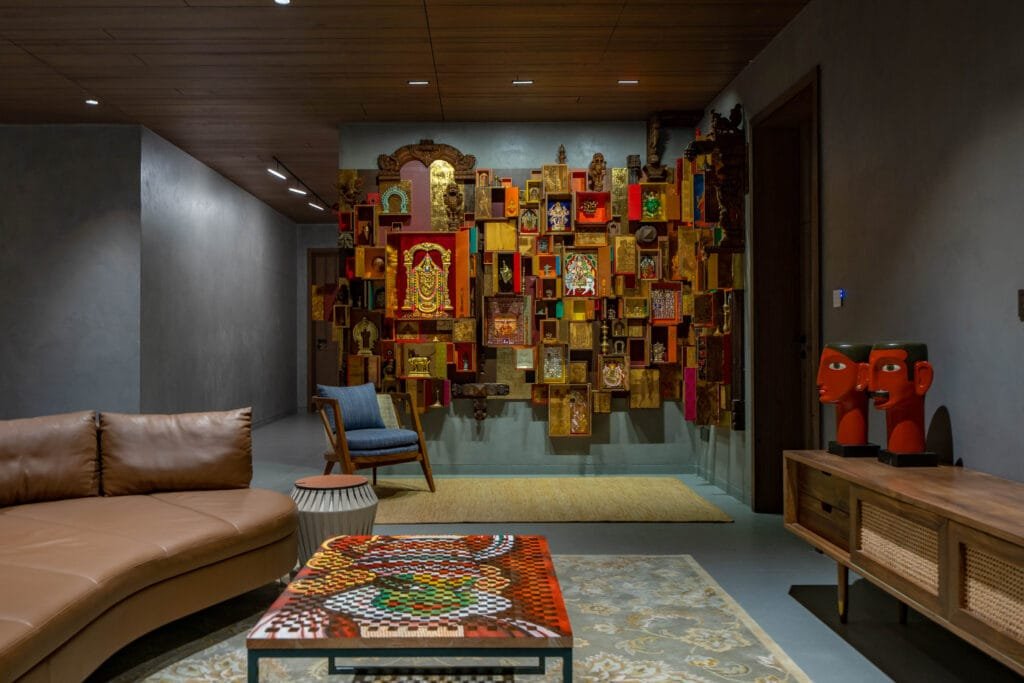 Chalsani House
This duplex apartment in a high rise building was designed during the lockdown, keeping in mind the serene views and the play of natural light during daytime and evenings. The design concept is minimal with a pop of vibrant colours here and there to add character and drama to the place.
The home is designed for a young couple who gave us a free hand with our design, which in turn made the entire process fun and interesting to work on. It took the team around 24 months from the design conceptualization to execution. An interesting feature of this house is that all the bathrooms are designed differently with a focus on the artwork, unique ceilings and play of various materials and colours.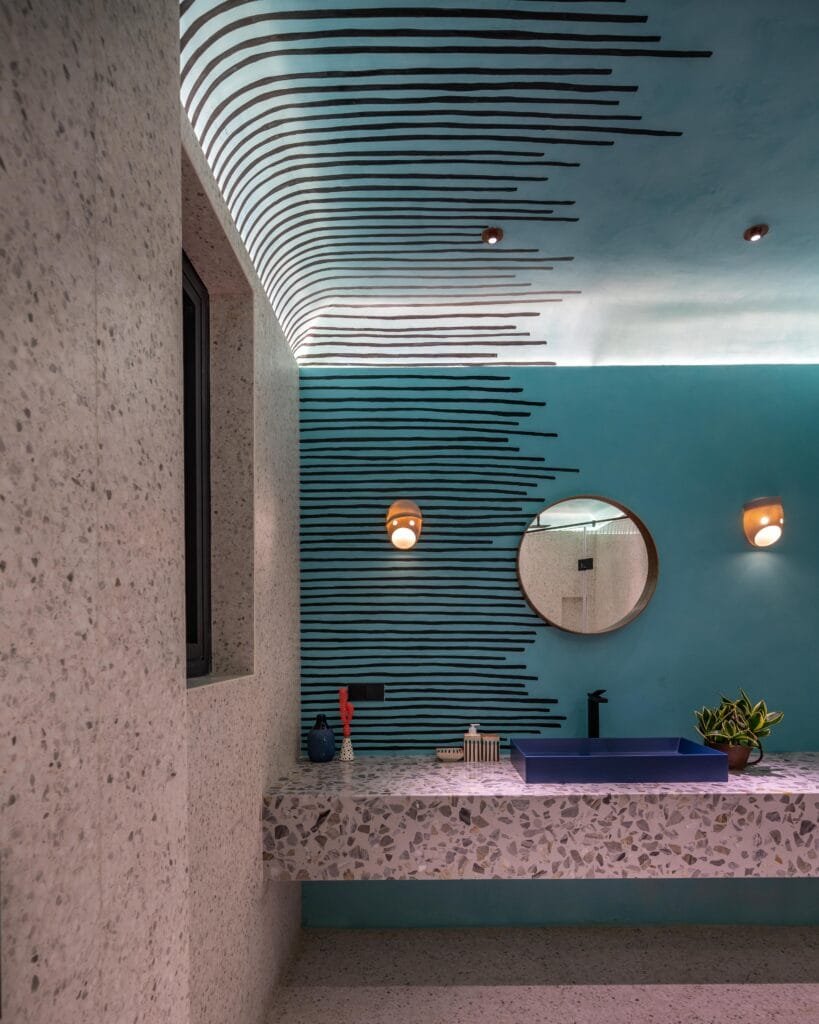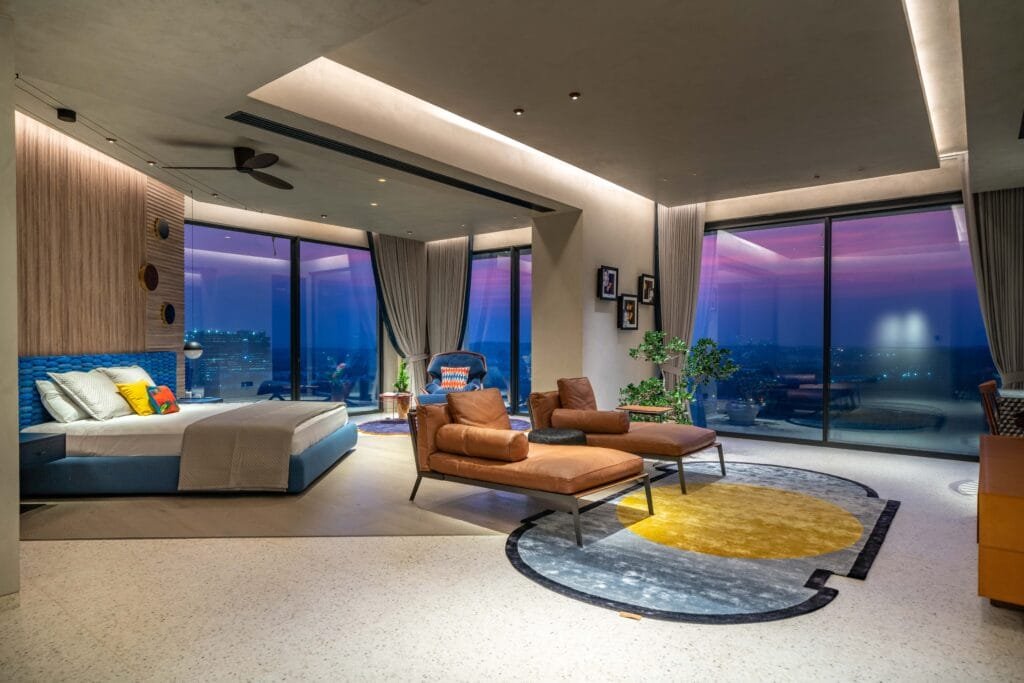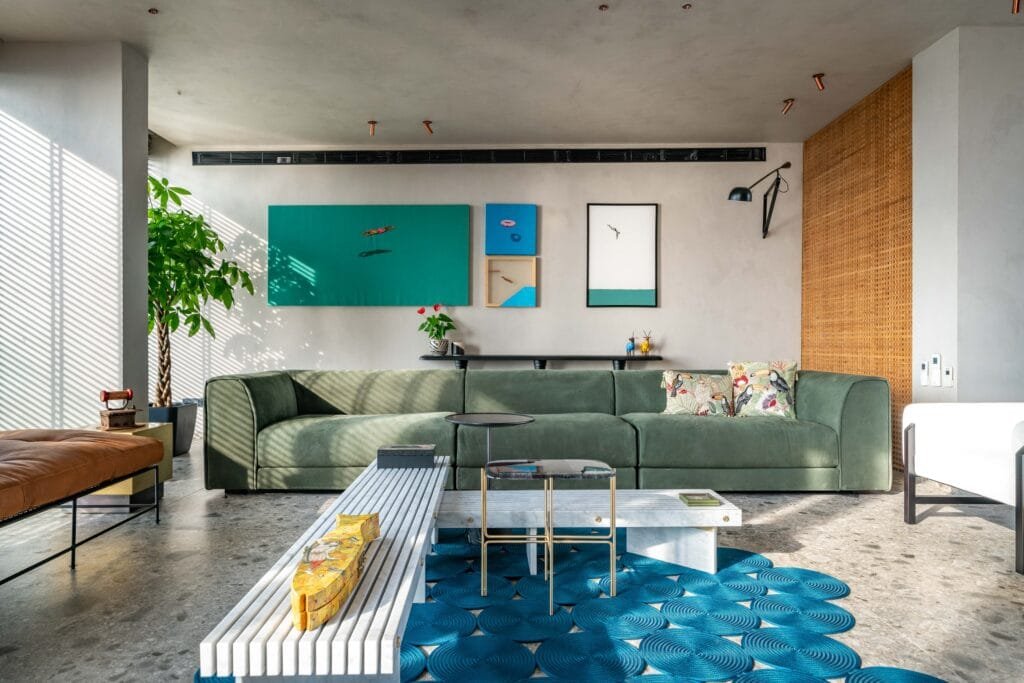 Another highlight is the pooja space on the top floor, which is done by a local artist from Tamil Nadu, where each box surface is hand painted in traditional Indian art forms and opens to a different god from different religions.
The Trilight Experience Centre
The Trilight Experience Centre is a unique and innovative building with an interior design featuring a stunning art installation that adds character and flows to the overall design. The building interior was sketched by Aamir Sharma on a sheet of paper, with the aim of bringing the `wow' factor to reality.
However, the project required a lot of technicalities that could only be accomplished on-site, and thus, closely working with the civil engineers on-site was crucial for the successful execution of the complex design. Despite the challenges, Sharma's vision for the building was realised, resulting in a magnificent art structure that stands out in its surroundings.
The art installation was designed to complement the building's design and add to its unique character. It was born from Sharma's doodles and sketches, which eventually led to the creation of a stunning feature. The art installation comprised bent pipes and pipe lights that spread through the roof in a random format in white and red colors, further adding to the uniqueness of the building.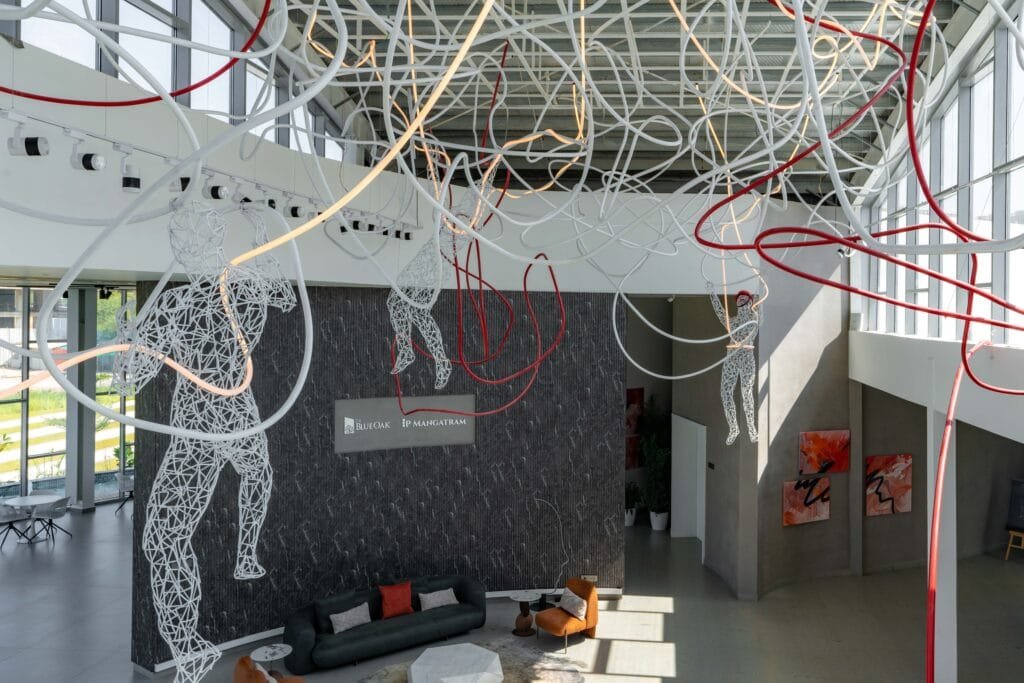 The art installation was not just a visual feature, but it also served a functional purpose. The pipes coming down from the roof were used as the railing for the staircase and front desk, becoming a part of the art feature. Additionally, mesh human figures were added to the installation to represent the construction process for the project, making it a one-of-a-kind feature designed explicitly for this experience centre.
In conclusion, the design of the Trilight Experience Centre was extensive and complex, requiring the expertise of civil engineers and designers alike. Aamir Sharma's vision and creative doodling led to the creation of a unique building with an art installation that adds to its overall character and functionality. The Trilight Experience Centre stands as a testament to the power of imagination and creativity in design.