Designed by Devanshi Doshi and Shivam Vaidya of Studio Deshi, this black-and- white home offers a slice of serenity through its amplified design elements.
Pairing a sense of cosiness with bold, eye-catching glamour is not easy—but Ahmedabad-based, Studio Deshi transforms a four-bedroom, 1600 sq. ft. home to balance exactly that. An energetic young couple, in their mid-30's, approached Devanshi Doshi and Shivam Vaidya, Co-Founders and Principal Designers of Studio Deshi to add magic to their personal space. The 1,600 sq. ft. monochromatic house was made to be a safe space to relax and come back to.
This captivating living space unfolds, embracing the personalities of a family of three- a duo of young professionals and a young kid who sought a home that exudes joy and warmth- a space that grows with their little one. Elaborating on the client brief, Devanshi says, "The client, a family of three presented us with a unique design challenge. The architectural foundation of their home featured exposed concrete and dark Italian flooring, which imparted a somewhat austere ambiance. Their primary objective was to transform this space into a cozy, inviting haven that seamlessly integrated with the existing architectural elements. To achieve this vision, the client sought a design concept that exuded warmth, softness, and comfort, all while harmonizing with the prevailing architectural shell." Shivam adds, "We worked closely with them to craft a minimalist, monochromatic colour palette that would serve as the backdrop for subtle nods to pop culture through carefully selected colours and art pieces thoughtfully placed throughout the space."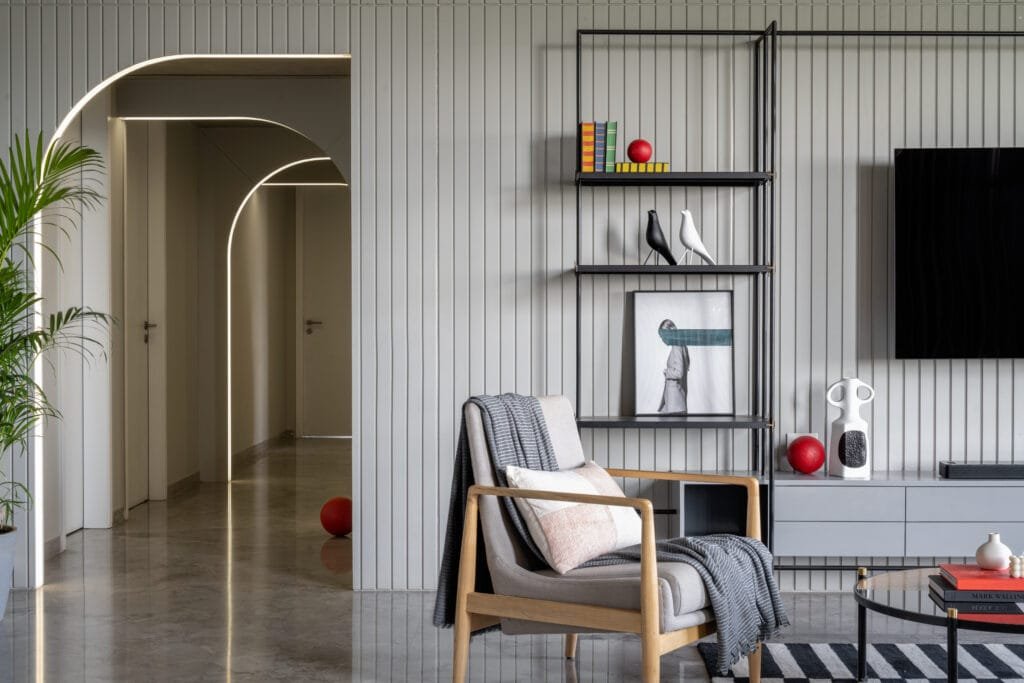 The architectural shell embraces minimalistic aesthetics, featuring exposed concrete ceilings and expansive glass pane windows that provide a clean and contemporary foundation. Yet, it is within this backdrop that a captivating contrast is born like a symphony, of colors and of shapes. Sharing the design challenges for the project, Devanshi adds, "The challenge was to find balance between the existing architectural features with the clients' longing for fluidity, colour, warmth and comfort, weaving a tapestry of contrasts within the space. Drawing inspiration from the Bouba Kiki effect, where shapes intertwine with sounds, we developed a conceptual approach—a harmonious blend of developing tension and contrast within the space while maintaining a sense of balance." Fluid, curved forms infuse the space with softness and inviting comfort, while angular and geometric elements added a touch of modern dynamism—a poetic dance that unfolds throughout and evokes a harmonious flow.
The home is located in a prestigious residential building situated on Bopal-Ambli Road, a prime and sought-after location in Ahmedabad. Every inch of this project was meticulously crafted to reflect the clients' unique lifestyle and preferences. The formal sofa, custom designed with an extending ledge, serves as a versatile dining experience while offering a vantage point for television. Taking center stage in the double-height living room, a custom designed curved boomerang sofa overlooking the balcony seamlessly connects indoors and outdoors, blurring the boundaries between them.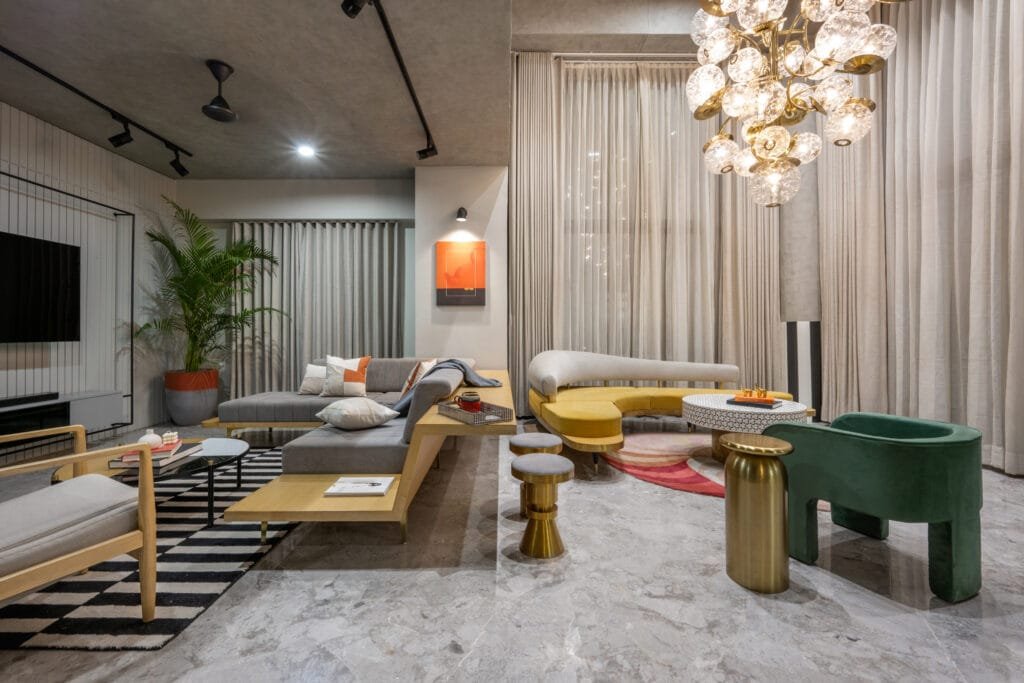 The child's bedroom is a realm of imagination, with custom-designed Star Wars-inspired space wallpaper—a tribute to his love for adventure. A shifted bunk bed with steps acting as a library, and interactive elements like a monkey bar add an element of playfulness. "Even the handles were customized with a punch of Hulk, embodying the spirit of strength and fun", informs Devanshi. The master bedroom, in contrast, exuded a sense of tranquility and softness—a sanctuary for the young professionals to relax after a tiring day. Shivam further elaborates, "Neutral tones and gentle textures embraced them, creating a soothing atmosphere. The dressing area however, was designed in contrast with glamour and opulence. Black and white patterned tile floor with sepia and normal mirrors covering the walls and ceiling creates an illusion of infinity—a captivating space where they could indulge in self-care and embrace their glamorous side". 
Infused with nostalgia for '80s and '90s pop culture, subtle references to iconic figures like Mickey Mouse, Coca-Cola, Jeff Koons, and Andy Warhol grace the design, adding character and whimsy. The entrance console and centre table feature intricate traditional bone inlay work in black and white, embracing the modern pop art color-blocking movement—a fusion of past and present, an homage to the vibrant tapestry of life.
The color palette employed throughout this home design is a sophisticated and elegant monochromatic scheme, anchored by shades of white, black, and a spectrum of varying shades of grey. This choice creates a timeless and versatile backdrop that complements the architectural elements and exudes a sense of understated luxury. Shivam informs"To infuse warmth and personality into this predominantly grayscale palette, we strategically incorporated soft fabrics and carefully curated art pieces. These elements introduce vibrant pops of color with deep and contrasting hues. This interplay between the monochromatic base and the colorful accents not only adds visual interest but also creates a dynamic and inviting atmosphere within the home." The material palette has been carefully curated to achieve a harmonious blend of warmth, industrial elegance, and a touch of luxury.  By combining these materials – oak wood for warmth, exposed concrete for an industrial feel, black metal for contrast and modernity, and brass for a touch of glamour – the material palette creates a cohesive and visually engaging environment that aligns with the client's desire for a comfortable yet stylish home.
As far as lighting is concerned, black spot and drum lights serve as the foundational lighting elements. They are strategically placed against the exposed concrete ceiling to provide ambient and task lighting. The pièce de résistance is the 3-meter-long chandelier featured in the double-height area. The use of blown glass with brass provides a sense of delicacy and elegance, contrasting beautifully with the surrounding exposed concrete structure.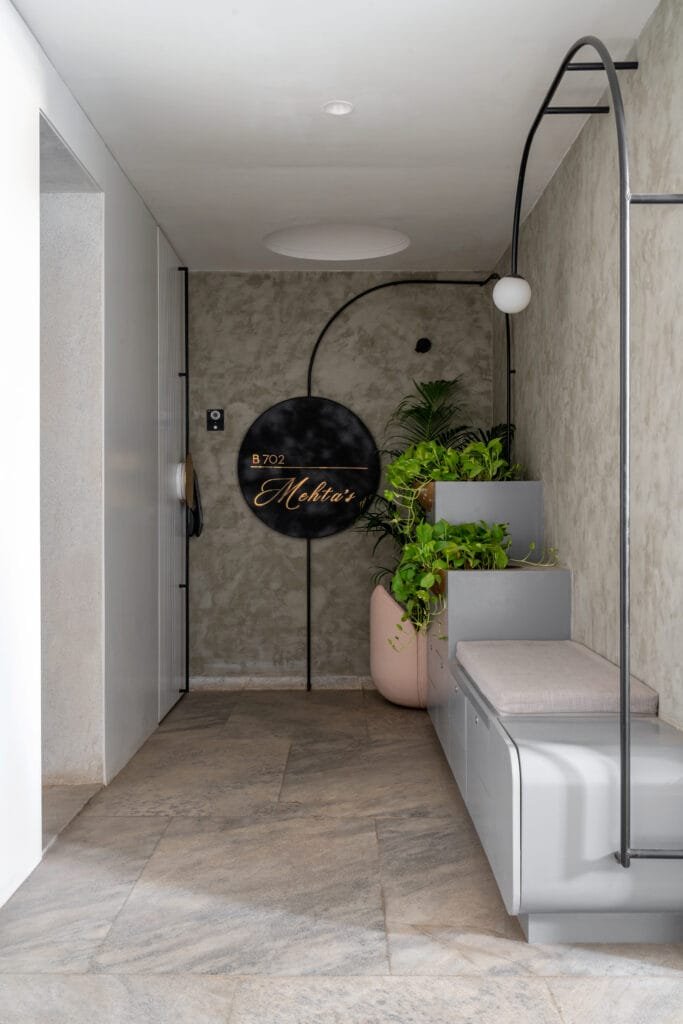 The design of the entire house has been thoughtfully crafted to align with Vastu principles. The pooja room was relocated from its original architecturally assigned position to a more auspicious location near the kitchen and dining area. "This shift allowed for a unique design opportunity for the mandir (prayer area). The shelving unit for books and curios in the living room had a satuario marble backdrop. That was extended to envelop around the wall to form a mandir in an elegant arch pattern inspired by the Hutheesing Jain derasar. Additionally, a hand painted pichwai serves as the backdrop for the mandir, paying homage to the clients' Rajasthan origins. To optimize space usage while adhering to Vastu principles, the area originally designated for the mandir was repurposed into an extended dressing area within the bedroom. This thoughtful approach not only respects Vastu guidelines but also ensures practical functionality in the home", concludes Devanshi.
Within this project, contrasting elements coexist in perfect harmony, captivating the senses and evoking a deep emotional connection. It invites inhabitants to immerse themselves in a world where minimalism dances with maximalism, where clean lines embrace vibrant colours, and where tradition finds solace in contemporary aesthetics.
Material Box:
ACP/Glass/Concrete : N/A
Sanitary ware/Fittings : Grohe
Flooring : Italian Marble, Patterned tiles from Graffiti Tiles
Furnishing : Neptune House
Furniture : Custom Designed, Dressing Room chair by Hatsu
Rugs: Jaipur Rugs
Air Conditioning: N/A 
Kitchen: Prato by Greenhouse
Lighting: N/A
Paint: Asian Royale + Limocoat on ceiling
Art/Artifacts: Mickey artwork and custom-designed wallpaper by Fingerprint Collective, Handpainted mandir by Nirali Gajjar, Master Bedroom artprint by Art and Found
Cushions: Abstract Home